"Are you looking for any product or service? Do you need pest control or alarm system in the house or office?" You are probably familiar with a salesperson knocking on your door and coaxing you to purchase an array of goods or services. It is a prevalent practice.
There are a set of people who are happy to welcome the door-to-door salesperson. It is an active process to sell products or seek an appointment. However, many dread the door-to-door soliciting and use a no-soliciting sign for home to politely turn down these unwanted guests.
4over4.com is one of the best platforms for printing no-soliciting signs. Choose from a range of options to print your signage for keeping the solicitors away. Learn the solicitation laws and if it works.
Who are Solicitors and What Do They Offer or Sell?
What is no soliciting sign? A person often fails to understand it. What does no soliciting mean? The term solicits means to ask for something. The door-to-door salesperson may request a donation, a sale, a vote, or maybe just a moment of your audience.
Solicitation law indicates that it is an allure or solicitation for something important. Soliciting is possible via telephone, written as a hard copy, face to face, and even with electronic mediums like messages and email. The state regulations for no solicitation differ from one state to the next.
What Do You Understand by the Term "No Soliciting Signs"?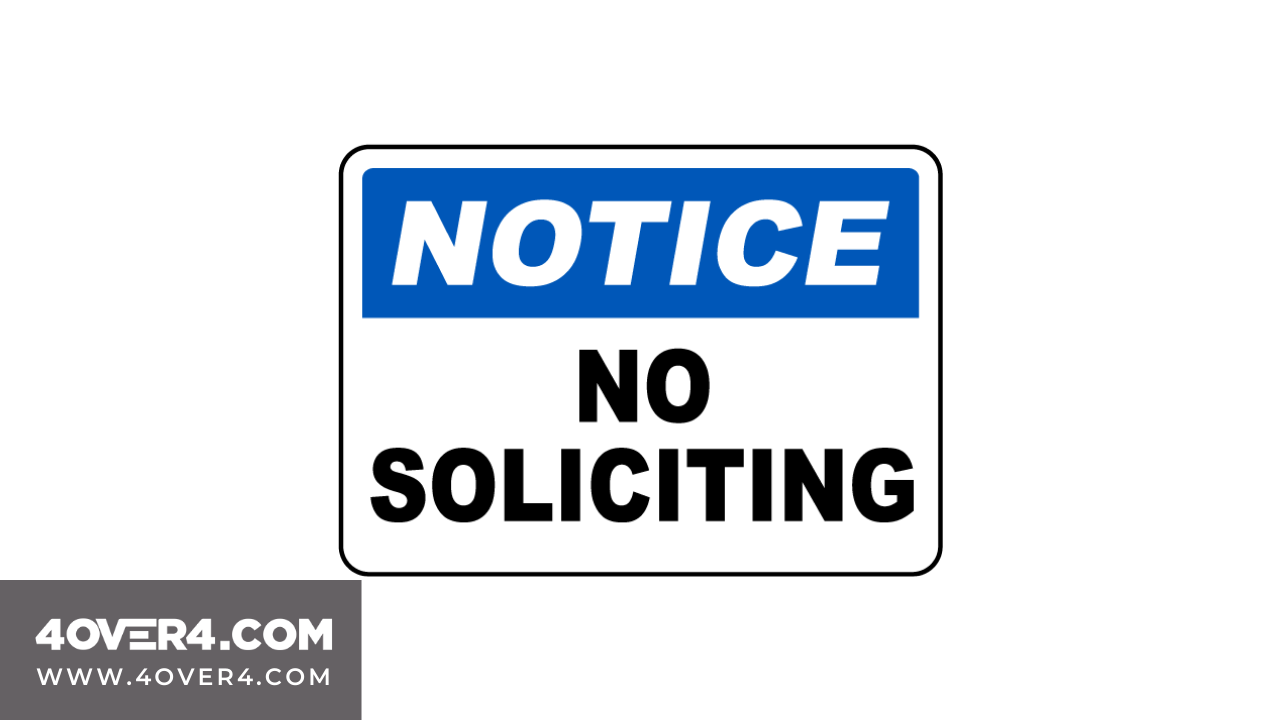 If you want to know how to stop door-to-door solicitors legally, then you need to understand the no-soliciting signs. The No Soliciting sign is utilized to request or demand individuals endeavoring to sell, not to disturb you, your home, or your business with whatever they are offering.
Unwanted solicitation at workplaces may lead to daily stress. It can impact the customer satisfaction and morale of the employees negatively. So, a No Soliciting yard Sign or a no religious soliciting door sign plays an essential role in saving energy, time, and resources. You can get it printed in clear fonts from trusted online platforms like 4Over4.com. Our reflective signs in aluminum or coroplast are one of the best ways to ward off these intruders.
Is Soliciting Illegal, or is it Legal?
You might have wondered, is door-to-door sales illegal? Well, you might be amazed to realize that there is no wrongdoing in soliciting. Soliciting is lawful in the United States. As per the regulations passed by the Supreme Court, the salesman has the genuine right to go to any area. They maintain the right to free discourse for business purposes
The nearby districts or the state regulations don't permit the formation of any guidelines or prerequisites for solicitation. There are a few legalities engaged with it. Like anybody can convey flyers and leaflets. For the house-to-house solicitation, the regulations differ from one state to another. You'd have to check the no-soliciting neighborhood law close to you.
The time restriction on soliciting is unlawful. You can always opt for signs as an acceptable and effective way to avert solicitors from ringing the bell. Our expert team of exceptionally talented professionals makes your No Soliciting signs visible to the undesirable guests
We offer unique and high-quality printing from a range of card stocks to great finishes. Styrene custom print is one of our best flexible board POP signage that offers clear text and high-resolution images. It is UV safe and waterproof for long-term use.
Do No Soliciting Signs Really Work?
When you decide to post a sign, place the noticeably worded instruction in a visible location. To avoid solicitation, ensure the signage is in good condition and doesn't look outdated. Old-looking signage may be considered no longer valid. You may use the PVC rigid plastic for a long-lasting. visually appealing, and durable sign.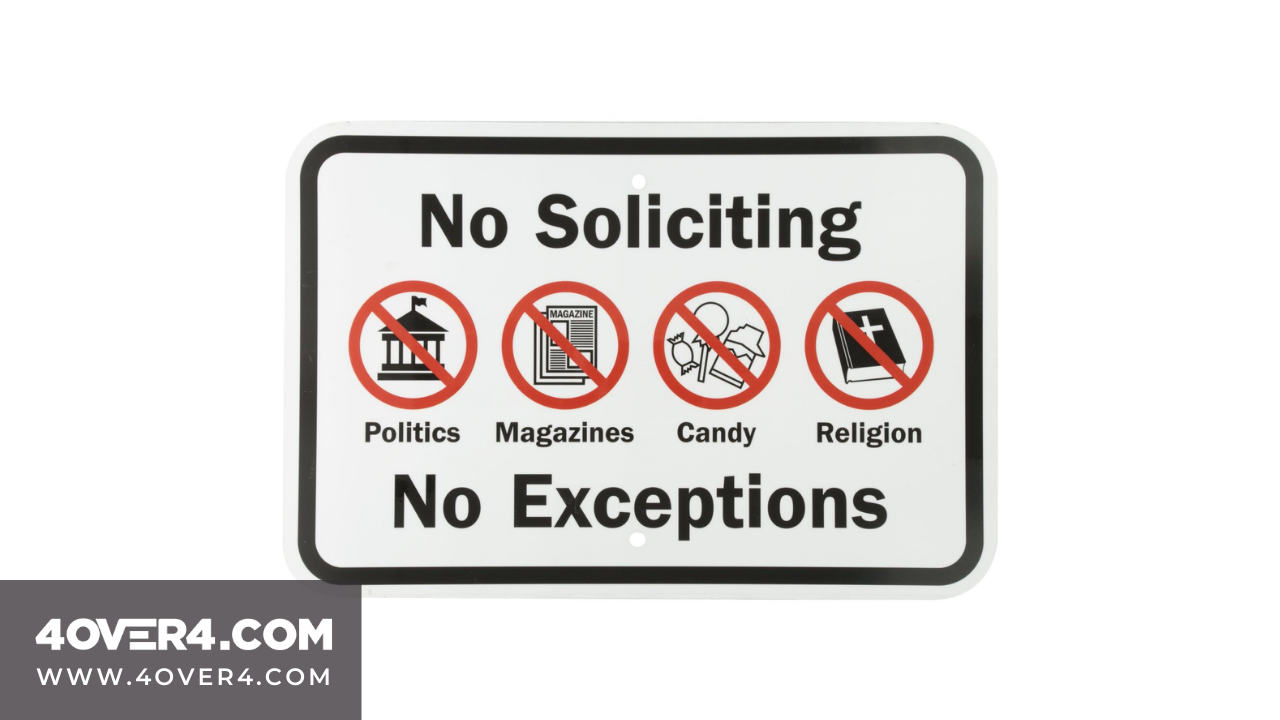 Always ensure high placement of the sign within the eye level. It never goes unnoticed and makes sure it looks new and well written. In spite of private property no soliciting sign, the solicitors may turn up on your property. Check out the local ordinance for the solicitors and the penalty for breaking such a law.
Get the No Soliciting Signs Printed with 4Over4
4Over4 is one of the best and leading print production online companies devoted and committed 100% to helping the clients stand out and get noticed in the crowd with their printed materials. With our high-quality graphic designing, printing, and reasonable pricing, 4Over4 is definitely the best choice for all kinds of printing options. Our vast array of material and printing choices make us your only choice for printing, from small business cards to brochures and invitations to no soliciting signage.
You are now aware of how vital polite No Soliciting signs are. Get it printed now. Choose the best quality print materials from 4Over4 for long-term use. We partner with all our clients, understand their requirements, analyze their needs, and help them convey the message in the most convincing way possible.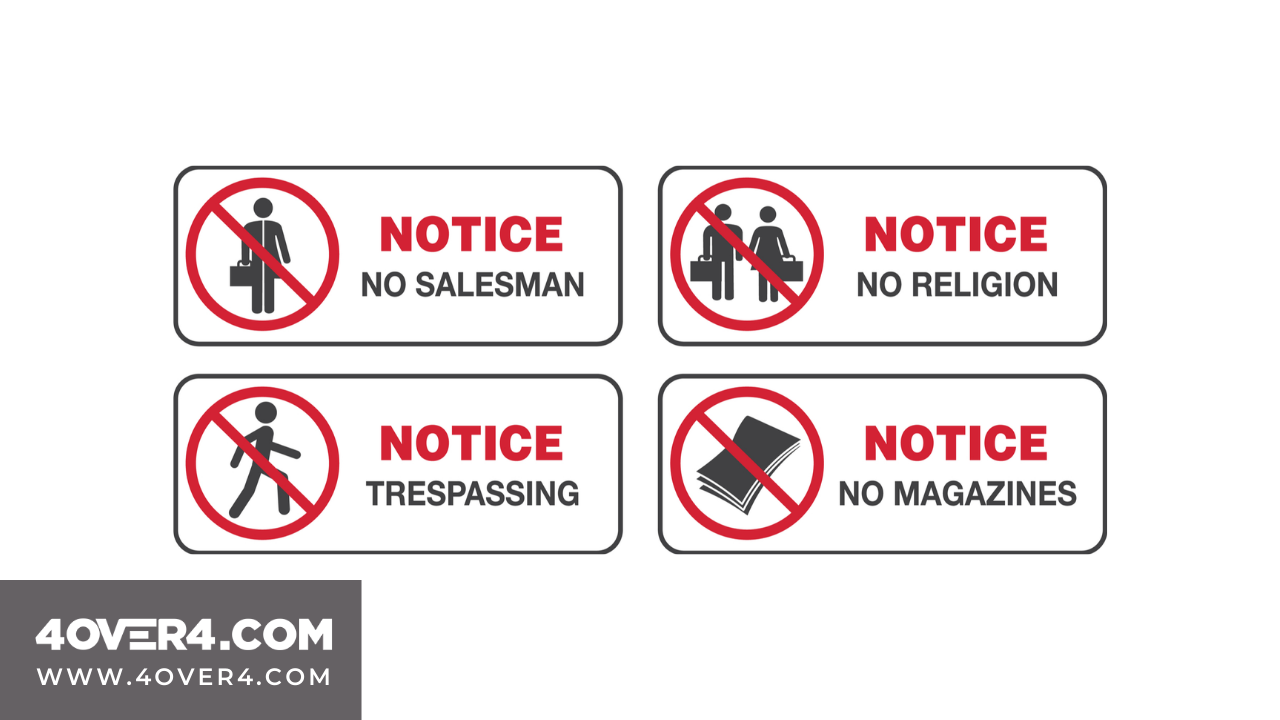 The best thing about getting materials printed from 4Over4 is our commitment to the wellness of the environment. We offer 100% recycled and chlorine-free paper. Our focus is on vegetable-based soy ink printing as a part of green printing technology.
Choose from our templates or send us your design specifications for No Soliciting signs custom printing and place your orders. Get your orders delivered to your doorstep within 5-7 business days.