Are you looking toward enhancing your company brand and sales? Every business wants their brand to flourish and reach out to more and more people. When you physically package your products in custom printed boxes, it helps to bring down churn and improves the consumer experience. No one knows your brand better than you. It is a visual storyboard that must work to your benefit as well as excite the customers. Custom box design with call to action printed for the customers can add value to their unpacking experience. Whenever your customers open a package, your brand is the first thing that comes to their notice. The corrugated
boxes
are inexpensive, keep your brand at the forefront, instantly attract customers, and help them to recognize your products/brand easily. 4OVER4 makes your journey of customizing boxes easy and unique. When you customize the box styles, they effectively promote your company. Do you know the ideal ways to custom packaging printed boxes? Here are a few tips to consider while custom printing boxes for enhancing your business sales.
The Size of the Packaging Boxes
The size of the folding cartons or mailer boxes is a vital thing to consider while planning to customize your product packages. The best part of these boxes is you can choose any size that can fit your product and keep it safe during the transfers. Perfect box size will help in storing the packaged products during transportation and avoid too much movement. Choosing the right size is also essential when you want to deliver some fragile goods to your customers or to your employees and clients. You need to be very careful while transporting delicate things, and a custom printed box is what you need. It can be custom-made to fit your product size with proper in-between space for foam or bubble wraps. Such kind of packaging design not only keep your products safe while on the move but also help to promote your brand and create much-needed exposure.
The Material of the Custom Printed Boxes
[caption id="attachment_14031" align="alignnone" width="1366"]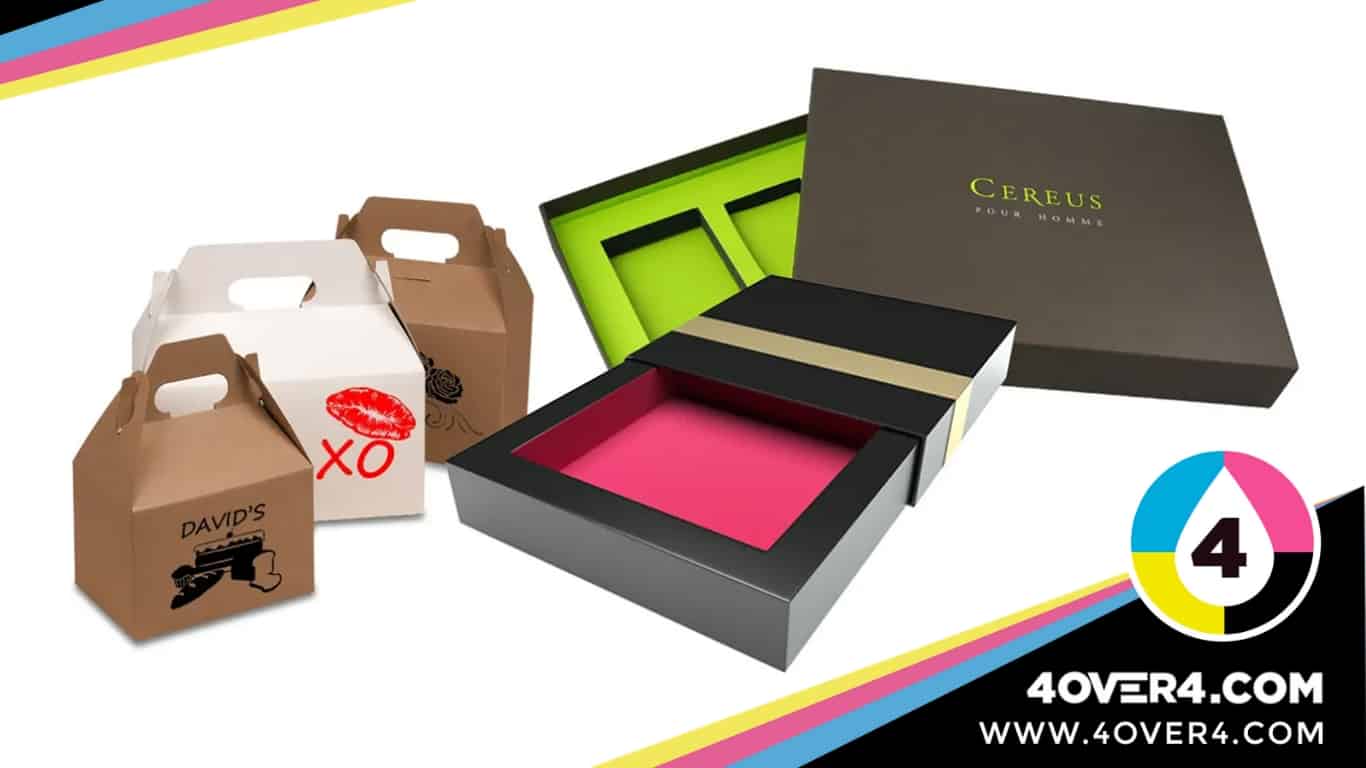 Different shapes and sizes customized boxes[/caption]
Source
The material of the customized shipping boxes is the second vital thing that you need to consider. It must be robust and sturdy enough to hold the products safely. Would you like it if the packaging box breaks while transporting your precious goods? Would you want your customers to receive defective products? When you opt for custom printed boxes, you can easily choose the material of the box. You can die-cut cardboard boxes, corrugated packaging boxes, etc. Such materials are usually strong and tough ones that can support your valuable products. You can also give any shape sizes to cardboard and corrugated boxes for a unique design that best symbolizes your brand. 4OVER4 brings you an array of unique
packaging design
and printing choices when it comes to custom printed boxes designs or custom die-cut boxes.
Printing on the Customized Boxes
Printing is one such thing that can give a personalized touch to your products and make your brand a household name. The printing must attract your customers towards the products you sell. Would you like it if your product is on the store shelf without garnering any attention from the customers? Thorough research is mandatory to draw your customer's attention. Once you are sure what attracts your target audience, you can customize your box accordingly. For example, if you have little children as the audience tries to use bright colors with cartoon images printed that can attract your customers instantly. 4OVER4 is your ideal online printing partner with a range of printing options and thick
premium cardstocks
to choose and customize boxes. Printing is something that must appeal to your consumers' eyes instantly. It is what your aim is to make people fall in love with your product so much that they buy it.
Customized Packaging Boxes Shape
[caption id="attachment_14030" align="alignnone" width="1366"]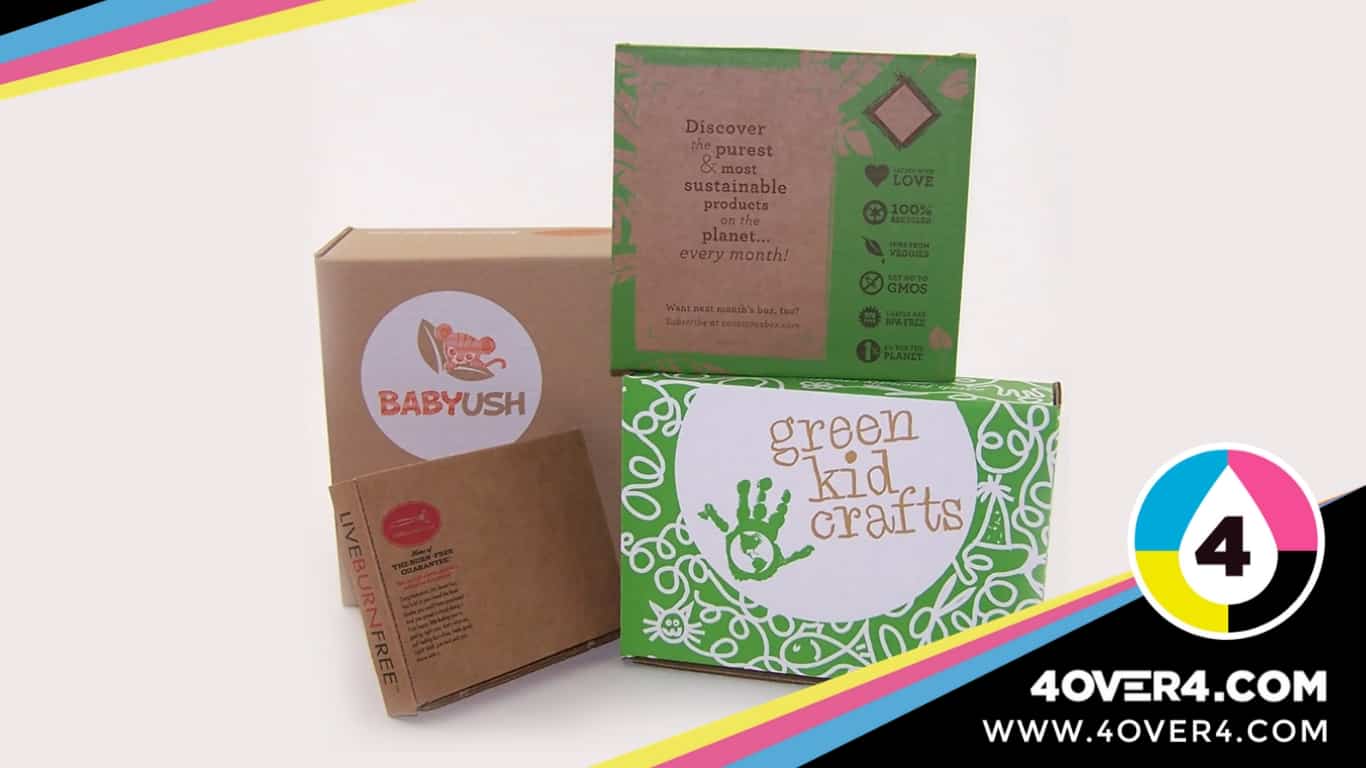 Bright and colorful kids customized boxes[/caption] Other than subscription boxes or mailer boxes, if you are planning to display the custom printed boxes on the store shelf, the shape is vital. Any funny shape can draw your customer's attention quickly or something exclusive and different that can pull the customers towards it. For instance, you can see some toy cars or dolls packaged in fun-shaped boxes that can instantly grab eyeballs and become the most desired product. While transporting also, you may need a particular box shape that will not just attract viewer's attention but also keep your product perfectly safe and in place.
Things to Include in your Packaging Boxes
Certain items are vital to brand your products. So, while printing your custom boxes, ensure it contains your company name, contact detail, logo, and brand message on it. You may also add your brand logo at the top and include a flyer with product info and coupon inside the product package. It will impress your clients and keep your brand in their mind while shopping. Your custom printed boxes design may also include printed text like open and grab your 30% discount coupon now along with your logo at the top of the box. Such messages attract customers without fail. When you include info on your custom printed boxes, it helps people to know your company better, and your logo becomes popular. Even from far away, people can recognize your brand when you customize your boxes with high-quality printing and cardstock.
Customize Your Custom Printed Boxes with 4OVER4
[caption id="attachment_14029" align="alignnone" width="1366"]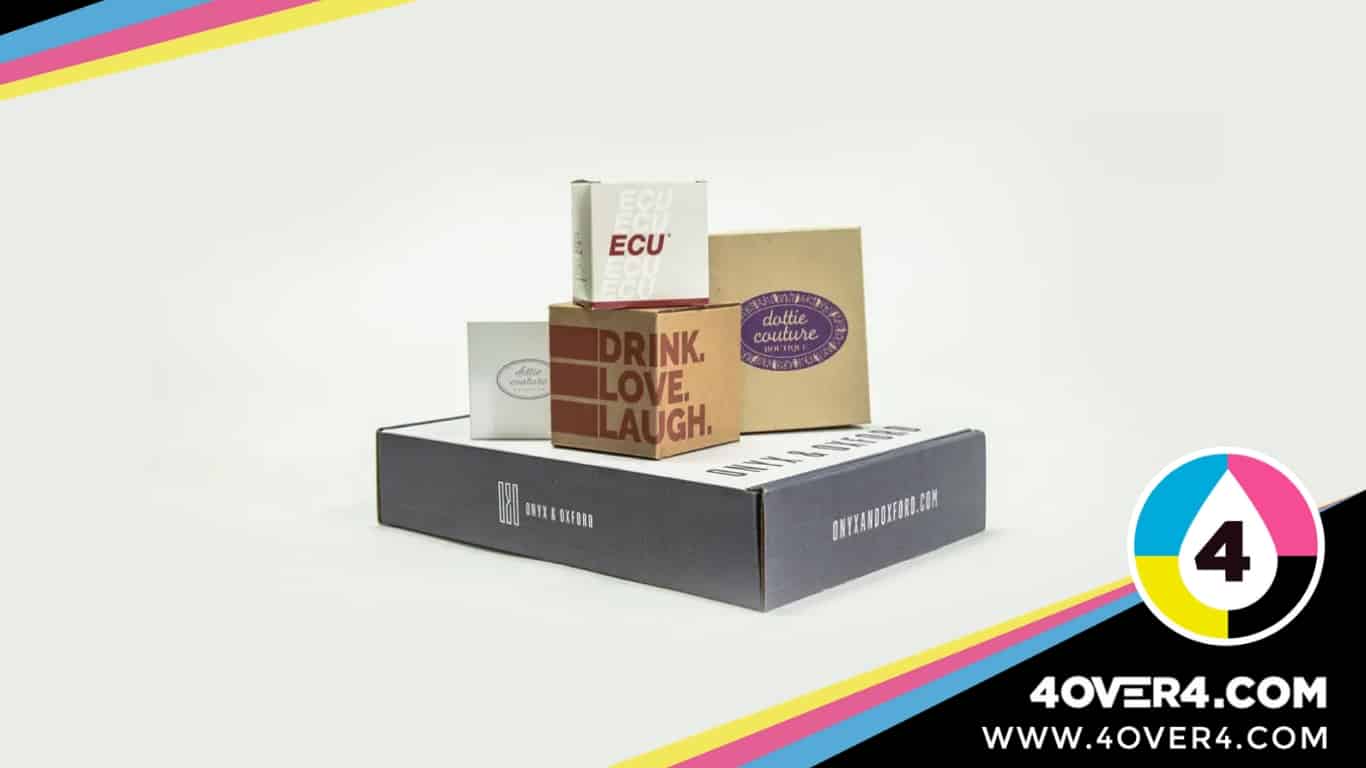 Customized boxes arranged together, one over the other[/caption] Instead of using standard plastic or paper bags, use the custom printed boxes. It helps to add style, increases brand presence, and also enhances your business sales. Custom printed boxes brand your products, and keeping the above tips in mind can give your brand the right exposure. Print your custom die cut packaging boxes with 4OVER4 and get surprised with the benefit they bring to your sales. Our customer service team can add worth to your custom printed boxes and take your packaging to the next level. Order your custom
packaging products
that proudly displays and boasts your company logo, grabs customer's attention, and puts your brand at the forefront whenever it reaches your customers. We offer free shipping and deliver your order within 2-3 business days.