Any holiday season is about showering love and showing gratitude, and the custom holiday cards greeting are the best way to express it. Not just in personal lives, even the businesses ensure to find unique ideas to thank the customers for their continuing support and loyalty. The holiday season is an exciting opportunity for the brands. It helps them to connect with both prospective as well as existing clients.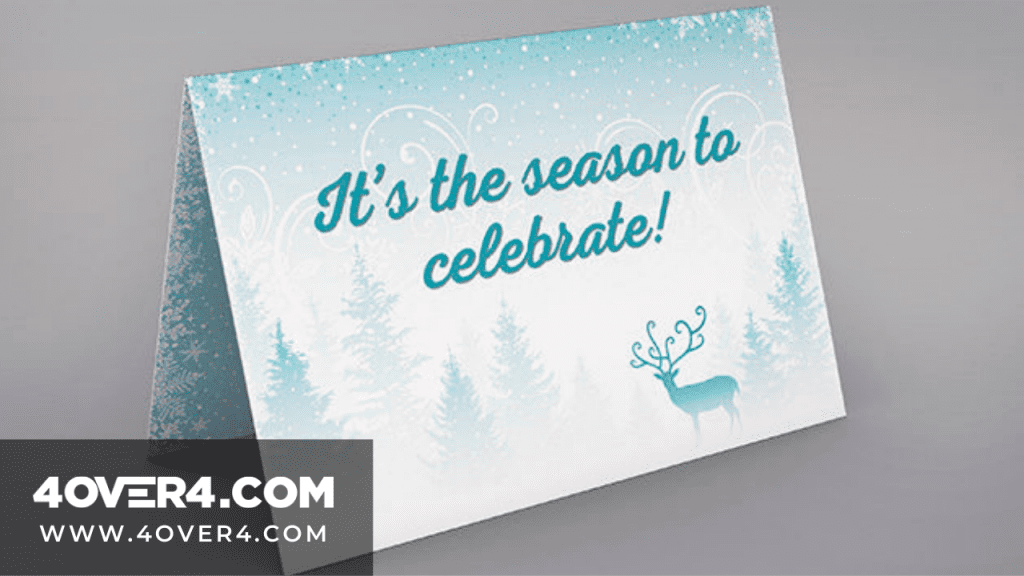 At times, gifts like customized mugs can be expensive and out of your budget. Sending the business holiday cards to your customers and clients is a simple but genuine gesture. It can help to build long-term connections, although holiday card printing and ideas differ. It is not the same for all.
From design and timing to message and delivery of your personalized holiday cards, every single point impacts your modern holiday cards acceptance. 4OVER4.COM makes your efforts successful by creating some unique designs and giving it an exceptional finish that not just grabs the attention of the customers but also make you stand out. Learn how to create and deliver custom business cards and personalized holiday cards 2019.
Ways to Create and Deliver Custom Holiday Cards
Direct mail marketing or DMM is one of the best ways to understand the performance of your campaign. If you know direct mail marketing, you must be already aware of the design, content, and timing. The corporate Christmas cards or corporate holiday cards are somewhat similar. You need to streamline your strategies and engage with customers to build your brand's identity. Here are a few ideas for creating your custom holiday cards.
Select the Best Cardstock, Stunning Designs, and Finishes
Keep the glitters and glue stick away to create professional-looking personalized business holiday cards. Creating unique cards doesn't require you to sacrifice on your professional image. Choosing the right material and finish can help you to create stunning Christmas cards or custom holiday cards. When you choose poor quality, your clients receive thin crumpled cards or maybe even worse. But when you opt for the right and trusted Printers like 4OVER4, your clients are delighted just looking at the paper stock and vibrant graphics. For a perfect holiday card, it is essential to focus on the cardstock and printing finishes.
Double Check Your Mailing List for Sending Custom Holiday Cards
It makes no sense to spend on foil cards, photo cards, or high-quality recycled paper to create your custom holiday cards unique if it doesn't reach your clients. It is vital to check if you have an updated list for sending the holiday cards so that it reaches the right mailbox. Do not rely on the previous year's list of clients for Christmas cards. A lot can change in a year, the address label might need to be changed, and employees may now work for new companies. So, ensure there are no duplicates, and all the information is updated and current.
Customize Holiday Cards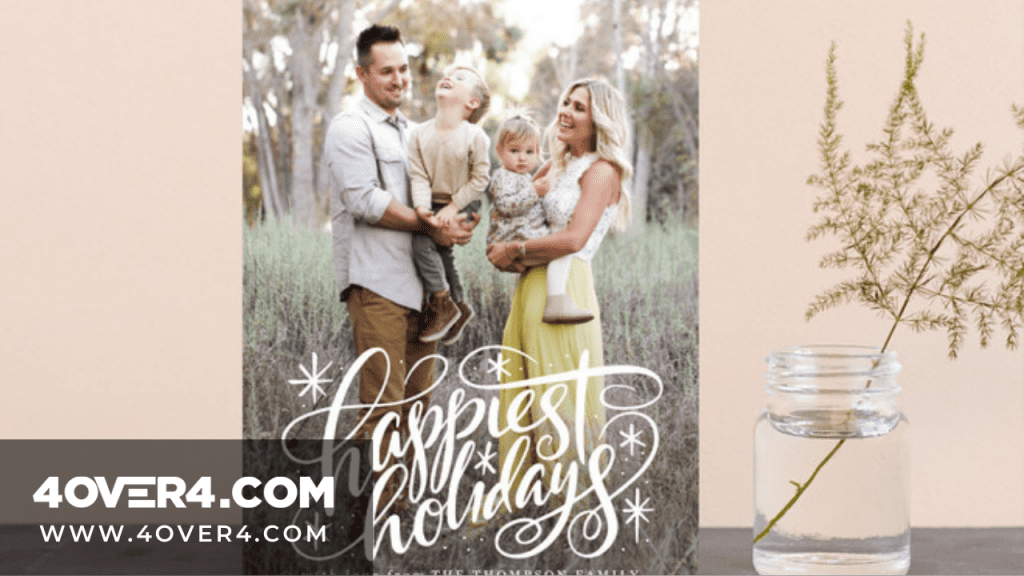 The cold corporate business Christmas cards are no more considered trendy. In recent times, the customers look for engaging and warm greeting cards. You can enhance your brand strategy by personalizing your holiday cards or use customized tokens, discount coupons, or team photo to personalize the message inside the card. Opting from our range of holiday card templates and customizing it with your company logo and brand message can enhance your greeting cards amazingly. For adding a personal touch, digital handwritten holiday message printing that fits your brand is one of the best options.
Set a Holiday Message Board
When you send a wrong message to a wrong client or a wrong holiday card, your strategies can backfire. Instead of building relationships, it can make you lose your client. It is perfectly fine to send specific holiday cards like Kwanzaa, Hannukah, Christmas, or any other particular holiday card. But, always try to ensure if your client celebrates the same. In case you are not sure, it is better to stick to more general greeting cards like Happy Holidays or Season Greetings.
Deliver the Custom Greeting Cards Early
All the holidays are the busiest time for the mail distribution centers and post offices. From gift cards to business holiday cards and retail promotions, there is a huge rush. Stay ahead of the holiday rush by designing, printing, and delivering your custom holiday cards early. When your customer or client receives the first card from you, they are more likely to remember you.
Holiday Cards Inspirations
Logo Based
Everyone is aware of the fact that the logo is the most crucial element while designing your marketing materials. But, do you know that it can be your centerpiece while designing and printing your business custom holiday card? Play with the colors and shapes of your logo to create something new, keeping your brand essence intact. You can visualize your brand logo as an embellishment on a tree or make it something related to the holiday season for which you are printing the card. Your customers will surely appreciate your creativity and know precisely the sender of the card.
Your Industry-based Cards
You can spin your Christmas holiday cards uniquely by being little clever and playful. For instance, if you have a law firm, you can design a holiday card that has cartoon images of a couple fighting over an issue and Santa trying to calm them with gifts. For a travel agency, the card can feature tourists, pilots, and Santa hopping into a bar and sharing a round of egg nog. Using such imageries can create a set of expectations around your industry and the type of work you do.
Location Insert Christmas Cards
Let your clients know your location around this time of the year. Are you with your family enjoying the festival, or are you traveling for your business? The holiday cards are a great way to connect with your customers and clients, mainly if your company has precisely one location. By adding a location insert to your business holiday cards, you add a sense of place to your creativity.
Classic Business Holiday Cards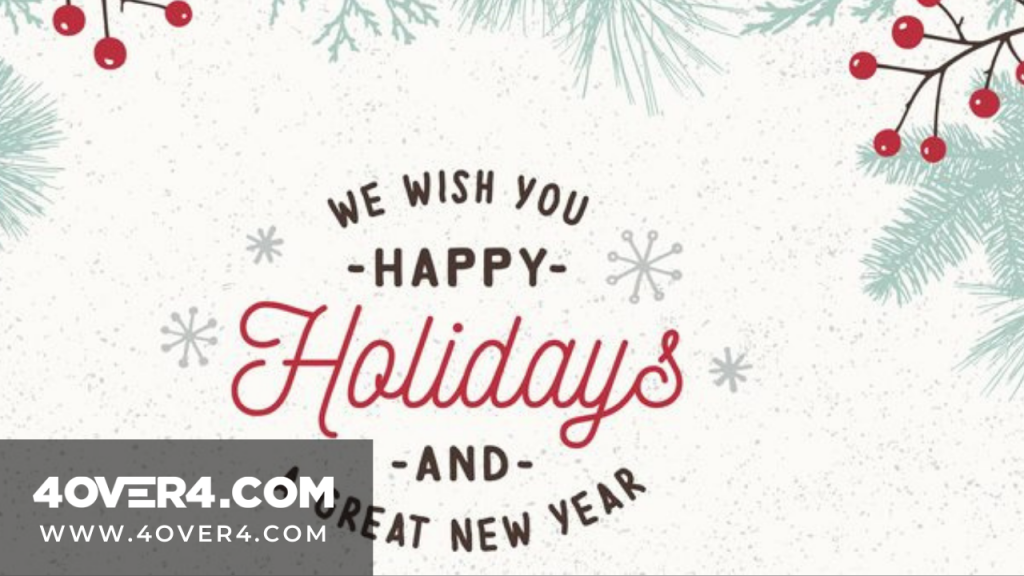 At times, you want to stand out, but at the same time, don't wish to overdo something. Using the fun classic imagery to create your custom holiday card and adding your logo can be a great way to keep your card simple and elegant. Printing your design on high-quality cardstock and choosing great finishes like raised Spot UV or die-cut from 4OVER4 can make your card stand out and also attract the likes of your customers.
Turning Your Custom Holiday Cards Ideas into Life with 4OVER4.COM
Whatever ideas and messages you choose to make your corporate cards, always remember to use your creativity and the best cardstock and finish for printing. The energetic and highly skilled team at 4OVER4 is always ready to support you with all your queries and printing related issues.
Please call us or visit us online to choose the cardstock and give us your specifications. We can suggest you the best printing finishes at the most affordable rates. Connect with us to make your custom holiday cards exclusive and build long-term relations with your customers and clients.