Any business is all about connections and the way you maintain a relationship with them. The greeting cards are a great way to convey your thoughts to your customers as well as acquaintances, friends, and family. The custom greeting card printing plays a vital role in building the relationship.
By just dropping in hello with the note cards during the special occasions or just like that can strengthen the bond with your clients or close ones. Are you looking to customize your greeting cards? Let's dive deeper into the various aspects of custom greeting cards to impress your clients in a big way.
Why Do You Need Custom Greeting Card Printing?
From birthday cards or Christmas cards and Thanksgiving cards, the greeting cards come in a handy option for your clients. When you create a unique custom greeting card and send it as a thoughtful gesture, it impresses your client. Your client might also be inclined to purchase from you.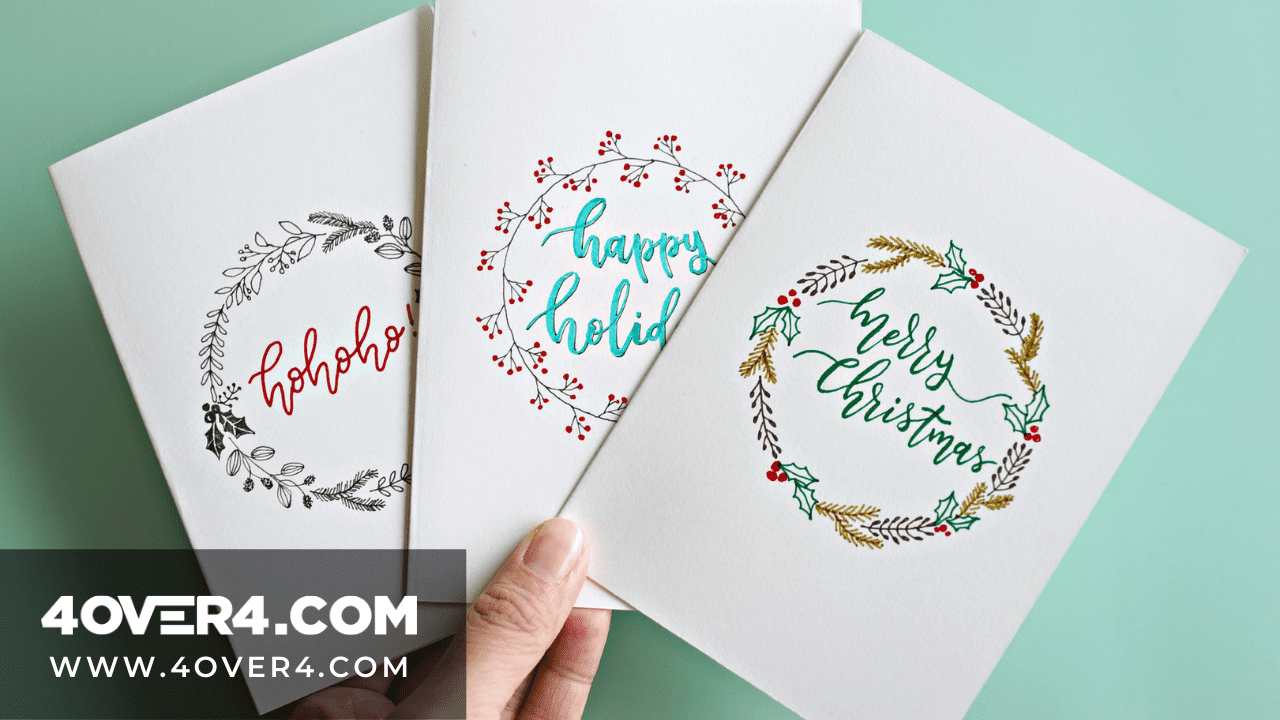 There was a time when sending a greeting card meant,
visiting the store
selecting the card from a limited set of options
filling it
putting it in the envelope
writing on it
sticking the stamps
sending the mail
It was worth the effort during that time, but, the changing trends have seen the massive growth of custom greeting cards online. Technology has made the card-sending process easy and less expensive. With a unique card design, you can build a deeper connection with your customers. It can also help in making them one of your core customers in the future.
The custom printed greeting with your brand name and logo can quickly help to distinguish your company from the competitors. The customized greeting cards are a great way to show your clients that you care. Do you know how to create custom greeting cards online? 4Over4.com is one of the best online platforms to get a versatile range of custom greeting cards printed.
5 Steps to Create Personalized Greeting Cards
How would you feel if you and your competitor send a similar greeting card to the customers? It will be an embarrassing situation. Isn't it?
When you try to send a greeting card from online galleries, you may end up sending common stuff like several other businesses. So, the custom greeting card printing is the best solution to make your card unique.
4Over4 offers an array of card templates, custom embossing, custom letterpress, high-quality thick 16pt. paper stock, and more to add a personal message for personalizing. Here are the five steps for customizing greeting cards in full color and with ease.
Custom Greeting Card Printing Format and Sizes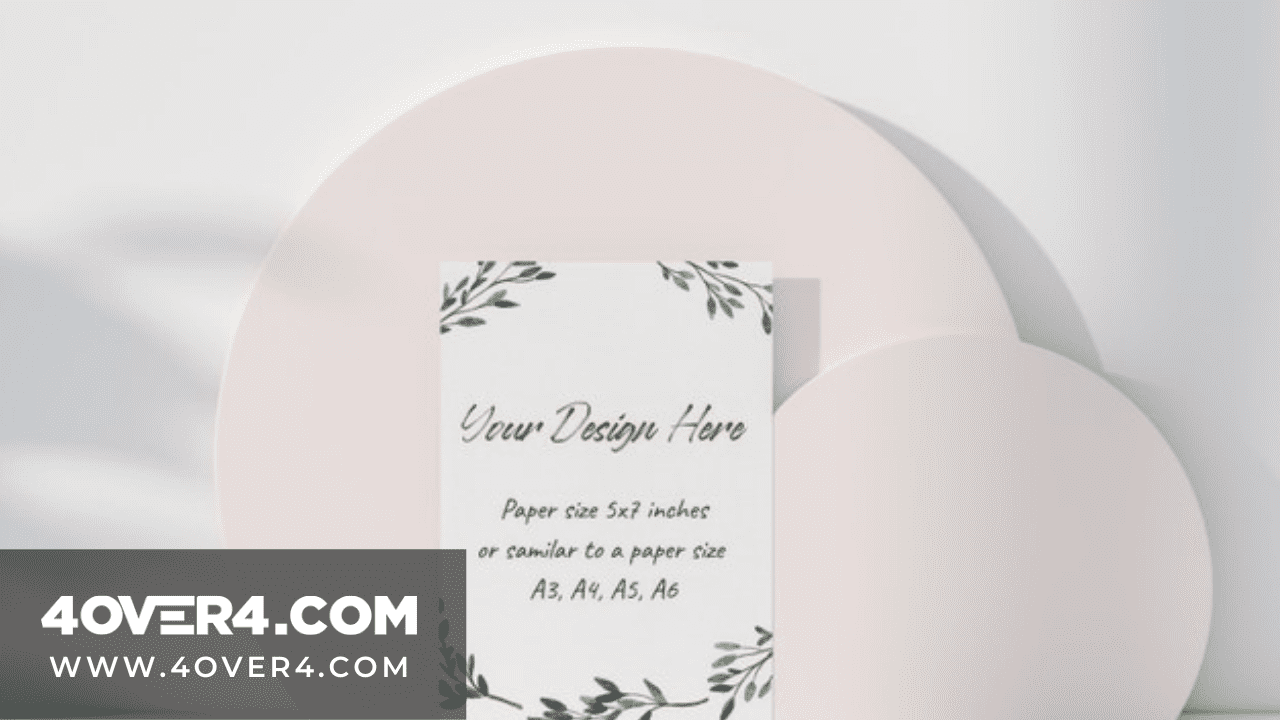 The best thing about a custom card printing is the endless option that you get for personalizing it. The format and size of the greeting card can be designed as per your choice and preferences. From a portrait card single opening to gatefold card double door or custom embossed greeting cards, you can easily play with the format of the card to make your fold notes unique.
Other than the format, you can create your greeting card square, rectangle, circle, or oval as per your choice to give it an exclusive look and feel. Just ensure to select the most appropriate format and size that can fit your content well.
Versatile Blending Modes for Design Layout
The greeting card's layout is the next essential step that can create a huge difference and make it stand out. It is not a blueprint. You must note that the custom greeting card can generate the right amount of impressions.
Choose the unique blends and prototypes, instead of general sketches on your greeting card. The proper combination lets you delete all kinds of unwanted elements and ensure the right effects and layers for your card. You can choose from our range of affordable printing options like silk spot UV card, raised spot UV, velvet greeting cards, etc.
Custom Greeting Card Art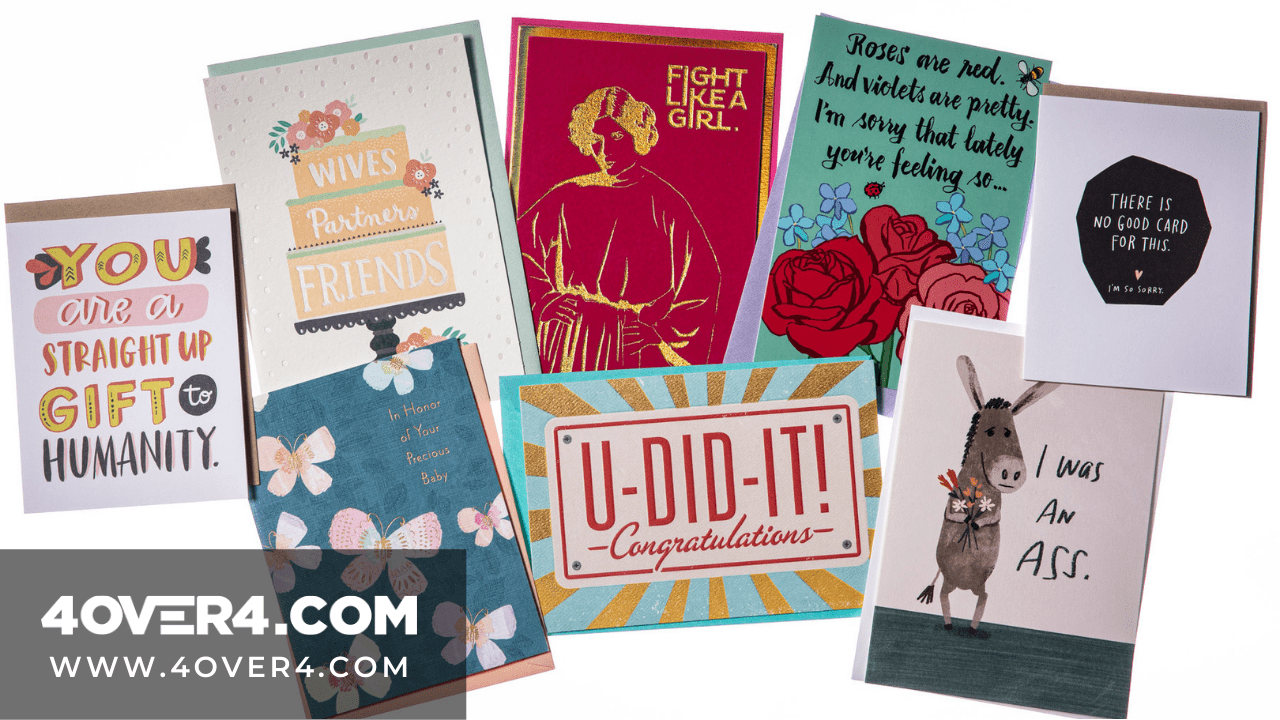 In this step, you can explore your creative side in all respect. If you wish to make your custom greeting card impressive, add relevant art forms and elements to enhance its meaning. You can even transform a simple picture into art using various techniques. You may try 4Over4 for playing with a vast range of colors, texts, graphics, etc. and create custom letterpress greeting cards, holiday cards, or custom embossed cards, and more.
Bring out the Textures
Once size, format, and layout are all decided, keep it intact and start playing with blending modes and textures. It helps your card to reflect the right effects that you wish to display. The first thing to work out is to create a checklist and drop all the stuff under one folder. Then, try each element in the checklist to finalize your design.
4Over4 is a printing service and also a custom greeting card maker online. It helps the people with a range of ideas, fonts, colors, card paper, etc. to create exactly the design that you have always wanted for your custom greeting card printing.
Placement of Message
The message is one of the essential elements of your greeting card. If you wish to impress your clients, make sure to add a short yet sweet message. Place it somewhere in the greeting card that makes it readable and appears beautiful.
From simple poems to phrases and words, add something that is the most appropriate. You must ensure that the font size is readable and also looks attractive.
4Over4 for Custom Greeting Card Printing
Although the greeting card is for business purposes, the creativity that undergoes to create it is unlimited. The custom greeting card printing with 4Over4 gives you the pleasure to play with a range of options.
4Over4 is not just a fantastic array of printing services, but it also lets you design your greeting from the available card template or your specifications. Explore your creativity and place your order for printing the greeting cards. Our customer service team is always ready to help you. We deliver your order at your doorstep within 4-5 business days.