We all love gifts and so do prospective customers. When it comes to corporate business promotional gifts, useful and practical items are hugely appreciated by clients. A custom calendar is one such gift that can give prominence to your brand as well as enhance your brand's visibility within your industry.
Whether you use the yearly calendars in trade shows as handouts or send them to your clients during year-end mailing campaigns and promotions, custom calendar printing always works for your business. For any kind of print calendars, 4OVER4.COM is one of the best online calendar printing destinations. If you want quality along with affordability in printing, place your order with us.
Why is a Custom Calendar an Effective Corporate Gift?
No matter which industry you are targeting, the print calendar is always considered a useful gift item. An average person consults their card calendar, desk calendar or wall calendars several times per day. Every time your customer looks at the calendar, the contact info, business name, and logo printed on your calendar will make him/her think of your brand and organization.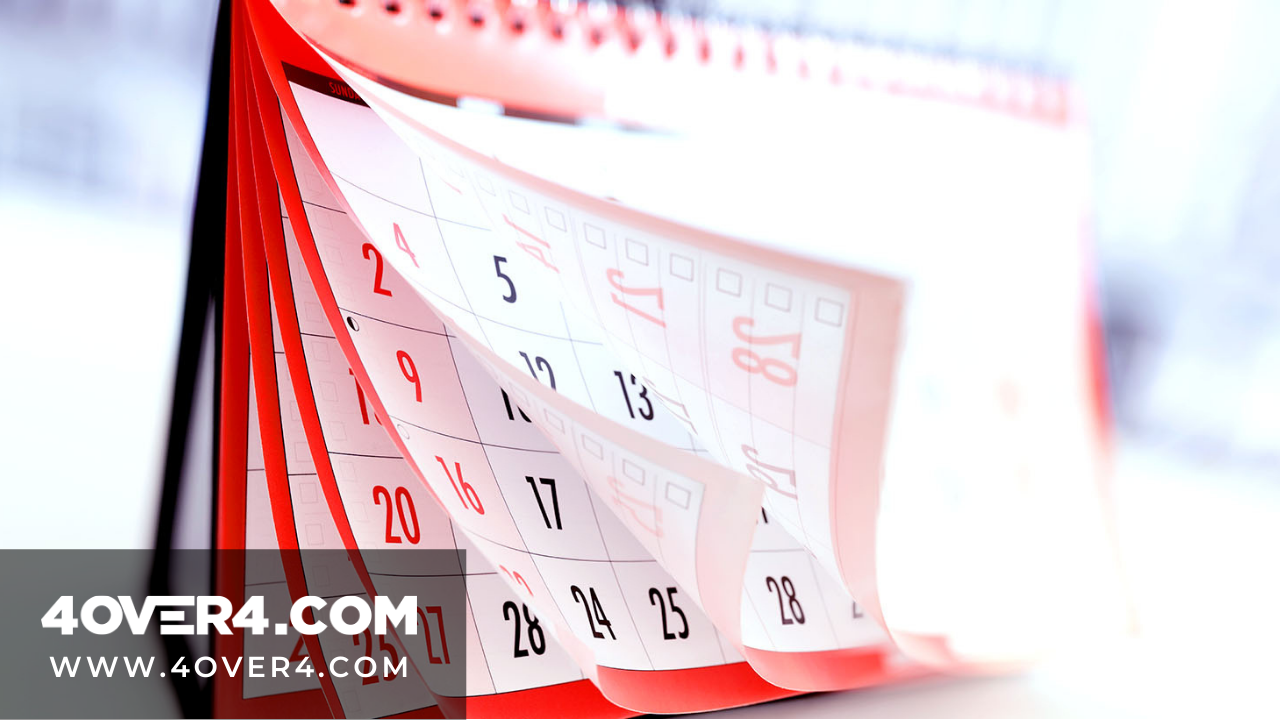 If you think logically, a person doesn't need several keyrings that are used on a regular basis. But, a photo calendar or the special monthly calendar will definitely find a place on your office desk, common wall area in the office, or even at home.
These are ever useful if you consider them promotional gift items. You can be creative while designing custom wall calendar printing. You may select two or three different themes for desk and wall print calendar to offer variety to your clients while gifting.
What makes the Custom Calendar Unique?
The universal appeal of the calendar makes it one of the best corporate gift items. It is not just affordable but also a great organizational tool that every person would need to schedule their work accurately. The personalized calendars help in boosting your business. When the calendar project is customized to the client's needs, they also receive value.
By gifting calendars you can ensure your presence in your customer's mind for at least 12 months, if not more. 4Over4.com offers various calendar templates for you to design.
Get a cheap custom calendar printed from a range of options. You may also send us your stunning calendar design specification to print your corporate gift item.
Stunning Custom Calendar Designs for Inspiration
Toaster Desktop Calendar
If your calendar gets a unique shape, it will definitely catch the attention of the users and also find a place at both office and home. A toaster shaped paper toy calendar with your company details printed and toast slices with the 2 months calendar at both front and back can be a great corporate gift idea. We offer amazing cardstock, a range of fonts, and printing options to make your custom calendar gift unique.
Solid Black Color Calendar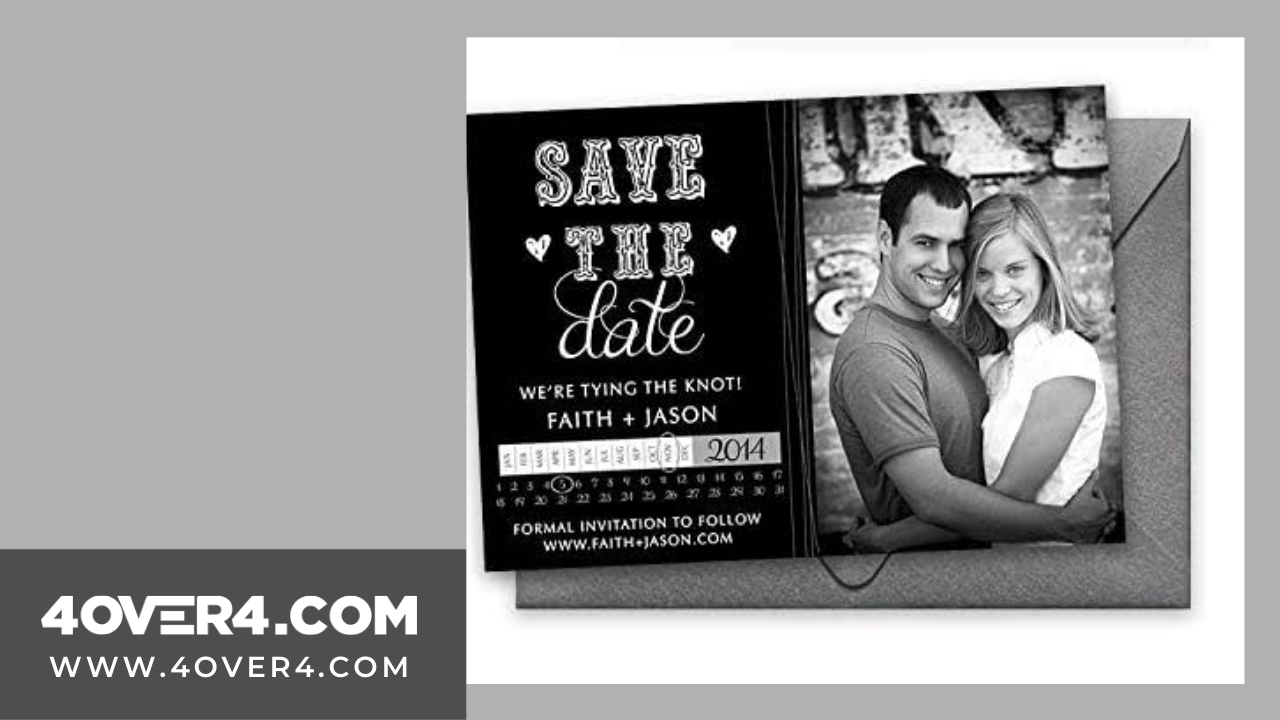 Use a color that usually people avoid for calendar design. It can help to draw the attention of the users. Black is one color that people try to ignore when it comes to calendar printing. A minimal and simple black calendar that is easily usable can be a perfect choice for black color lovers.
Unique Typography Calendar
A typography calendar in wire-o-coil can be an ideal gift for your clients. With a mix of some big and unique fonts, you can compile months per page and give us a PDF calendar format for printing. This turns up to be something out of the box where you play in with the simple fonts to create a calendar for a corporate gift.
Coffee Cup Calendar
A coffee cup calendar can be completely a unique item for the office desk. The saucer has the dates and the cup has an arrow to point out the present date. It makes the cup saucer calendar completely out of the box gift item.
T-Shirt Calendar Design
Printing a special monthly and weekly calendar or a yearly photo calendar on a T-shirt and combining it with a pen to mark the dates on which it was used can be quite a useful gift for your clients. Our comprehensive cheap bulk calendar printing services are available on any kind of product. So, you don't have to worry if you are not choosing regular paper stock for printing calendar.
Trash Calendar
Nearly every calendar ends up in a trash bin. The calendar days printed on a trash bag can be a unique and extremely creative idea. It influences people and their actions.
Letterpress Desk Custom Calendar Design
The visual effect of the bright letterpress desk calendar on thick pure cotton card stock using vintage platen press is completely out of the world. Choose from our range of printing and cardstock options and place your bulk order anytime online. We have a minimal turnaround time and easy shipping process.
Calendar Magnet
The colorful magnetic calendar is one of the easiest in terms of customizing. It is a creative way to set the dates on your cabinet to your refrigerator. Place the magnets to beautifully display the calendar and ensure the happiness of your clients. When they see your brand first thing every morning, you will become a part of their routine.
Unique Custom Calendar Printing with 4Over4 Online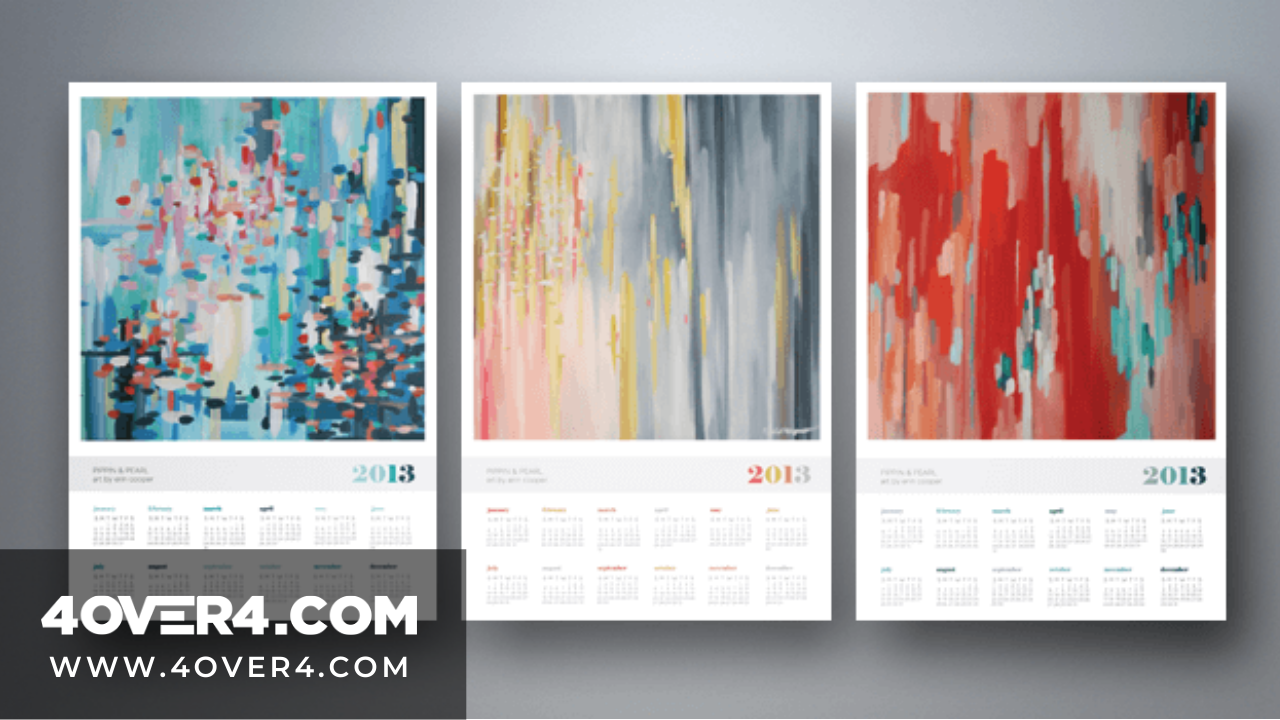 A custom calendar is one of the best promotional gift items to keep in touch with your clients. From designing a yearly calendar at the yearend or printing a half-yearly or monthly calendar as per the certain theme, 4Over4 is a great platform to turn your ideas to life with custom printing options.
In a world of chaos and pressure, a personalized, well-thought-out gift can bring a smile on your client's face. You must make efforts to think out of the box and create something unique and exclusive. No matter what you choose to print, customization is the key to success!
Customize a Calendar with 4OVER4
At the end of the day, you are here for growing your business in an effective and economical way. The custom calendars are exactly the way you should go apart from the business cards. Design your 2019 calendar with the right color and fonts or fill out the form on our site with your specifications or send us your design in pdf format to let us help you with the calendar creator and the custom printing process.