Planning a baby shower for a chic mom-to-be? When it comes to planning the perfect baby shower for trendy, fashionable women, most store-bought stuff won't really meet the mark. A sea of baby blue and light pink awaits you, but that's not her style.
Just because a little bundle of joy is on the way, doesn't mean you have to ditch all glam and pizzazz, better yet not all powder blues and soft pinks have to be childish or devoid of personality.
Throw an unforgettable party with our seven chic baby shower ideas for the unorthodox mom-to-be.
From stunning flower art to miniature gourmet foods, these sophisticated ideas are sure to have you ready to start planning!
All White Minimalist Baby Shower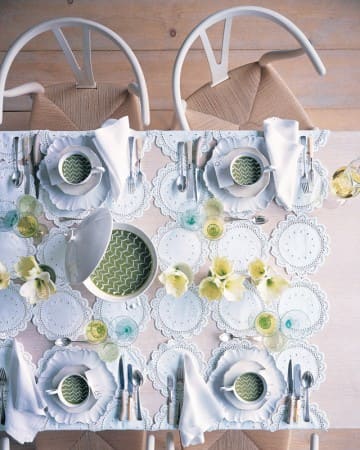 A white shower is the most refined way to celebrate the moms-to-be. This idea comes from the MVP of the hosting industry, the one and only Martha Stewart. Her idea puts a bit of shabby chic into play, with a doily table-cloth and DIY center-pieces. We especially like her idea of using white paper bags (
like these ones
) as vases for your flowers.
If that seems like too much work, clear glass vases with white flowers will do. Skip the ribbons and instead add two sized flowers: one taller than the other for volume. Decorate the table with white (and gold or silver) table runners and small trays with sweets.
Thinking about what to serve? Martha has a long list of ideas, but we like to keep it simple: How about a delicious white coconut cake covered in white chocolate and white mini salad sandwiches cut with cookie cutters? Your shower will surely be a hit.
If you feel the shower is missing that mommy touch, add little cookies (covered in white chocolate or sugar) in the shape of little bears, umbrellas or bows.
Go the extra mile:
For a little extra get premium ultra thick invitations like
these ones
, with an ultra white color seam (you can order a free sample) and ask everyone to wear white to keep with the theme.
Get the full list of Martha's ideas right
here
.
Vintage Baby Shower
If the mom to be is a thrift store aficionado, cannot get enough of that 50's classy look or is the first to don a pin-up hairdo for a party -go vintage! The great thing about vintage is that it doesn't have to be a blast-from-the-past thing, but rather a fun combination of relevant styles, which gives you room to play around and leaves the teddy bears for the nursery.
For a chic baby shower location think of a pretty garden or yard OR one of those cool little coffee houses all the hipsters rave about: places with mismatched tables and assorted cakes will do. In order for guests to know exactly what to expect at your vintage babe shower, frame the party with a menu and send some
velvet laminated invitations
, they're fingerprint resistant, soft like a baby (wink wink) and come out in beautifully muted colors that irradiate quiet sophistication.
In the garden, just use vintage luggage or old maps and wooden letters to create shabby chic decor. Mismatch tablecloths that share a color palette, but don't have the same print, add some flowers and you're done. Tell everyone to dress up accordingly (it's nicer if people show up for a theme). Get the bags pictured above here.
Go the extra mile:
Perk up the shower with pops of color on the buffet table as well as with hanging lanterns. Make favor bags to enhance the decor and entice guests and to top it all, impress guests with bottled water (better in glass bottles) adorned with custom labels. We got you covered with our
custom shaped roll labels
.
Library Book Themed Baby Shower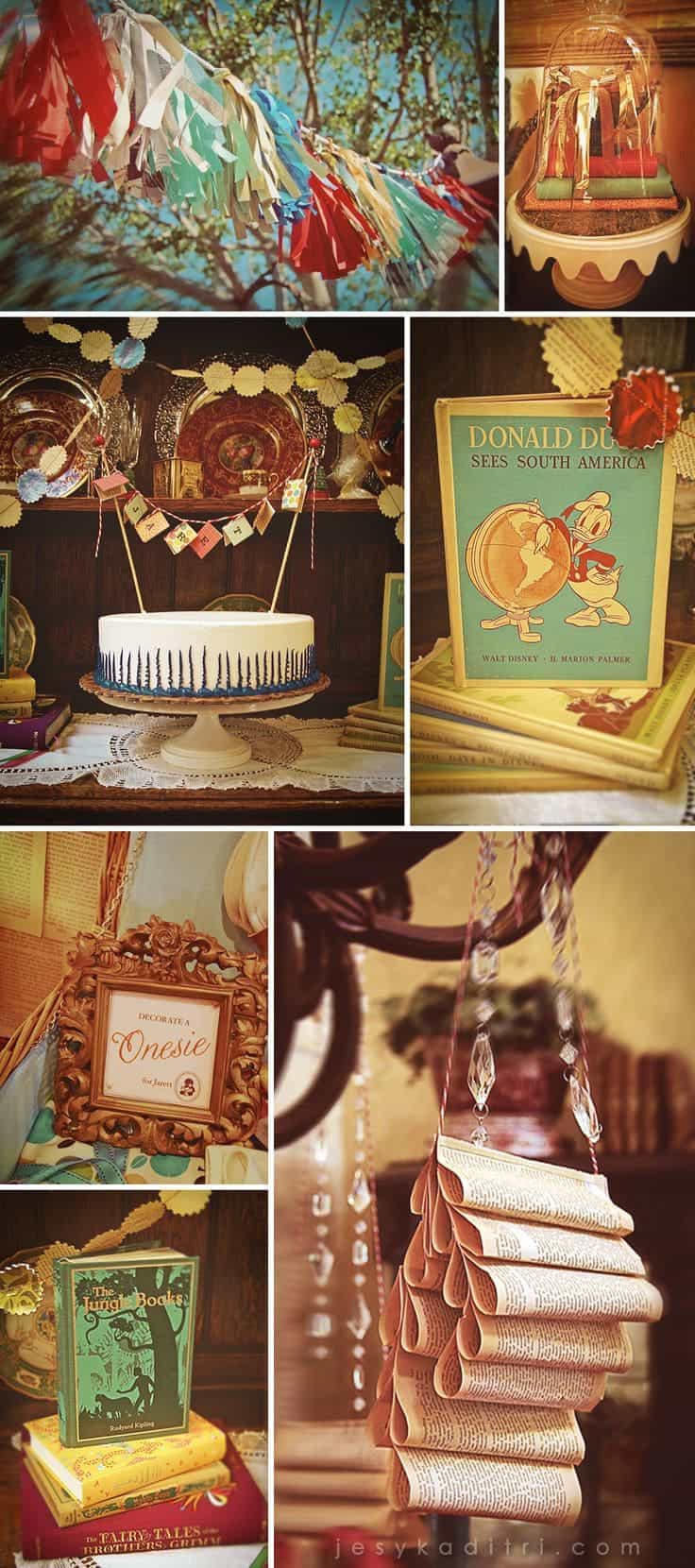 We found this idea on pinterest and it belongs to Jesyka D'itri of
visual vocabulary
. We like the idea of a library or booklover themed party; it's a chic baby shower idea and not necessarily expensive if executed correctly.
Keep the color palette gender neutral by using mostly deep hues of browns, greens, purples, oranges and reds. Avoid toys, shabby chic mismatching and instead go for attractive centerpieces and delicious food. Place the centerpieces next to old books opened on passages about children or marriage, add
personalized bookmarks
to each table and have a bowl of chocolates or candy to top it all as a triangle. The centerpiece can be made of paper bags made out of newspaper and tied with ribbons (see idea #1 above).
Go the extra mile:
Ask guests to take their favorite children's book to the party. When they do so, place them in a stylish wicker chest for the parents to get to keep. Incorporate the book theme everywhere by hanging book page signs or lanterns over the buffet table.
Modern Baby Shower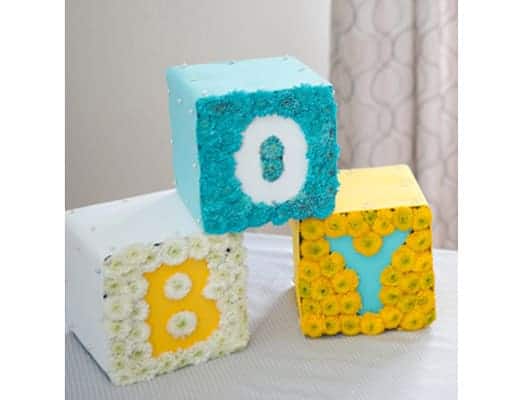 Do you want to throw the shower of your life? To honor the motherhood of modern women, dispense a discriminating color code, invite the soon-to-be dads and offer appetizers that require no prep time.
Choose chic decorations, a graphic invitation and desserts as trendy as she is.
We got this idea at thebump.com and were taken with the simple color palette of three solid tones.
To add a personalized twist, forget doilies, die-cuts and custom shapes and go lean - on everything, except maybe the food!
Choose the location first and the palette second; this will simplify the process for you. If at home, choose a space that already has a muted palette, if at a restaurant or cafe, go for a modern -clean-cut shape- sort of place.
Get plain serving platters (no gold trimmed vases and no shabby chic mismatching), get some fun origami to add as decoration on certain spots and if possible use unique flower art to add a pop of color to a corner. Make it the photo-op place by hanging a frame around them. In the end get a
photobook
.
Black and White Baby Shower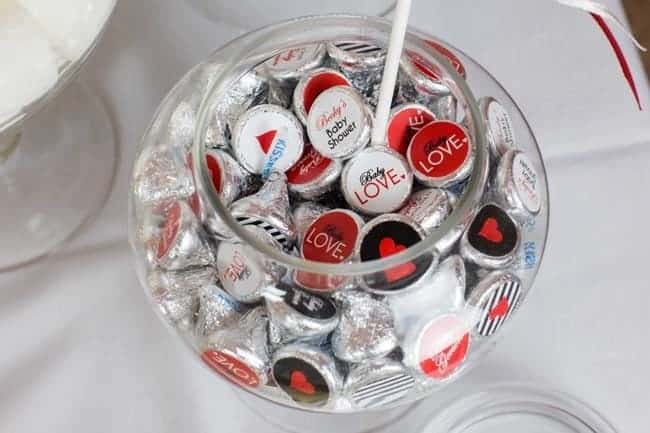 An elegant mom is sure to love a black and white baby shower with trendy desserts and decorations, we sure did. This idea comes to us from
spaceshipsandlaserbeams.com
.
For the décor, layer a black table runner over white linens and place a few white orchids in a cylinder on the table. Add a touch of sophistication by tying a black satin bow around the back of the chairs. For desserts, serve gluten-free chocolate cupcakes with vanilla frosting like these ones.
Go the extra mile:
Get round stickers with cute messages to place on chocolate bonbons (or at the bottom of Hershey Kisses like they did) to add a bit of fun. To get more bang for your buck get
kiss-cut decals
that you can place on the walls and remove later. Black on a white wall does the trick.
French Inspired Baby Shower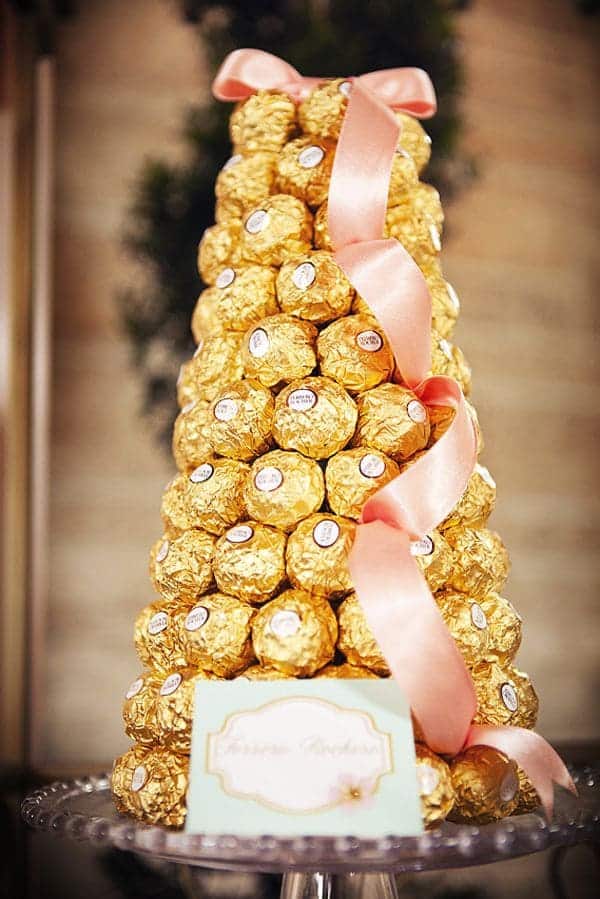 This Ferrero Rocher tower idea had us at hello. Think French, Sofia Coppola style; her version of Marie Antoinette and French court was decadent and stylish, with vibrant colors and a modern touch on the classic Louis XVI theme. Go for that. Ooh La, La, ladies!
Boho-Chic Baby Shower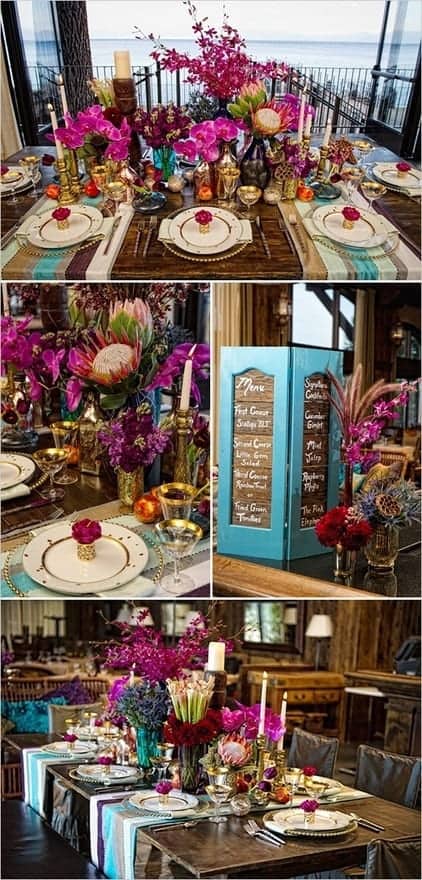 Hippie or boho chic baby showers are great to spread some happiness, peace and love for moms-to-be. This was a wedding set on bronzebudgetbride.com but it can be easily adapted to the occasion. To style a creative hippie baby shower, use feminine details like flowers, lace and ruffles, mixing it with bright colors. For the cake, use bright yellow and trim it in tie-dye peace signs and flowers. Guests can wear fringe and flowers and play the mom's favorite music.
Are you thinking about ordering thank you notes for your guests? How about these vividly colorful thank you magnets instead? Think of
custom made magnets
for your shower!
Which of these chic baby shower ideas did you like the most? Which one are you dying to try at your baby shower? Are you having a boy or a girl? Do you have any other one-of-a-kind baby shower ideas that wowed your guests in the past? Please feel free to leave a comment.