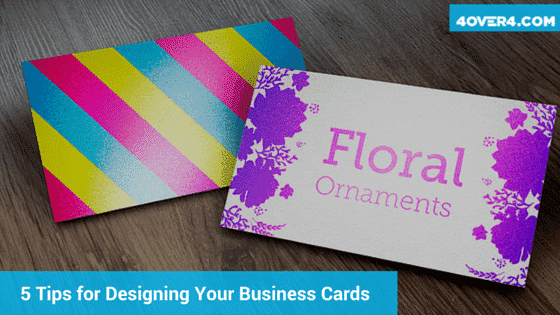 Even though these days we interact through social media, business cards have not fallen behind. In fact,
these must-have marketing tools are a tangible reminder in a digital world.
Oftentimes, resumes sent via email end up deleted and your message gets lost in the thousands of notifications sent daily. Contrary to that, a real world conversation can can have a much bigger impact than 500+ connections on LinkedIn; all you need is to
hand out memorable business cards to make a lasting impression.
So the question is, how can you design a business card that stands out in a
world obsessed with media connections
? By coming up with a fresh design, reflecting your personality and conveying your intended message. However, that's not always enough in this competitive era, you also need a high dose of imagination.
Creativity allows for good business owners to ensure their designs will definitely stay out of the trash
Business Cards Printing Tips
We, at 4OVER4.COM offer a myriad of choices, including die-cut shapes, elegant finishes and thick paper stock to help you create unique pieces that get people talking about your business. The best part is that you don't have to go over your budget, we have an amazing offer you won't want to miss!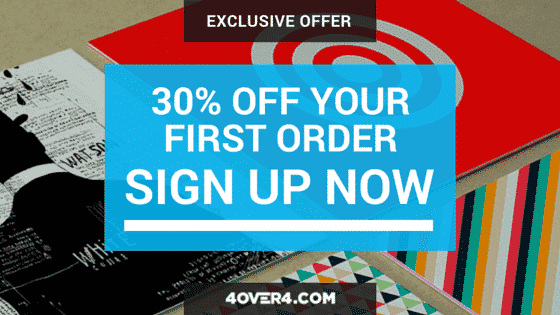 Whether you want to design a business card that breaks the mold or simply gets your information across,
you need to consider the latest trends and expert design tips before you customize them
. So, check out these 5 on-trend design tips we've gathered:
#1. Come up with original Shapes
So far, most of the business cards we receive are rectangular. This shape is ideal to provide basic information, but
people now look for oval, circular, rounded edges or creative die-cut shapes to stand out from the sea of business cards
circulating in the market. Not only do innovative shapes portray authenticity; they also show how creative your business can be.
Below, we point out
three key tips to create a lasting impression with die-cut shaped business cards:
Make sure their shape complements your business. For example, if you are a guitarist make your business cards shaped like a guitar.

Leave white space, bleed area and margins.

If what you love is simplicity, use rounded corners to make a slight differentiation from rectangular ones.
[caption id="attachment_7418" align="aligncenter" width="600"]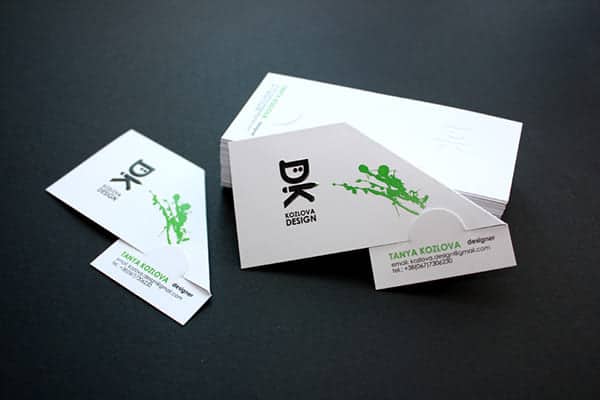 Project by Tanya Kozlova[/caption]
#2. Add a Visual Appeal
In previous years, colors were the most common method to make eye-pop cards. However, this is not the case in 2016.
There's a range of clever resources to add that WOW factor to business cards
including ultra-thick black stock, environmentally friendly papers, different folding options, soft to the touch cardstock and more.
Here're some ideas to help you add a visual punch to your cards:
Add an elegant touch to your cards with foil stamping or raised lettering.

Avoid cheap and thin paper. Instead, use materials like plastic, 3D lenticular, high gloss UV-protected or silk laminated paper.

Use abstract doodles or patterns to add pizzazz to your design.

Go with ultra-thick papers and choose a vibrant color seam for a more dramatic effect.

Choose sophisticated black business cards with edge painting.
[caption id="attachment_7419" align="aligncenter" width="600"]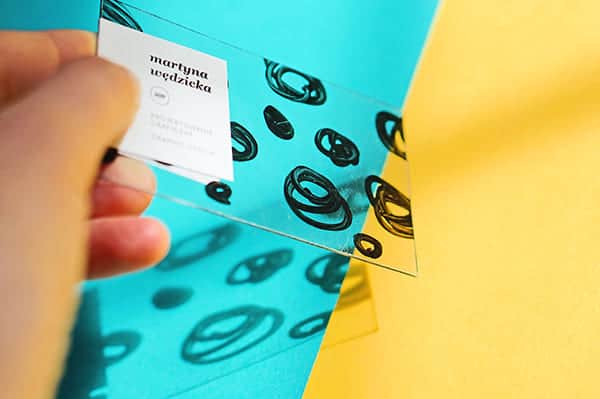 Project by Martyna Wedzicka[/caption]
#3. Add a Splash Color
Color is a big player when it comes to designing eye-catching business cards
. The basic route is to include your corporate colors. However, if you want to create a striking impression, you may want to choose vibrant and bright colors or a colorful background for a striking look. Bonus tip: don't underestimate the power of color psychology.
[caption id="attachment_7420" align="aligncenter" width="1024"]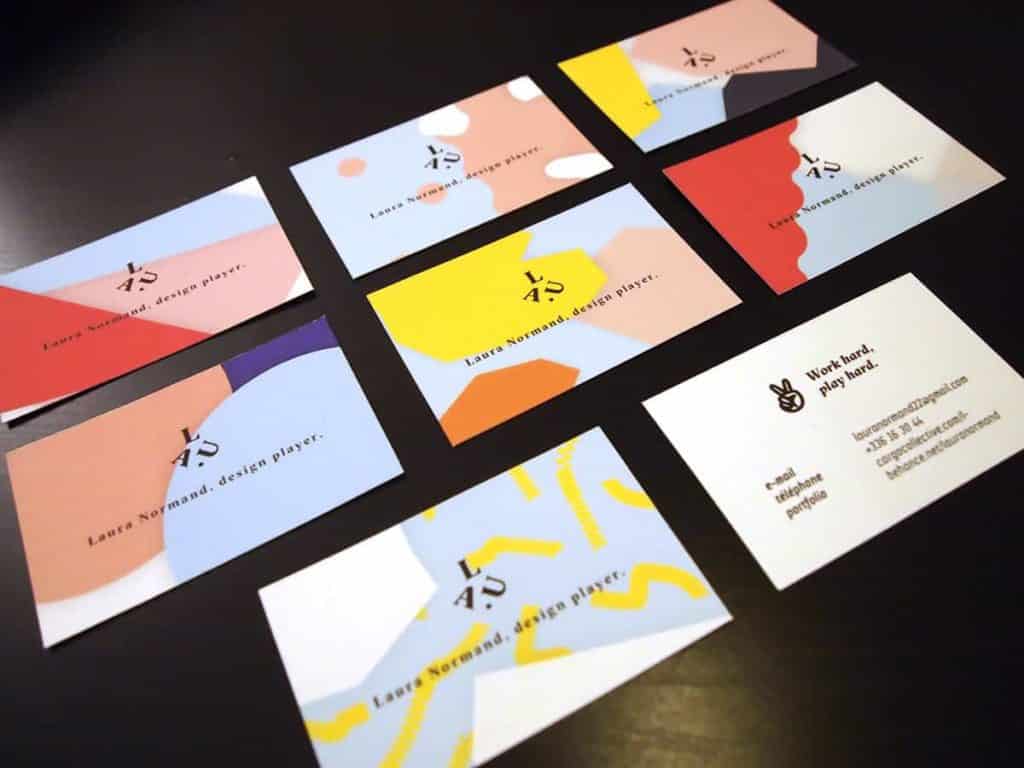 Project by Laura Normand[/caption]
#4. Choose The Right Finish for Your Cards
Although there's a wide range of printing finishes to choose from, these are three of our favorite choices:
Spot UV printing
is a popular finish because the glossy layer applied on specific areas of the design makes them eye-catching and interesting.
[caption id="attachment_7421" align="aligncenter" width="1024"]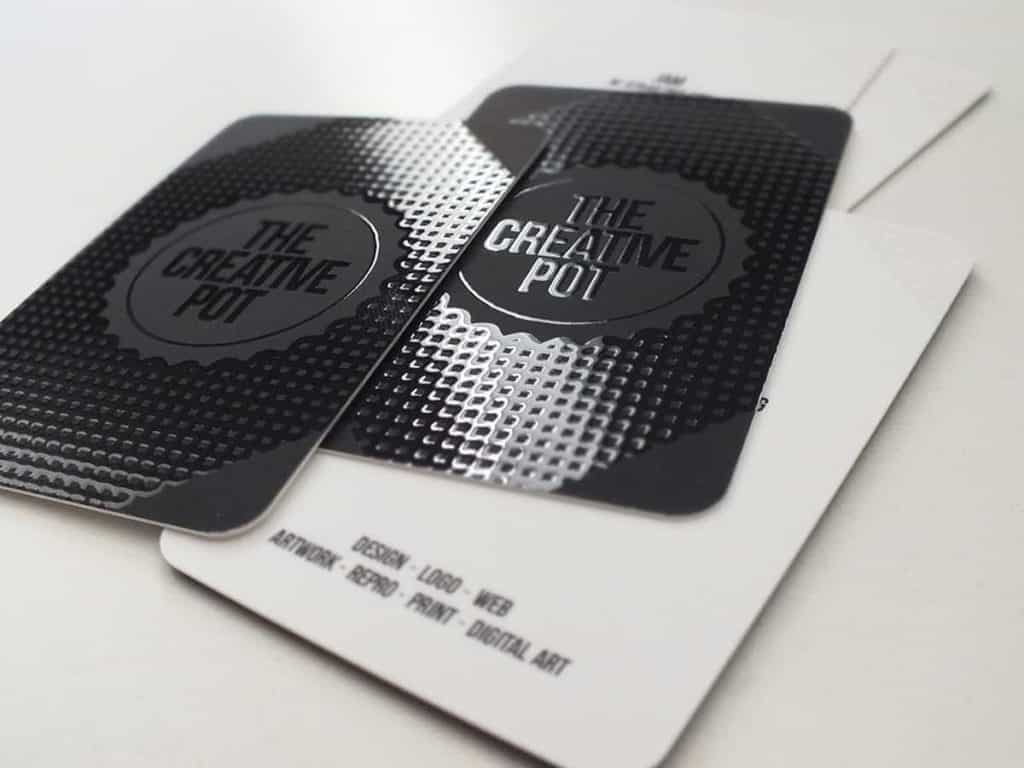 Project by JAM_tcp[/caption]
High gloss UV coating
enhances colors, making business cards look glossy. We recommend applying a UV coating on deep, rich colors to give a 'wet' appearance. Since high gloss UV coating makes the details pop, it is ideal for highlighting your logo, name or image.
Embossing
creates a 3D raised effect that results in a very strong texture feel to the card commonly used to highlight important details such as logos, names and designs, while
debossing
gives the opposite effect of embossing by depressing the print.
#5. Think outside The Box
Sounds simple, but coming up with creative ideas is not a piece of cake. To do so, take a look at top designer's work (avoiding plagiarism), check out current design trends for 2016, ask others to give you constructive criticism, draft and redraft your design and put yourself in your recipient's shoes.
To make your business cards unforgettable, break the mold and step away from the same, boring concepts.
Successful business cards in 2016 are professionally designed, creative and neat. Whether they are elegant, funny, whimsical, chic, cute, girly, retro, vintage or modern,
outstanding business cards showcase their own style and personality through their shape, colors, finish, visual look and creative touch
. T
he message is simple - make people look twice at your business cards.
Remember to create your account to get
30% OFF your first order
. Do you have any questions concerning printing? Let us know! Are you ready to customize your own?
Check out our business cards' categories
and choose the style that best fits your personality and goals!