Social distancing is a term that many of us had never commonly heard of until Covid-19 set in March. With the rapid spread of the virus, the World Health Organization told us to wear masks, sanitize, and keep six feet away from people when in public spaces. This is when the term social distancing started being frequently used. Today, we can see social distancing stickers and graphics all around us. It is a great way to make people aware of keeping a social distance from a person who is infected to reduce exposure to and contracting the virus.
According to the visual capitalist, when an infected person reduces their physical contact with others by 50%, they also spread the disease by an amount of 50% less.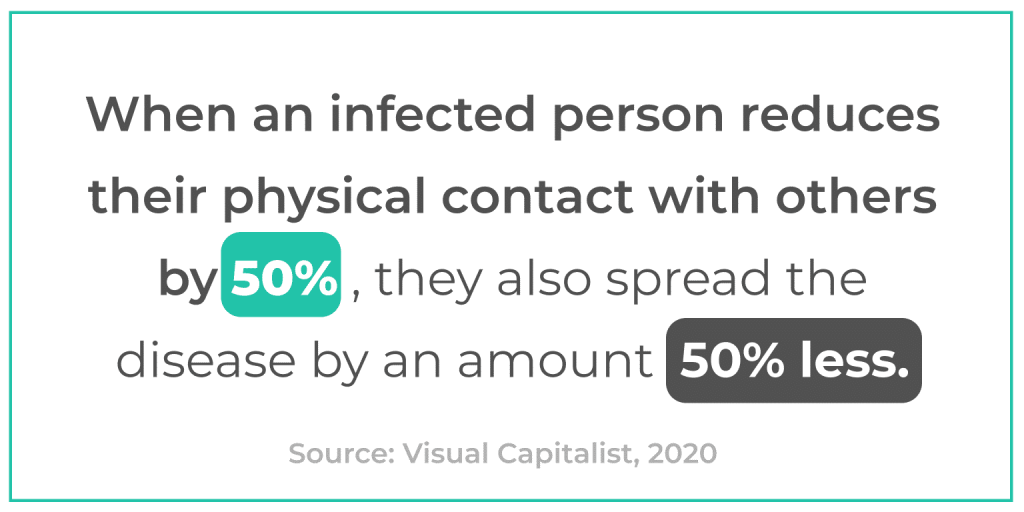 That is when commercial areas such as supermarkets and public spaces had to start enforcing this policy to curb the spread of the Corona virus.
Stickers could not be more crucial at this point because they would help enforce social distancing by directing people in public spaces on where to position themselves. We were used to floor graphic material that would give direction to where a certain event or office is. Others were used for branding and raising awareness about something but rarely for social distancing.
In this article, we will explore the best social distancing stickers that you can use for your business.
These are some of the best social distancing stickers in the market:
Floor decals - one of the best social distancing stickers
You have already come across these pieces of art in various areas such as airports and conferences. Social distancing stickers are specialized decals for floor advertising. This type of floor graphics is most efficient in areas of high foot traffic such as banks, supermarkets grocery stores and many more.
Fortunately, they are also customizable. It couldn't get any better because you determine the size, shape and design of the floor decal. We have examples of templates at 4OVER4 which you can use to design your floor decals. All you need to do is to decide on a design and have them printed for you in bulk.
Removable vinyl social distancing stickers
Floor graphics vinyl is UV printed floor social distancing stickers that is used in retail environments such as Walmart, restaurants or dance floors. They are a great way to publicize your brand. They can be placed within six feet of each other to maintain social distancing.
They are a very effective way to direct crowds of people to a certain area in the building such as a promotion, an alternative exit and so much more. As effective queue guides, they will bring order and help organize a large mass of people while preventing the rapid spread of the Coronavirus.
Ensure that the removable vinyl for floor graphics is laminated with non-slip and anti-scuff over material to prevent sliding accidents or instances that can result in injury especially in a retail environment. That is bad for business.
These vinyl floor stickers are made of a removable self-adhesive which makes it easy to change and update the message as and when it is required.
Social distancing carpet stickers
These social distancing stickers are especially suited for carpeted surfaces for retail areas such as hotels, banks, conference halls, etc. They are laminated with non-slip material and are good for specifying places where people should stand. You can also include more information about your brand and use creative graphics as a form of floor advertising.
Amazingly, carpet stickers can be easily applied and removed without leaving any residual adhesive patches on the carpet.
You should be cautious and avoid using any ordinary floor graphics which are designed for smooth and clean surfaces. They are not suitable for carpets because they can damage them.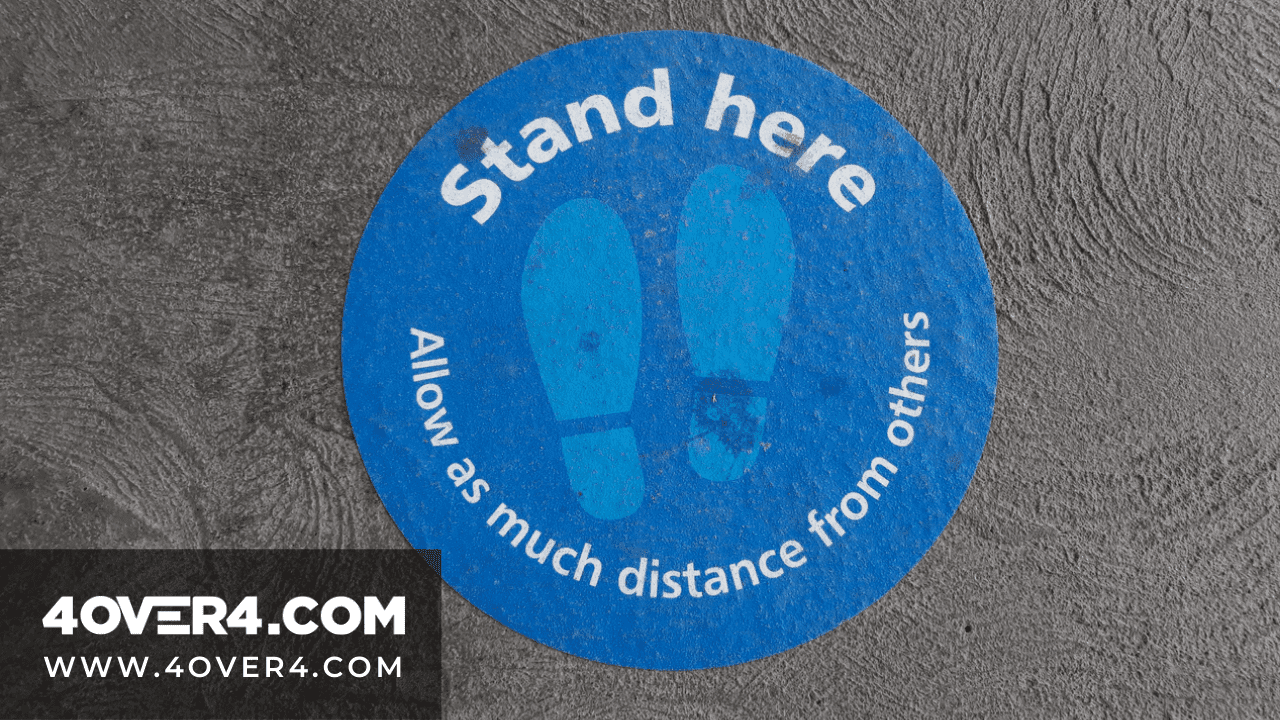 Source
Outdoor sidewalk stickers
These are digitally printed floor decals that are meant for outdoor surfaces. As a result, they are made with an aggressive adhesive to withstand the roughness of outdoor surfaces. The best quality designers add an aluminum foil so that they can enhance durability while minding the environment. Social distancing stickers should therefore be environment friendly and biodegradable.
Some of the best outdoor decals come with a tough top layer textured graphic lamination that gives them an anti-slip finish. These floor graphics can be used to enforce social distancing in outdoor places such as basketball court floor graphics and parks.
You can let your creativity run wild with these by designing different shapes, colors, and sizes that best represent your brand. Some people design theirs to look like basketballs while others a big wrist. It all depends on the type of business you run.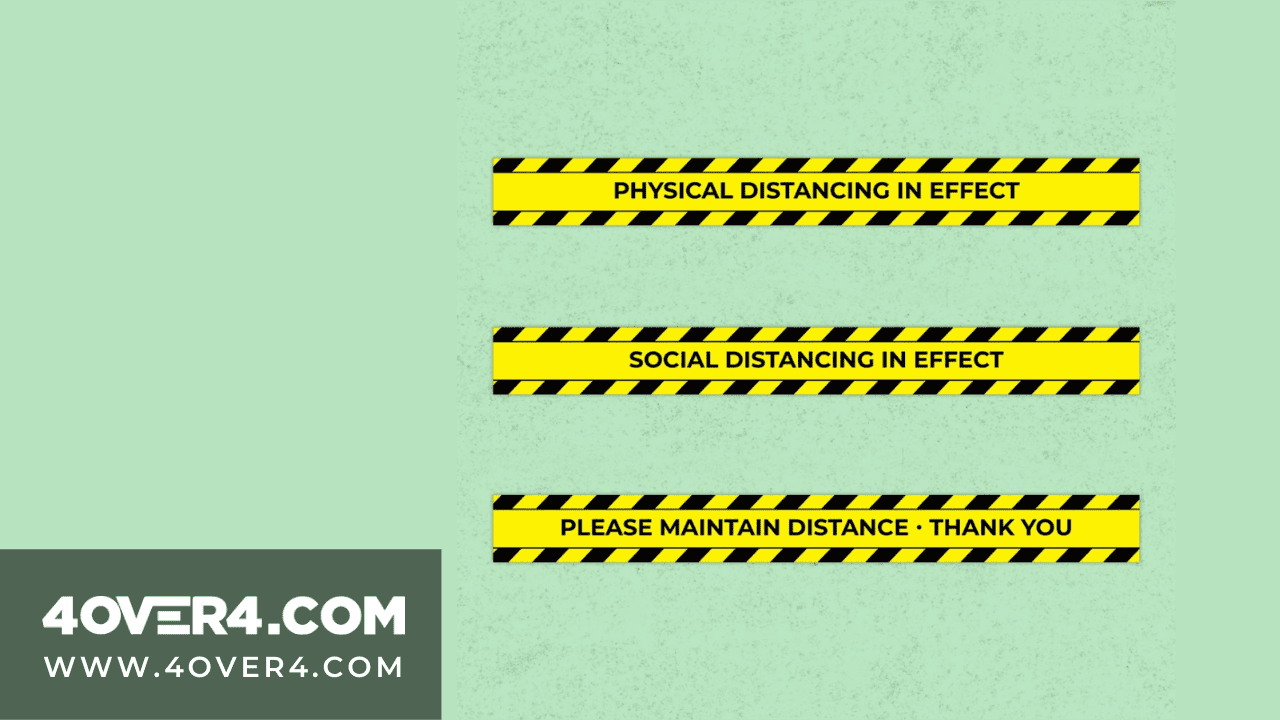 Source
Floor strip stickers
I have come across these simple rectangular floor stickers in various retail areas especially grocery shops which help in maintaining social distance in queues. They are perfectly customizable but the common ones are rectangular black and yellow designs.
Like all the other floor stickers they come in a non-slip coating material and some have carpet matte designs.
Good floor strip stickers need quality adhesives so that they can remain anchored despite the huge barrage of shoes and cleaning that happens on floors while making them easy to remove.
Conclusion
There are dozens of tutorials online that will guide you on how to install and remove floor graphics so that you leave your surfaces clean and untainted by any adhesive residue.
Having known the characteristics of good quality social distancing stickers, I know you will choose the most attractive graphics for your business.