Have you ever heard of lip gloss business cards? I know we know all about Lip gloss but do you know there are business cards which are lip gloss themed?
Lip gloss business cards are premium cards that are designed to imitate the effect of lip gloss or lipstick on the lips. The art etched on the cards is similar to the lip gloss finishing on the lips. This gives the cards a glossy, shiny appearance. Some cards may have oiled lips drawn on them for an artsy finish.
Some lip gloss business card designs also employ the glittery finish to further enhance the card's aesthetics. The majority of the cards are printed on a thick paper stock because of their quality.
You may wonder why one would go through all that trouble. Hyland graphics advises that, "88% of cards go in the trash, but a colored card has ten times more of a chance to stick around, why bother sticking to the utilitarian white business card approach of the 1970's persuasion?"
These are some of the best business cards that can be customized to the lip gloss business cards theme: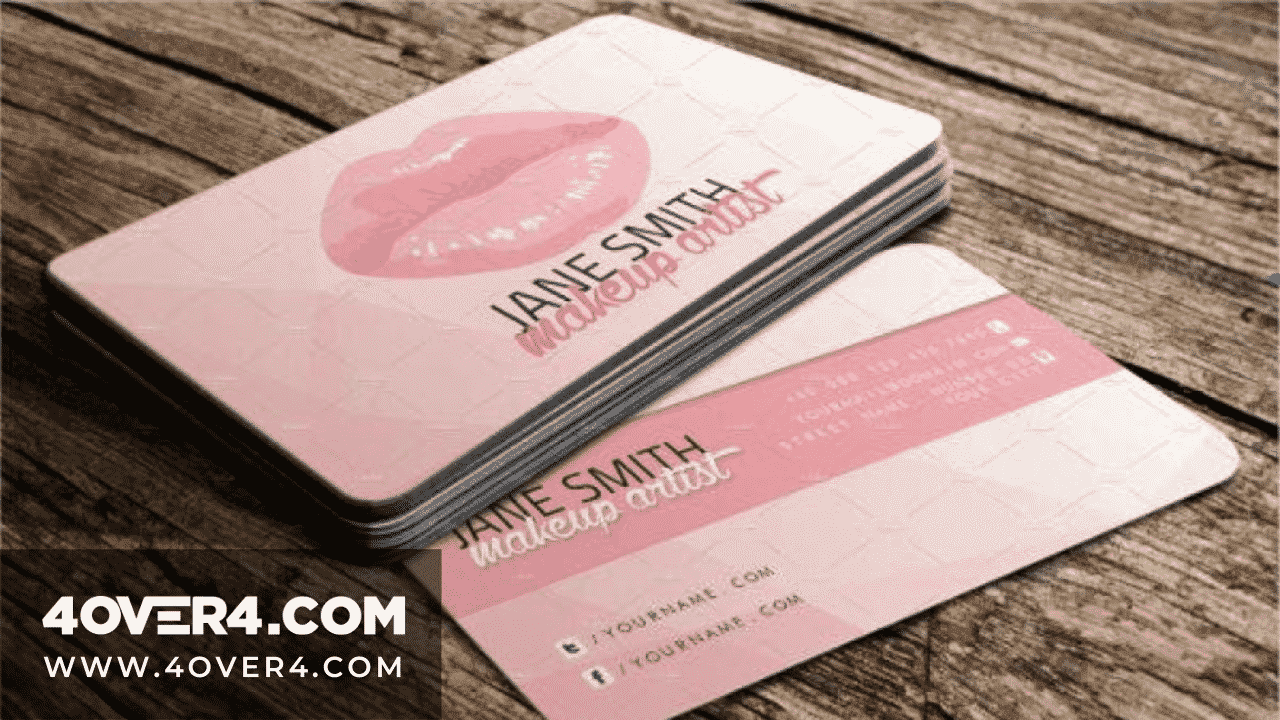 Source
Glitter Spot UV Silk Laminated Lip Gloss Business Cards
The glitter spot UV card is printed on a 16 point silk laminated card stock. They are attractive to the eyes and shiny. You will immediately stand out in one of these. For sparkle specialists especially, these are some of the best ambassadors you can choose to represent you.
They are also highly recommended for the fashion industry because they align with the theme, making them more relatable to fashion icons. This is because they have a glimmering twinkle that excites the eyes of anyone with fashion sense.
Glitter spot UV laminated business cards come with various types of sparkling specialties such as foil, painted edges, and deboss. At 4OVER4 we offer the best glitter spot cards because we know that you want to impress your next million-dollar customer.
Diamond Glitter Lip Gloss Business Cards
Almost similar to the glitter spot UX cheap business card, these are some of the most unique cards in the entire world because the diamond glitter at 4OVER4 is the world's only printable glitter paper. They are visually striking and attractive to look at. They capture the attention of whoever catches a glimpse of them.
Delightfully, they have a firm texture that will please anyone who holds them. However, it is particularly important that the glitter on the cards does not rub onto the fingers and subsequently on the clothes, face or hair.
As a result, the production of these cards is specialized to eliminate glitter flake shedding and cracking. That is not to say that the moderately rough texture is lost. Are you wondering how to make a diamond glitter business car? With the help of professional designers, you can create stunning glitter sheen with a traditional glitter feel.
The moment you hand the card over, the recipient will give you a new level of respect because you go over and beyond the expected norm to impress. It makes an important statement about your products and services. It shows that you add spice to what you offer in order to enhance the best and most unforgettable customer experience.
Ultra-Thick Diamond Glitter Business Cards
The ultra-thick diamond glitter is one of the most unique cards because it is made from the world's only printable glitter paper. With these 3-dimensional card designs, you are assured of creating a lasting impression.
With the extra heavy feel, they exude luxury, opulence, and uniqueness. Its dazzling, commanding appearance and a textural surface are some of the reasons these cards will bring you amazing out-of-this-world results.
They are as thick as a credit card. Therefore, they are thicker than your ordinary card stock which may not last long enough. The offer long term durability.
You may one day receive a call from a client who got your card three years back. I would invest in these quality cards since they are for the long haul. A prospective client will store the card and store it as a memento. They might even go further and spread the word about my business just because of that amazing piece of lip gloss art.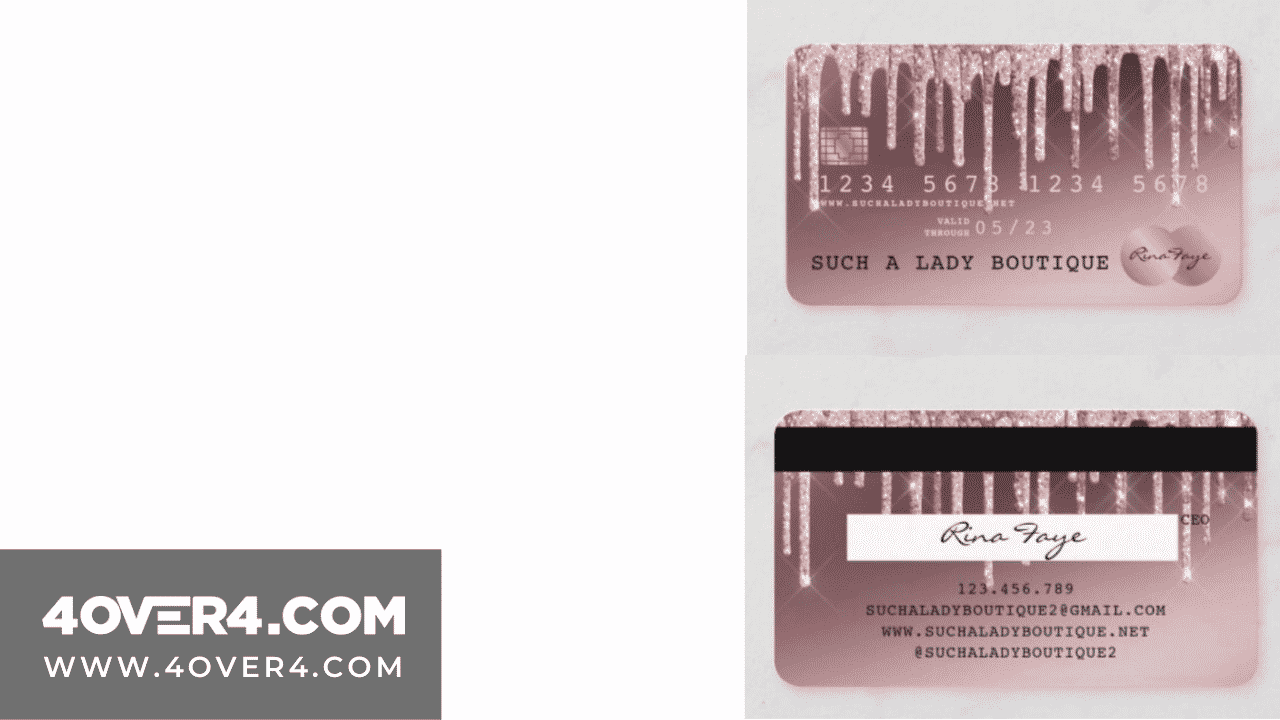 26-Point Shimmering Metallic Pearl Lip Gloss Business Cards
The luminous surface is designed to show through your printed images, enriching any design. This innovation ensures that your readers and viewers will have a unique experience engaging with your brand, with an eye-catching shimmer highlighting your company, product or event.
Furthermore, you can have luscious finishes of shiny lip gloss. Some designs involve having images of lips just to create a stronger appeal. These cards are highly recommended for the beauty and cosmetics industry. If you deal with beauty products, you should consider using a lip gloss business cards or a 26-point shimmering metallic pearl business card.
Follow the Latest Trend with Lip Gloss Business Cards
Generally, the lip gloss business cards are embedded in the rich theme of elegance and excellence. Owing to the thick stock material used, their durability is ensured. Even as the statistics estimate that more than 60% of Americans dispose of the business cards handed out to them you can be sure that this card will not be part of that statistic.
You only need to go online and make your own glitter spot UX lip gloss business cards. Ensure that the design aligns with your business. The best design company will ask you to specify your preferred glitter spot UX business card size in pixels. Watch the magic happen when you begin to hand these cards out.