Outdoor events are the best places to promote your brand. Whether fairs, charity, festivals, or seminars, and conferences, outdoor venues give more significant exposure to your brands. Do you know how to promote your brand during the outdoor events? The custom event tents provide an edge on your competition. It help you to connect and engage with your customers easily. The custom printed event tents help your brand to stand out cost-effectively. If you are searching for a creative way to market your brand name and products, promotional event tents are the way to go. 4OVER4 is one of the leading online printers that can assist you with customizing your tent packages. With an excellent customer service team, we provide you with high-quality and high-resolution printed event tents.
What are Custom Event Tents?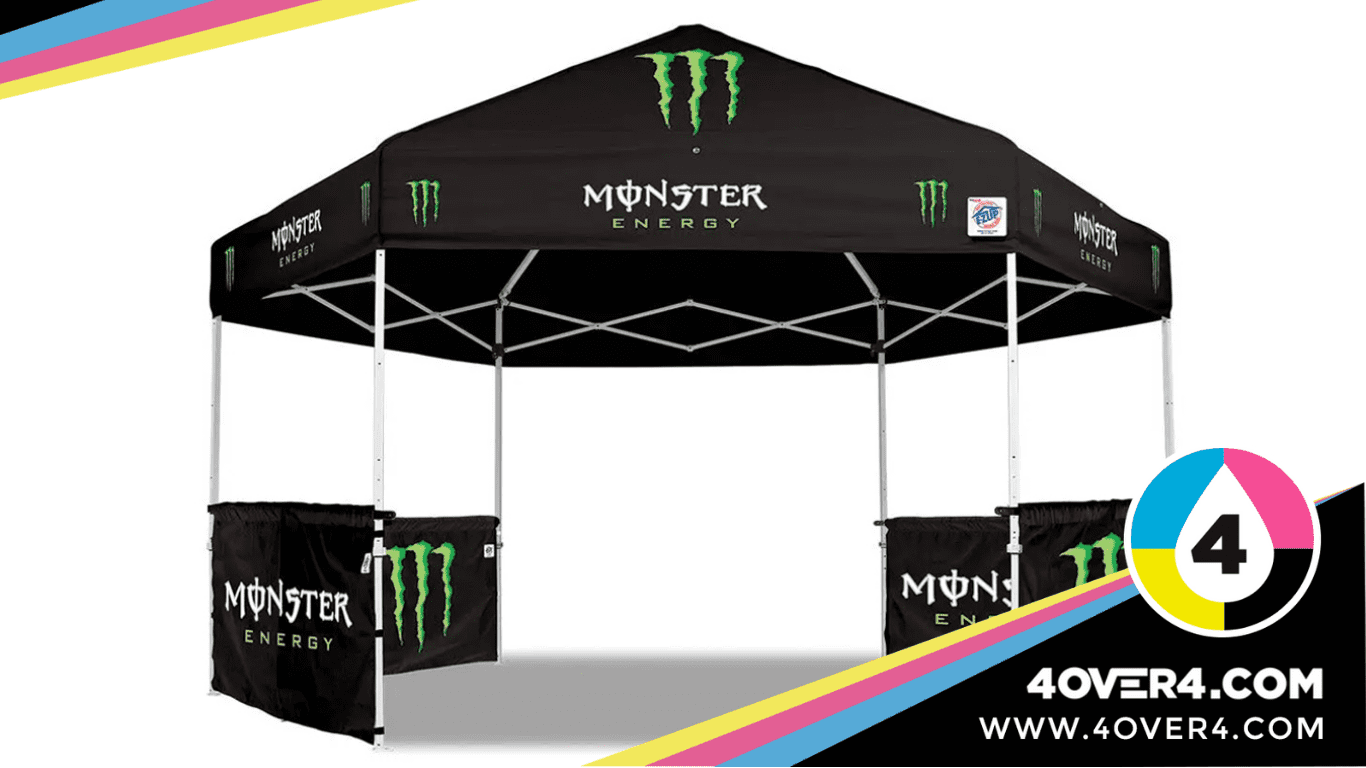 Black color event tent with logo and design printed on it Companies admire the event tents for their aesthetics, attractiveness, versatility, and practicality. Within a small budget, you can easily use the branded pop-up tents for trade shows, outdoor events, sponsored local events, or even any special event at your company premises. The custom canopy lets you enjoy your event in a safe environment irrespective of harsh weather conditions like extreme heat, snowfall, chill in the air, etc. Moreover, when you customize the tents, they help in promoting your brands by giving great exposure to numerous people. Let's learn more benefits of the custom event tents to promote your brand effectively.
Versatile and Easy to Use
Whether you are attending an indoor expo, trade show, festival, or an outdoor event, the inclusion of custom tent to your space is the best thing that can happen. The customized popup canopies are ideal for all occasions. They let you promote your business creatively and efficiently. Many large companies choose profligate roadshow travel featuring improved campers and trucks. But for the small or new companies, it can be excessively over-budget. Opting for custom event tents is an economical and versatile solution. It can work as a heavy-duty motorized showroom. The modern popup tents are easy and quick to assemble and safe in use. Get your event tents printed from 4OVER4 and assemble it with a few of your team members. It helps to promote your brand without any significant investments.
Brand Awareness with Custom Event Tents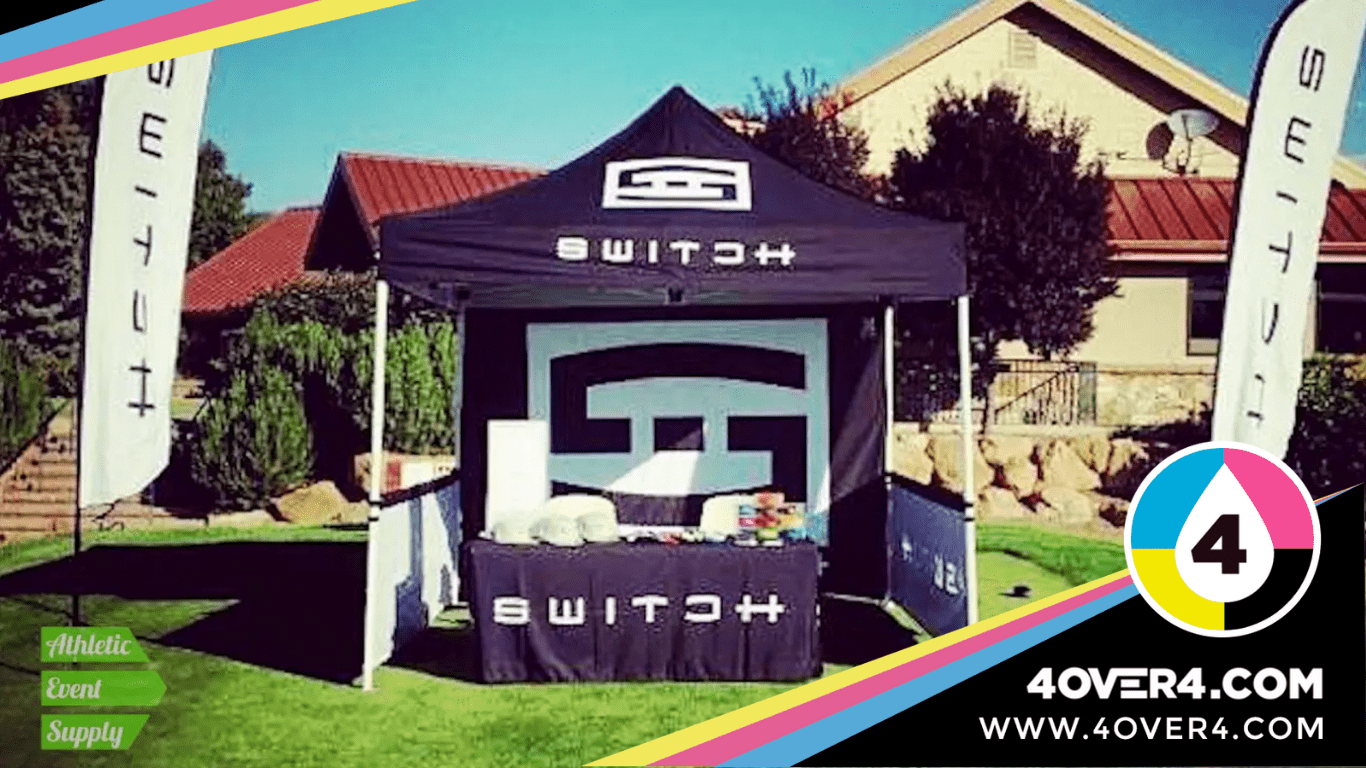 Custom canopy for fairs and events. There are many businesses where showrooms are highly essential to drive sales and create engagement. The regular brick and mortar showroom are inflexible and rigid. With custom tents, you can take your brand anywhere you want and communicate with your customers to create engagement. Set up the canopy top event tents at a community fair, trade show, market, or any of your customer base area. You can choose your unique space and customize tents with your brand info to etch your brands in your customer's mind. Every business needs to promote its brand to achieve success. Exposing your brand name in the crowd is the key element to brand building. Apart from a custom tent, business cards, wall graphics, floor graphics, storefront decals, etc. are also a great way to display your brand. Our team at 4OVER4 allows you to choose exclusive color combinations and offer scratch-resistant and durable canopy material. We help your brand to get noticed quickly by the passers-by.
Installation of Custom Event Tents
Setting up the custom pop at massive outdoor venues can be extremely time-consuming and stressful. With 4OVER4's easy to assemble aluminum frame to set up the branded pop-up tents, setting up and taking it down can be done within a matter of minutes. As you need to spend less time on setting up the event tents, you can channelize your energy and time on attracting the customers. Let the printed event tents do its work. Meanwhile, you can use the installation time to focus on other means to promote your brand.
Durable and Robust Custom Canopy
Do you remember the number of business cards or brochures you've gone through in the past years? It often ends up in the trash but with the customized event tents, there's no way people can throw or discard. The material and print of the custom pop tents have the power to withstand the test of time. So, the thick polyester material of the tent has no chances of getting torn. It can easily withstand the harsh conditions of weather, flame and water repellent, and offer protection to the harsh sun rays. The best part is the promotional events tents are light in weight and easy to carry from one place to the other. You can easily fold and transport durable event tents from one event to the other.
Attractive Prints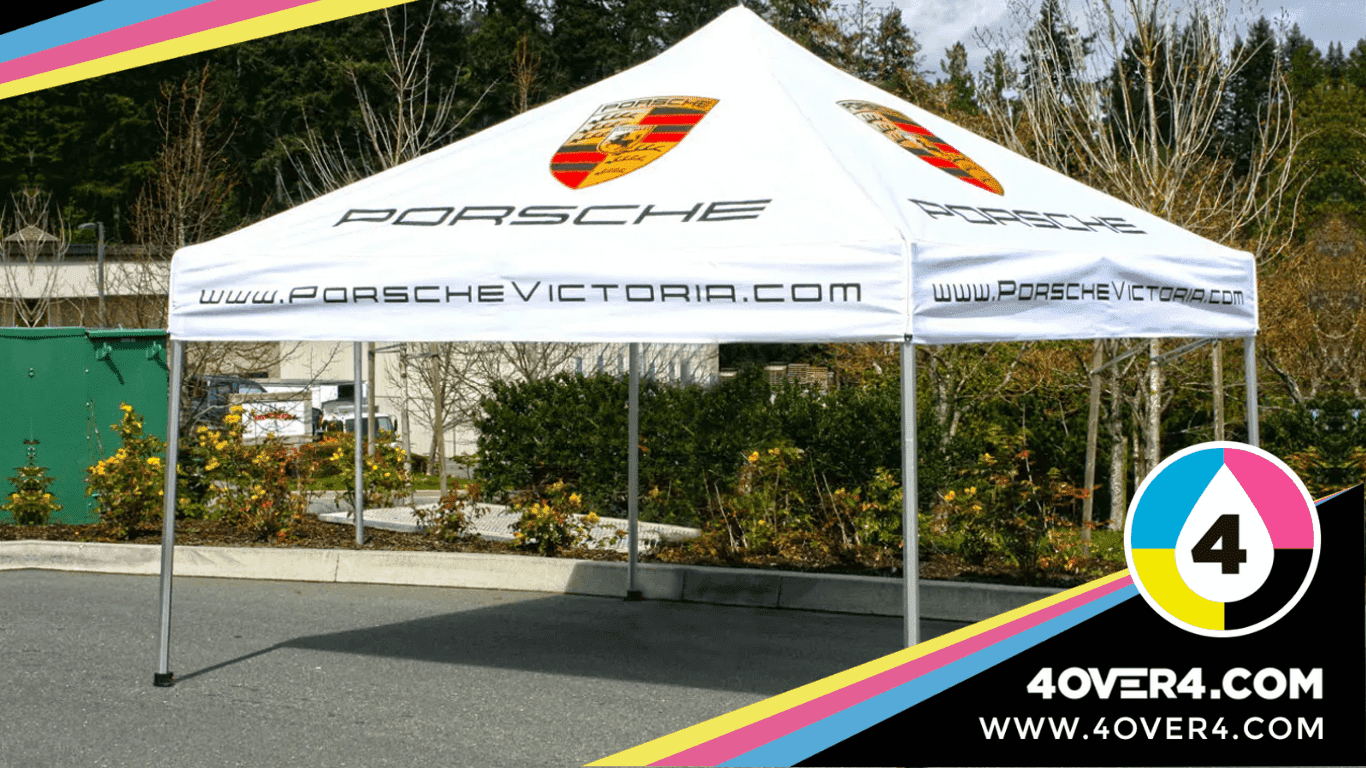 White color customized tent with site url and logo printed. Source It can be quite difficult to grab the attention of the passers-by during the large events. When you have several businesses of the same nature, it becomes challenging to draw the attention of the wandering customers. With the use of the exclusive prints. colors, and designs on the customized tents, you can buck up on the competition. Adding your logo and company contact info on the custom event tents can create brand awareness. It helps people to reach you easily. Always remember that not just the design, you can work on the size and shape of the event tents too. Select a canopy that fits your business needs. An attractive print and design of the tent is a must for brand promotions.
Promotional Printing with 4OVER4
The custom event tents are great for businesses that are looking to take their brand advertising and promotions to the next level. With 4OVER4, you can give shape to your ideas and create unique promotional marketing materials. It's time to choose the right easy to set promotional tent as per your business requirements. Print it with your company info and unique design. For any queries, you can reach out to our customer service team. Get your custom printed event tents delivered at your doorstep.