Next Monday February 17th is President's Day. Or is it Presidents' Day? Whichever one you prefer is OK, because the actual holiday name is George Washington's birthday. Coincidentally, both Washington's and Lincoln's birthdays were in February.
To celebrate Presidents' Day, we decided to get history mode ON and bring you this 
wonderful collection of Vintage Campaign Posters full of American history.
1928 Herbert Hoover 

P

oster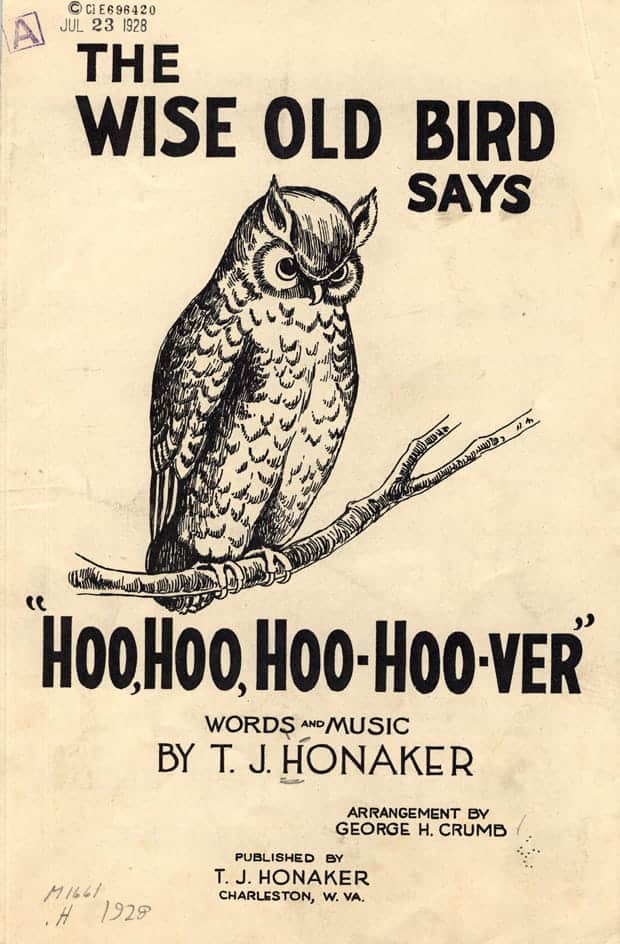 Herbert Hoover won the 1928 election by a wide margin of votes. The campaign poster got our attention because of the clever slogan. Notice how the candidate is not even directly featured on the piece?
 1940 Franklin Roosevelt 

Poster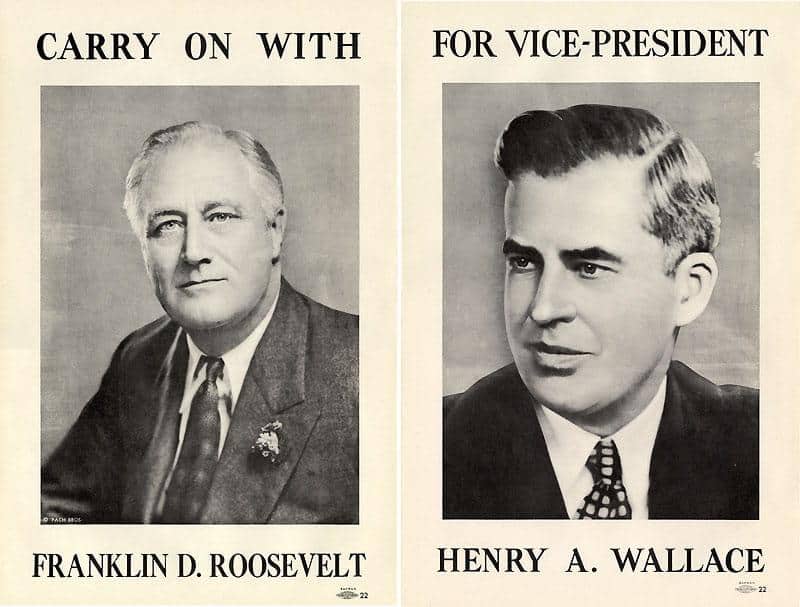 These posters were made for Franklin D. Roosevelt presidential campaign in 1940. At the time, political and war propaganda posters were as common as advertising. Nevertheless the simplicity of these portraits brings a mix of history and art to our days.
 1960 John F Kennedy 

Poster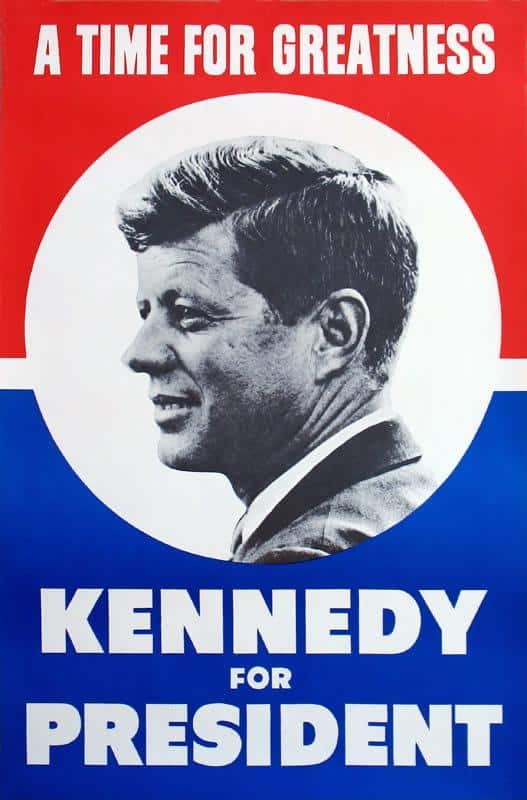 This well-known image belongs to John F. Kennedy's primaries campaign. Which later became one of the most famous elections  because of the results. Kennedy obtained 49,72% and Nixon got 49,55%. Too close for comfort for some.
 1968 Eugene McCarthy 

Poster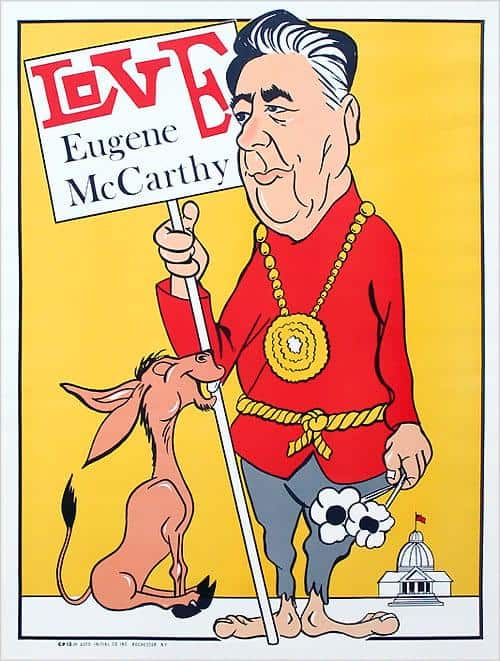 McCarthy's campaign focus was to put an end to the Vietnam war. And we do get a pacifist vibe from the flowers and sign in the design. He was not designated as the democrat presidential candidate though, it was Hubert H. Humphrey instead. But we still like to acknowledge the poster as an artistic expression of the 1968 electoral race.
1968 was a colorful year for campaign poster designs. You'll see the trend with the next 2 posters, also choosing to portrait a cartoon version of the candidates.
 1968 Ronald Reagan 

Poster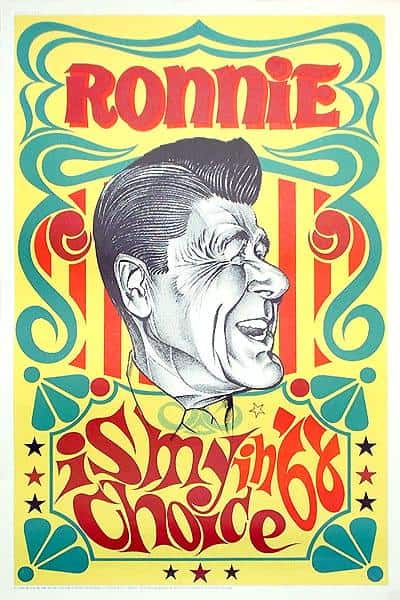 Ronald Reagan didn't win the run for republican presidential candidate in 1968, it was Richard Nixon instead. However, this psychedelic vintage poster campaign is interesting for both historical and visual reasons.
 1968 Robert F. Kennedy 

Poster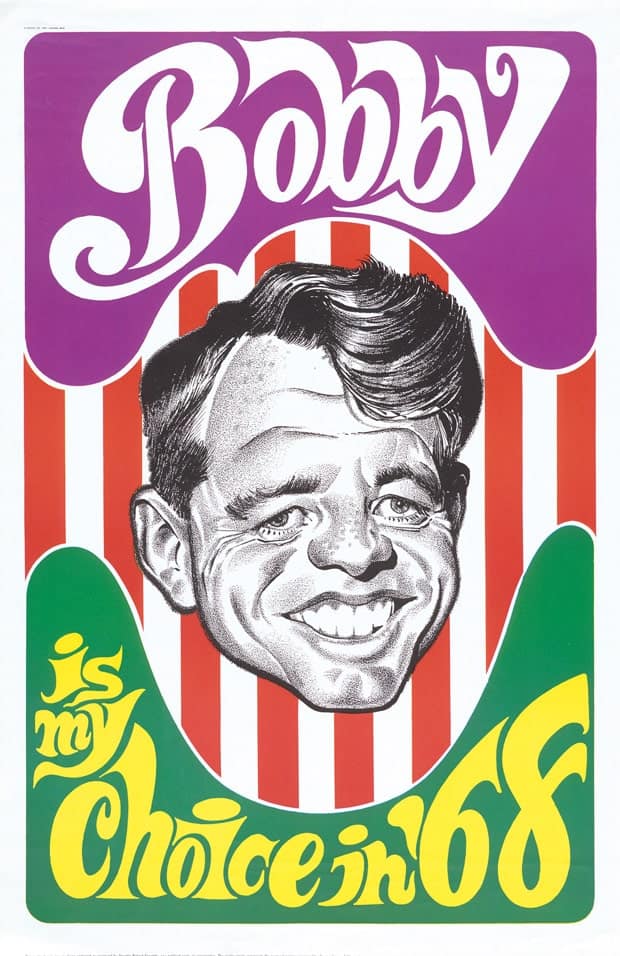 Robert F. Kennedy announced his candidacy for US Presidency and became a direct contender to Eugene McCarthy. He was assassinated on June 5th during a campaign act.
 1972 McGovern Poster by 

Paul Davis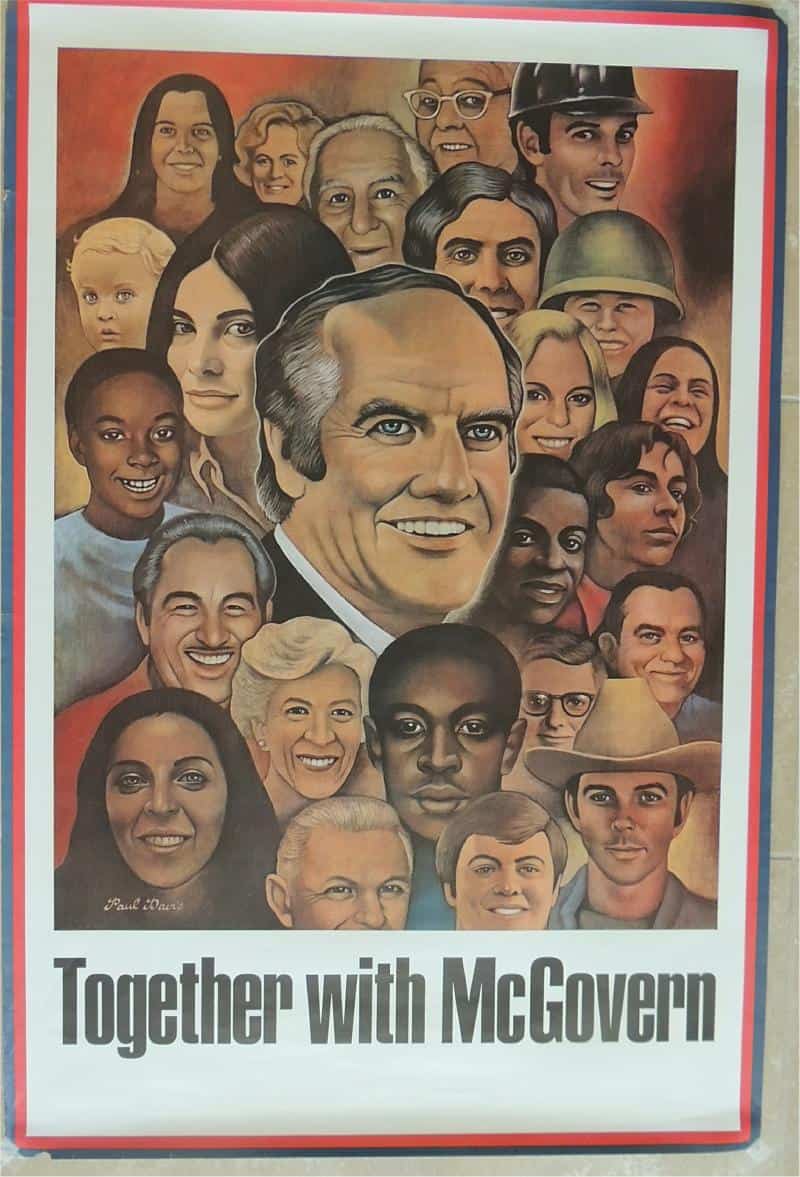 McGovern's campaign slogan was "Come Home, America", promising to withdraw American Soldiers who were in Indochina at the time. He ended up losing to Richard Nixon. As an interesting fact, his campaign included a lot of celebrity supporters including Goldie Hawn, Dustin Hoffman, Liza Minelli, Barbra Streisand, Jack Nicholson and Jon Voight.
1984 Mondale / Ferraro Campaign 

Poster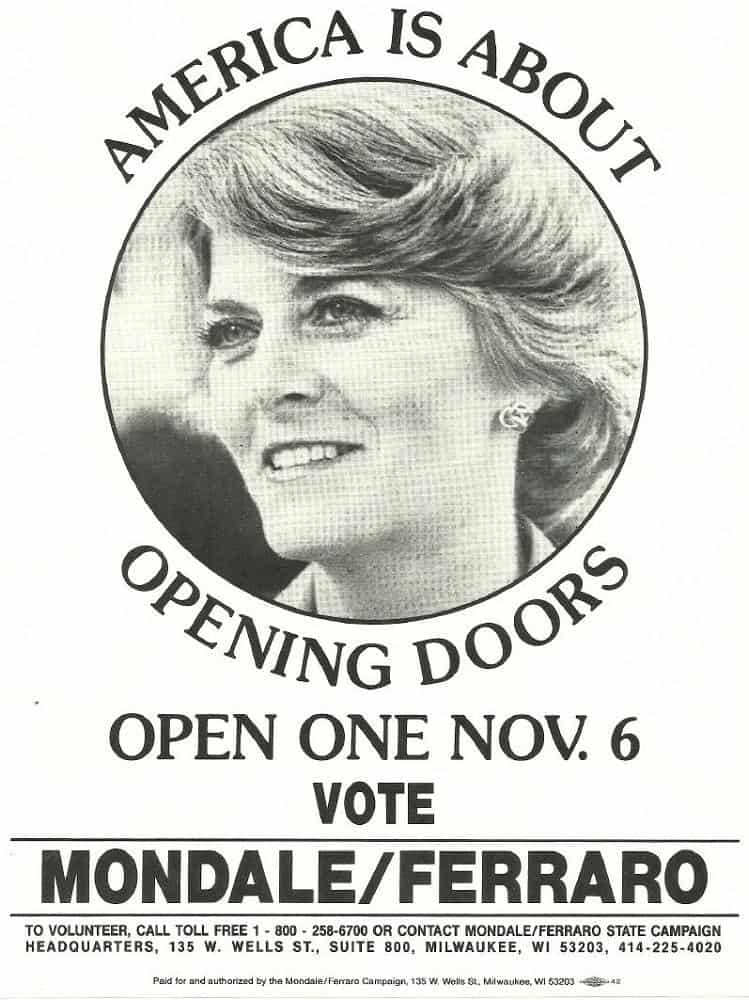 1984's Presidential campaign was the first one to include a female as the vice-president candidate for a major US political party. Geraldine Ferraro was Walter Mondale's teammate in the race for the oval office. While some women believed Ferraro's candidacy was positive, others expressed it was probably only a move to deal with women's pressure on Mondale. The duo lost to the Reagan/Bush team on November 6th, 1984.
1984 Ronald Reagan 

Poster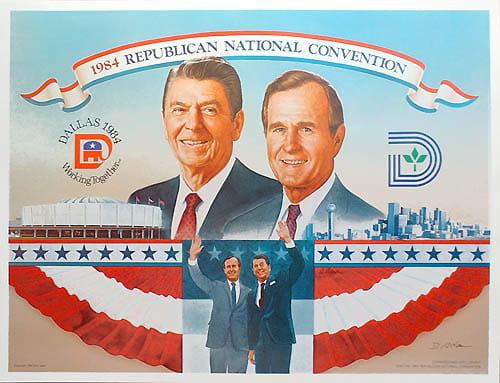 This Reagan/Bush poster was designed for their 1984 campaign, when they were running for President and Vice-President. It was meant to be distributed at the Republican National Convention in Dallas. Unfortunately, not a lot of people got to see it, as it was vetoed because the White House protocol indicates the President should always appear on the left of the Vice-President.
As you may have noticed by now, posters can be both a decorative piece and a collectors' pride. If this post has inspired you to print your own vintage, but high quality posters, you can visit freevintageposters.com and get your project going. The website is full of 100% free downloads that you can print at home (for 
lower
 to medium quality) or order 
Professional Poster Printing
 and get the custom results you want. Special shout out to Brainpickings.org for curating most of these posters.
Happy President's Day!