Save-the-date is one of those inevitable rituals of event planning. While organizing a wedding for example, you want your guests to clear their schedules for the important date as soon as possible. But at the same time, you want to do something original and exciting to encourage them to assist.
If only we could mix tradition with easy DIY ideas... What is that you say? Of course we can! We're living in the DIY era. We took the liberty to browse the web for exciting ways to announce the event's date, and then checked our catalog to find a suitable product. Let's take this chance to surprise guests with a
save-the-date notification that they will not forget.
1. Save The Date Luggage Tag by

Ann Yap
[caption id="attachment_5793" align="aligncenter" width="479"]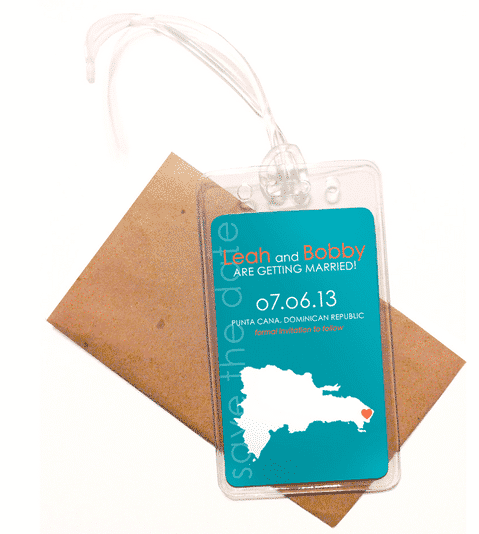 Posted on Behance.net by Ann Yap[/caption]
This unique card was designed for a destination wedding. Appropriately, it is also a luggage tag for the traveling guests. If you like this idea, all you have to do is get your design ready and order it printed as plastic, double-sided, or Spot UV business card. That way, you'll just have to purchase the laminated pouches and put the cards inside. Make sure to get your card measures right before buying the pouches though.
2. Save The Date Booklet by

Some Think
[caption id="attachment_5794" align="aligncenter" width="600"]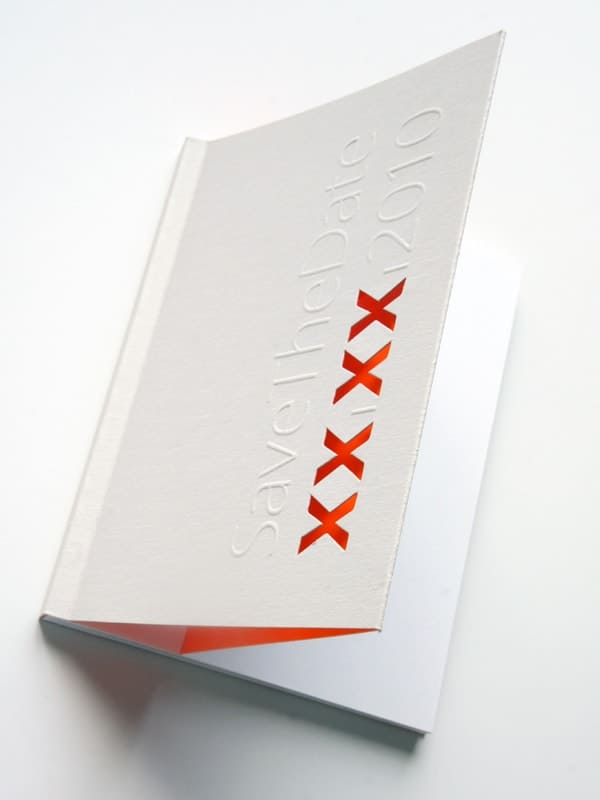 Posted on Behance.net by Some Think[/caption]
Regardless of your guests' occupations, a journal is incredibly useful for everyone with a busy schedule. Plus, your guests will have a reason to remember your special day for the entire year. This can be easily done with booklet printing. Customization will let you choose paper quality and binding options.
3. Save The Date Mugs by

Mary Hayes
[caption id="attachment_5795" align="aligncenter" width="685"]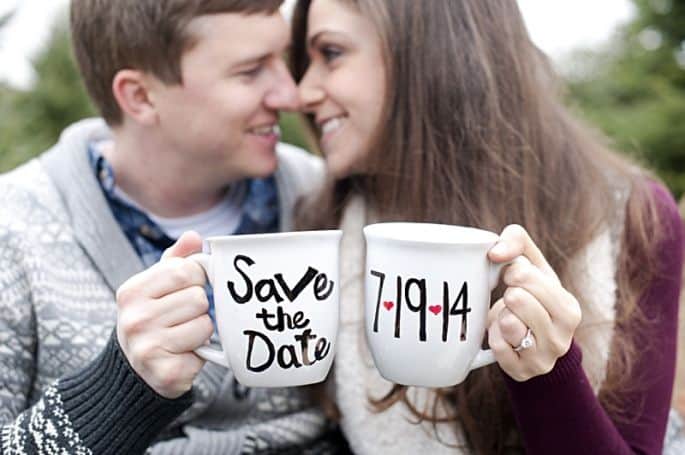 Posted on
Pinterest
by Mary Hayes[/caption]
Who doesn't love a coffee mug? This is the kind of gift that people will continue to use long after unwrapping it. Let everyone know about your upcoming event in a way that will make it extremely hard to miss. Mugs printing offers full creative control and high quality results (and did we mention it's super affordable?).
[caption id="attachment_5796" align="aligncenter" width="396"]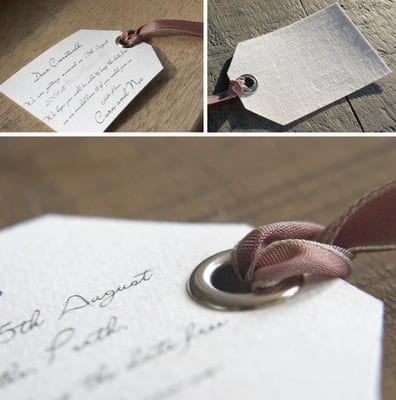 Posted on
Pinterest
by Kristin Maberry[/caption]
The great thing about these hangtags is that you can add them to any standard gift and instantly personalize it. If you are sending a bottle or box, all you have to do is attach the hangtag to make it unique. They are fully customizable and even come in different shapes. So you can choose a colorful design for a fun event, and more sophisticated one if it's a wedding you're organizing. Here's a hint: if you want a luxury finish, try the premium prestige hang tags we recently launched and be amazed by the sumptuous paper thickness that's impossible to miss!
[caption id="attachment_5797" align="aligncenter" width="441"]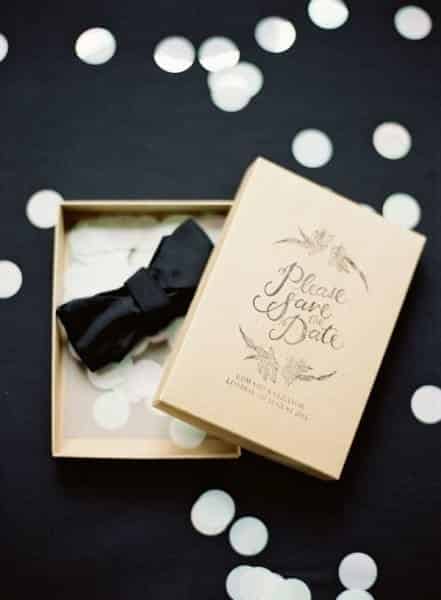 Posted on
Pinterest
by BHLDN Weddings[/caption]
Here's a great idea to send out something useful. You can send a chocolate, candy, or any kind of gift in a personalized box. It is really not that hard, because instead of painting on it, you could order sticker printing with your own save-the-date custom design. Your guests will use the box for other purposes, but continue to remember who gave it to them.
6. Save The Date Magnets by

Chuck Albert
[caption id="attachment_5791" align="aligncenter" width="600"]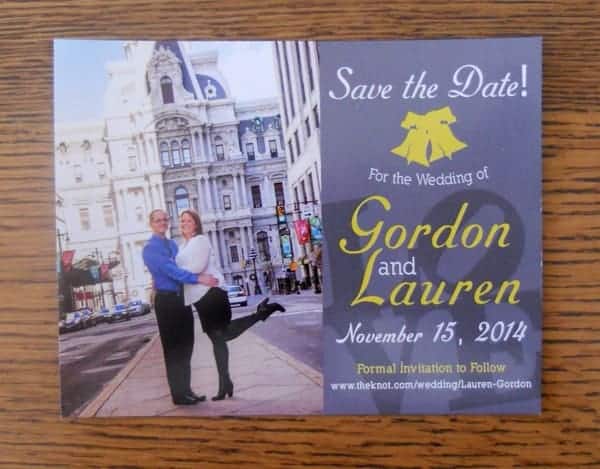 Posted on Behance.net by Chuck Albert[/caption]
What better place for a reminder than the fridge? This is a subtle technique to make sure everyone will remember the special date. Additionally, magnet printing is affordable and quick. So it won't take much of your time or budget, and it'll be a great gift.
7. Save The Date Drink Coaster by

Ashley Lukowicz
[caption id="attachment_5792" align="aligncenter" width="355"]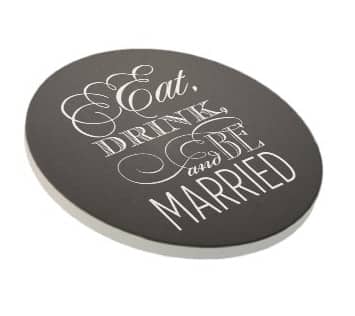 Posted on
Pinterest
by Ashley Lukowicz[/caption]
While looking for interesting formats, we came across drink coasters. They are flexible products in terms of customization. And because of that, sometimes people choose to use them as decoration or party favors. Custom print drink coasters are not only beautiful, but fully functional. They won't wash off or lose its quality when in contact with liquids, so you will be giving a save-the-date reminder that your guests can actually use.
Remember that the point of giving unconventional save-the-date notifications is to generate an expectation about your event. Your guests will want to go if you let them know it will be fun and thoughtfully organized. Don't be afraid to think outside the box, sometimes the most unusual ideas turn out to be the most successful. What is the most creative save-the-date you have received? Let us know by leaving a comment below, and don't forget to contact us for custom inquiries. Happy Printing!