You decided on the day and booked the event space, now the real work begins. The next and most important decision you will make is creating the perfect custom invitation to set the tone for your special event. Whether you are designing a unique invitation for your upcoming wedding, annual company holiday party or charity gala, it's important to make sure that you order elegant invitation envelopes to accompany your custom invitations. Below you'll find 6 essential tips to get you on the right track to finding the perfect custom invitation and envelope for your event.
1. Your invitation and envelope sets the tone for your event.
Is your event casual, elegant or business related? The invitation and envelope set the mood for the event; it shows how much thought went into planning the details, what to expect of the evening, how special the occasion is and more. Invitations also give guests subtle hints on what they will be expected to wear.
[caption id="attachment_4552" align="aligncenter" width="403"]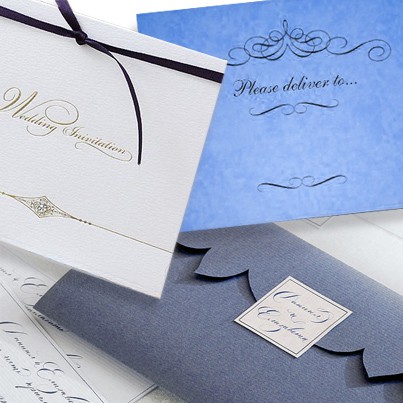 First Impressions Matter: Stand Out![/caption] 2. Choose your paper stock to match your event. Do your homework and decide if you are looking for standard, linen or metallic paper stock. What will match the mood of your event better? Believe it or not, the feel and look of the paper stock says a lot to your guests about what they should expect; will the event be formal or casual. Browse as many paper stock options as you can and remember to feel the weight and texture of the material to pin point the one that expresses your personality and the tone of your party. 3. Choose your envelope first. This may sound crazy, but it will save you a lot of time and frustration. Before getting started on designing your custom invitation, first find the perfect envelope. Whether its square or rectangular-it doesn't matter- just choose your shape and size and find a complementary invitation. 4. Select standard size invitations. Customizing an invitation size will lead to problems when buying envelopes. Although it's possible to create a custom size invite, this is not true for all envelopes. Don't confuse invitation size with custom invitation design or paper, those are all up to you and will only add to the event's ambiance.
5. Find the perfect fit.
Look for envelopes that are 1/8 to 1/4 of an inch larger than your invitation. You want your guests to receive elegant invitations that are easily opened without the risk of tearing the invite apart. An envelope that is too large or too small will also give your invitations (and event) an amateur appearance and take away from the overall elegance of the mood you are trying to set.
6. Take the stress out and buy "A" size envelopes.
Who has time to spare when there are so many other party details you have to worry about? Make your life simple and select "A" size invitations and envelopes. These envelopes are made to fit perfectly with standard sized invitation cardstock. For example, an A2 envelope goes with a 4.25" x 5.5" invitation; an A7 envelope goes with a 5" x 7" invitation and so on.
7. Look for discounts!
Organizing an event is not cheap, so be smart and save where ever you can. Most reputable online stationers and printing firms offer promotional discounts and coupons periodically. All you have to do is search the web for promo codes, it's that easy! Save time and money with these 7 useful tips! There is an invitation and envelope out there for every occasion; elegant, fun, romantic, formal. So whether you are hosting a baby shower, wedding, birthday or fundraiser, make sure to convey the tone of your party in your custom invitations and envelopes. Your invitations are the first impression guests will have of your event, so get your message across simply and clearly. Planning a special occasion is stressful enough; these simple tips will help take the stress out of buying invitations and envelopes for your upcoming party! Want to do it all and stay in budget? Try affordable and environmentally friendly prints with a 25% OFF Discount