Creating a great brochure can be a complex task in terms of creativity and layout, but it is definitely worth the effort. Effective brochures are those attention-grabbers and eye-pleasing pieces that people can't forget about. Those that combine design with aesthetic details and are able to dazzle your audience.
If you are looking to create an appealing marketing campaign for your business, choose a brochure and customize it to suit your purposes. Surely some of these impressive print ready designs will match your business identity and help you roll out your marketing strategy. All you have to do is pick a favorite.
What Makes a Great Brochure?
A well-designed brochure is a mix of clever copy, appealing colors and stunning print materials. This marketing tool is a popular choice to increase brand awareness and promote businesses. If you browse our brochure catalog, you will quickly realize there is a wide range of paper options and print finishes available.
Designing Your Own Brochure From Scratch or Customizing a Template?
While designing a brochure can take a long time and effort, there is always the possibility to download a print-ready template and make it your own. Most files will let you customize them according to your needs.
Interested? Then take a look at these free print ready brochures and see if any of them meet your marketing goals:
Tri-fold Corporate Brochure From Pixeden.com
Tri-fold brochures are popular in business environments because they are practical in terms of layout and organization. Also known as ¨letter fold,¨ tri-fold scheme provides a lot of space to present your business information. This free 11 x 8.5 corporate brochure is perfect to display business services and benefits in a clean style. You can change colors and photos to suit your needs.
Bonus tip: use high-quality photos that do not look like stock images, those will provide a professional look.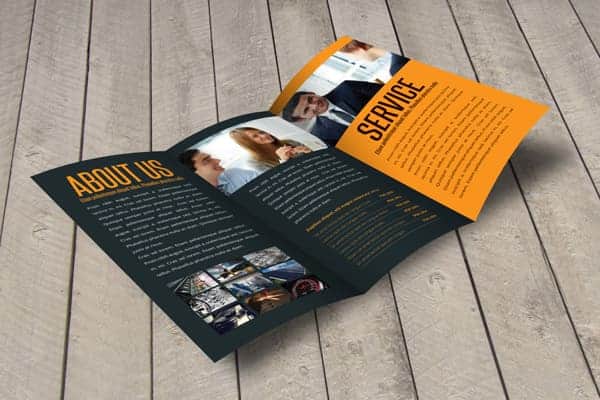 Full Editable Brochure by Braxas Mora
This design is perfect for corporate use. Its modern and light design adds value to marketing campaigns. It has a great composition, clean layout and useful visual aids.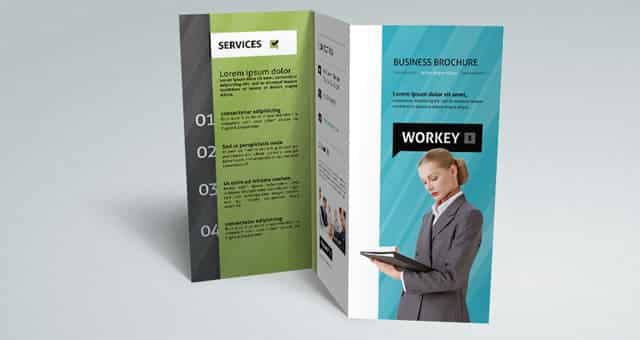 Bonus tip: impress your audience with an eye-catching cover, it will spark people's curiosity.
This charming flat style brochure template has a variety of colors that aim to deliver a friendly atmosphere and pleasant reading experience without compromising professionalism.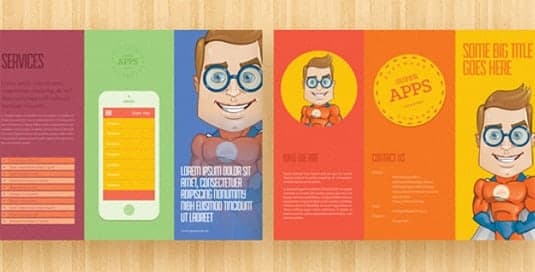 Bonus tip: keep in mind that white space plays an important role in brochure design, as it helps readers know where to focus.
Multipurpose Trifold Brochure From Graphicriver.net
This design can be customized to meet commercial and personal purposes. The paper sheet emulated in two of its six panels is an impressive detail. You can replace images, colors, styles, fonts, scale and resize as needed.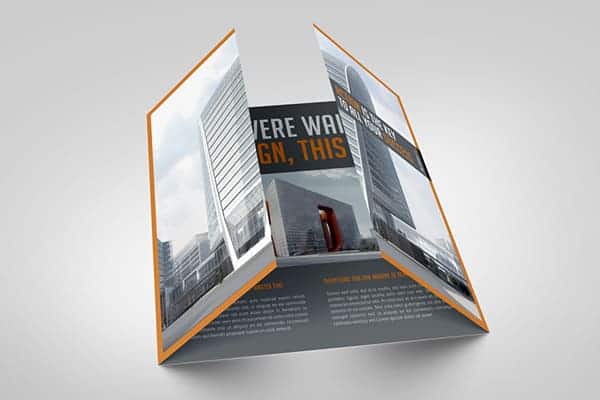 Bonus tip: be careful with fancy fonts, choose easy-to-read fonts that help you convey your message effectively.
Gate Fold Brochure Designed by The Mikinger
Here is another great style to create expectation and share important information. If you want to add glamour to your brochure, this design would give you the perfect format to display your corporate identity in a trustily way. Images and text are fully editable and only costs $6.

Bonus tip: increase your business exposure by including your company colors on your brochure, it will help you achieve high levels of brand recognition.
Social Media Print Template From Graphicriver.net
This brochure is ideal for those who want to develop a print marketing campaign to promote online services and media strategies. You can showcase your skills in a nice and appealing print format. The stylish template is $11, but also comes with a set of business cards ready to be personalized.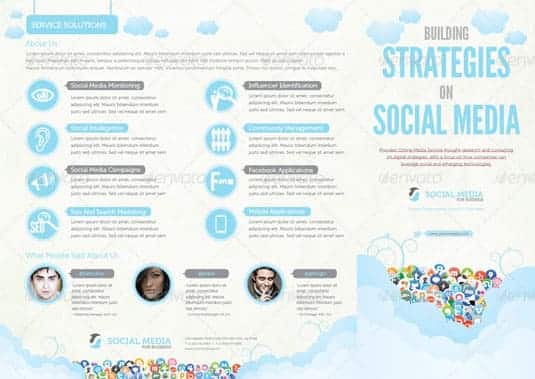 Bonus tip: create a persuasive call to action to engage your readers.
This option has acontemporary style with a clean design that makes it highly attractive to the audience. It is available for $11 and any type of business can customize it according to their marketing needs.
Bonus tip: keep it short and sweet. Provide only useful information in a clear and concise way. Keep your content short because your customers will only give a few seconds of their attention to your printed material.
Are brochures one of the top priorities in your advertising strategies? Effective brochures not only convey your message and boost brand awareness, they also captivate your target audience.
Thanks to print ready designs, making your own brochure is easier than ever before. All you have to do is pick a favorite, edit it and send it to a professional printer for a high quality result. We hope the above-featured downloadable brochures can come in handy for your next printing project.

Which was the most visually-appealing template? Did you find the inspiration you were looking for? Feel free to share your thoughts about this collection, your comments are important to us. And if you have an astonishing design to show, contact us and we will feature it!