Nearly two-thirds of the world's illiterate adults are women. This statistic has been constant for about 20 years, according to a UN Statistics Division report. Illiteracy in nearly all parts of the world has been linked to issues like poverty, child labor, gender inequality, and more. In an effort to fight against illiteracy, the United Nations Educational, Scientific, and Cultural Organization (UNESCO) created International Literacy Day in 2000. International Literacy Day (ILD) is celebrated annually on September 8th. This day is meant to spread awareness, explore literacy challenges, and promote literacy and skills development for the international community. As people who are fortunate enough to have the ability to read and write, we should look to help others. We often forget to count our blessings and notice our luck. For ILD this year, aim to direct your attention to others who are not as fortunate as we are.
Check out These 5 Custom Print Ideas for International Literacy Day 2019
This year's theme is 'Literacy in a digital world'. Digital technologies have changed the way we access information, work and even socialize. Literacy is fundamental to the successful integration of people from all backgrounds in the modern world. International Literacy Day brings together governments, businesses, communities, teachers, volunteers and all who support this important cause. If you believe in education for all, encourage people to raise awareness for the world's adult literacy. Looking for some inspiration? #1 Inspiring Quote Bookmarks Whether you are a business owner, teacher or fundraiser, handing out bookmarks is a great idea. It's a thoughtful way to make them feel fortunate for their ability to read and write. It can also spark their interest for helping illiterate people around the world and in their community. Customize your own bookmarks by adding a quote with a focus on literacy to impact your recipients. Make sure to include your logo, goal or message to encourage people to act. Here's a short list of quotes you can use:
"Literacy is the most basic currency of the knowledge economy" - Barack Obama
"Education is the most powerful weapon which you can use to change the world" - Nelson Mandela
"Literacy is a bridge from misery to hope" - Kofi Annan.
"Once you learn to read, you will be forever free" - Frederick Douglass
"Literacy could be the ladder out of poverty" - Morgan Freeman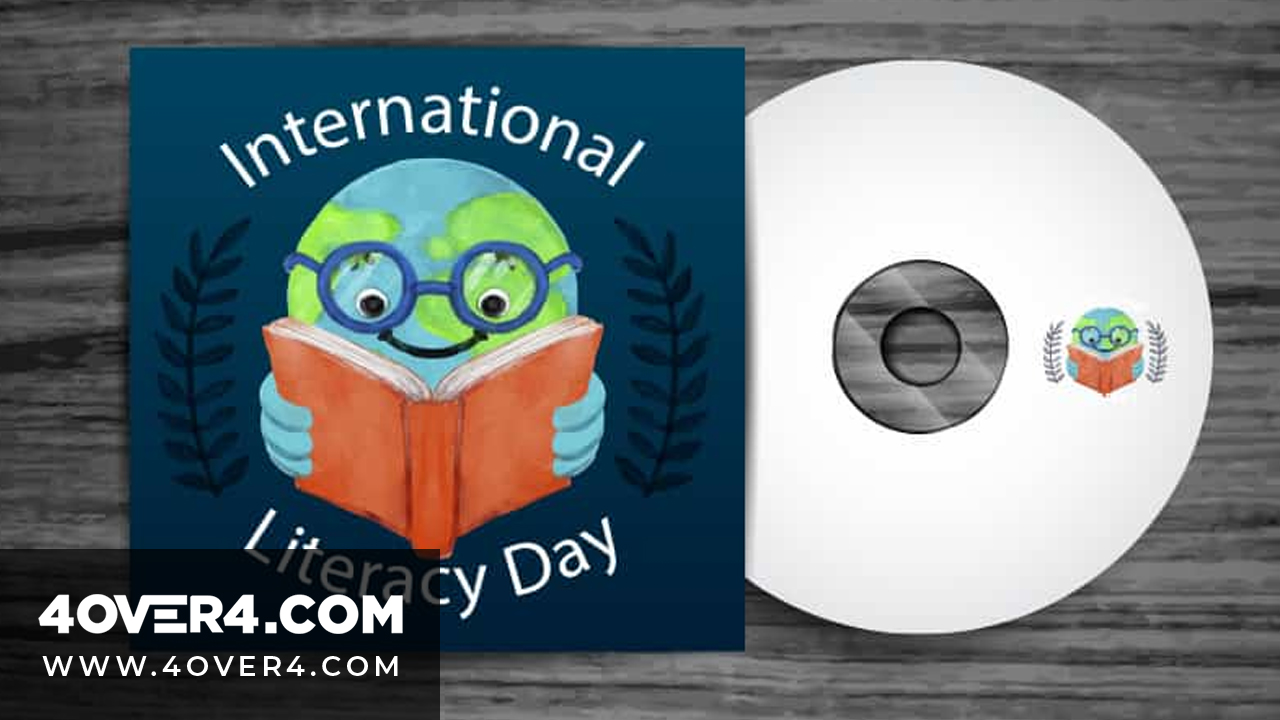 #2 Event Posters Make International Literacy Day count! Organize an event at your restaurant, school or public library. Check out these ideas:
Book giving day
Tutor an adult or child who is learning to read
Beer for books
Spelling bee contest
Book donation
Reading out loud event
Host an author or community leader for a conference
Volunteer at your local community
Organize a race
#3 CD Sleeves According to KPCB. by 2017, video content will represent 74% of all internet traffic. There's no doubt that using video is a highly effective technique to educate people of all age groups. So, why not create a video using current facts on literacy, global education statistics or volunteer abroad programs. Leave a message that resonates in your recipient's minds. Order CD sleeves like these from 4OVER4 to reinforce your message and make your video even more memorable. #4 Custom Stickers Find compelling, encouraging or motivational messages to empower kids and adults to support and celebrate International Literacy Day. Add your message or artwork to your stickers and hand them out on September the 8th. Choose a unique design or shape to make them different from other print materials your recipients typically get. #5 Personalized Buttons From children to adults, everyone loves buttons especially when they're meant to support a good cause like world literacy. Feature your organization's logo and a fact or artwork that's worth showcasing on International Literacy Day. Encourage recipients to wear the buttons all day to start a conversation and educate others on world literacy rates.
Change People's Minds by Celebrating International Literacy Day
International Literacy Day will be celebrated all around the world this coming September. Support the right to literacy around the world by customizing your own prints this year. We hope these clever ideas have inspired your creativity to help you celebrate in a unique way! Need a discount? Sign up at 4OVER4 and get 30% OFF your first order. It doesn't get any better than that!