Have you ever…
...
seen a product that is almost perfect for you? If only you could customize it a little bit
...played a game and wished there was an office appropriate version of it?
Games, funny 
t-shirts

,
stickers and pins can all make for a creative party game or a funny gift. But they are not always exactly what you need for your group of friends or colleagues. 
We thought of giving you some ideas of products you can recreate to have fun or promote your product.
 You just need to take your time to adapt the content to the situation you're bringing it to.
Cards Against Humanity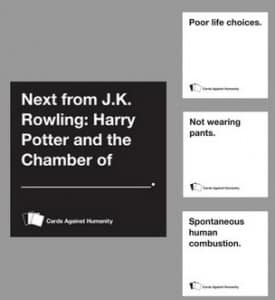 This card game is known for being politically incorrect and getting people to laugh at unusual situations. Try creating a Q&A game with information about your friends for your next party. Design a set of standard question cards and give them answers that you know would relate to (or embarrass) your friends. You can also use it at the office with situations that would fit your work environment.
Funny

 Canvas Printing
There are several photo editors and collage makers on the Internet you can use to make great images. Use famous effects like Andy Warhol's colorful canvas, make it black and white or use mirror distortion effects to surprise your friends and colleagues. Custom canvas print would make an original gift or cool decor piece.

Car Stickers
Every time you find yourself on a traffic jam or wonder around a parking lot it seems like every car has a sticker.
Those 
Family stickers
 and 'Someone on board' signs are now in almost every car around. Use them as inspiration and order your own 
set
. Use your friends' professions or create catchy phrases with your product logo on your custom 
stickers
. Once stuck in a car your logo's exposure will go on for a long term.
Your Message on a T-shirt
T-shirts have become more than a fashion choice, you can now basically express yourself through a personalized t-shirt. Sure there are a lot of them available, but you can always make them special. Give your friends a t-shirt that you know they'll get a laugh at. Include your inner circle's jokes so you can all have fun wearing them. You can even print some and give them out on a special occasion.
Headbanz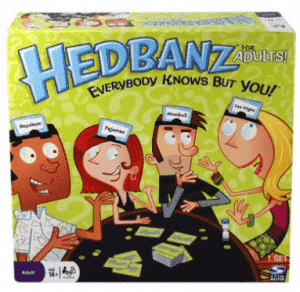 This game is a version of 'guess who'?, but instead of having a flippable board, pictures are shown to others so you can guess who or what you are. Look through your home pictures and create a few cards with phrases on them, Get them resized and printed then play the game with your friends, family or workmates. It'll be a team-building and fun game to play. It'll last more and be easier to handle if you get them printed on a heavyweight paper.
 Use your imagination and create custom made games and gifts for 
anyone
 you like. This will be an affordable way to make sure your gift will be unique and definitely be something to remember. Have you tried 
custom printing
 before? Try it next time you're looking to create a memorable game for those around you. Don't forget to let us know how it goes in the comment section below!