Are you sick of the same old boring designs when it comes to sending holiday greetings?  No matter how left-brain-minded or creative you are, over the years, it's hard to come up with something unique that blows people's minds.  
How about doing so by using hot color foil printing, one of the most revolutionary finishes in the market today?
Luckily, when it comes to hot foil printing, there are loads of inspiration sources online worldwide.
We are fully aware of how busy this time of year is for everyone. Therefore, after careful research, we took it upon ourselves to come up with our favorite five design ideas using foil stamping for the holidays.
They're not your old conventional Christmas cards, but they are sure inspiring and fun. So get ready for an amazing ride of eye-catching hot color foil greeting cards, gift tags or postcards, which will really help you stand out as a designer this holiday season.
What Exactly is Foil Stamping
First, let's find out exactly what foil stamping, hot foil and multiple color foil, sometimes known as Aquafoil or Wonderfoil, actually are. Even if these coveted finishes are all similar, they're not quite the same.
Foil stamping is the application of metallic foil or pigment to paper where a heated die is stamped, making the foil stick to the surface, leaving the die on the paper.
It's typically used on note cards, business cards, stationery packages, greeting cards and
more.
Hot foil stamping uses heat in order to transfer metallic foil to the paper.
Check out our foil stamped cards to get an idea.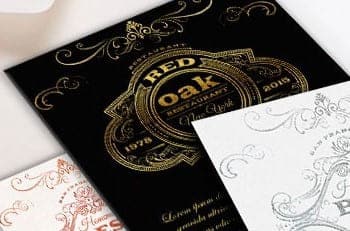 Hot foils come in a myriad of finishes and colors, from traditional metallic silver and gold, to matte and metallic foils in the colors of the rainbow.
Adding a brilliant, attention-grabbing shine, metallic foils are the most commonly used by designers throughout the world.
Holographic foils can also help dramatically enhance the look of any design as they add a striking shimmer. Last but not least, the dazzling
Wonderfoil or Aquafoil finishes let you use multiple colors in foil on the same design for one-of-a-kind results.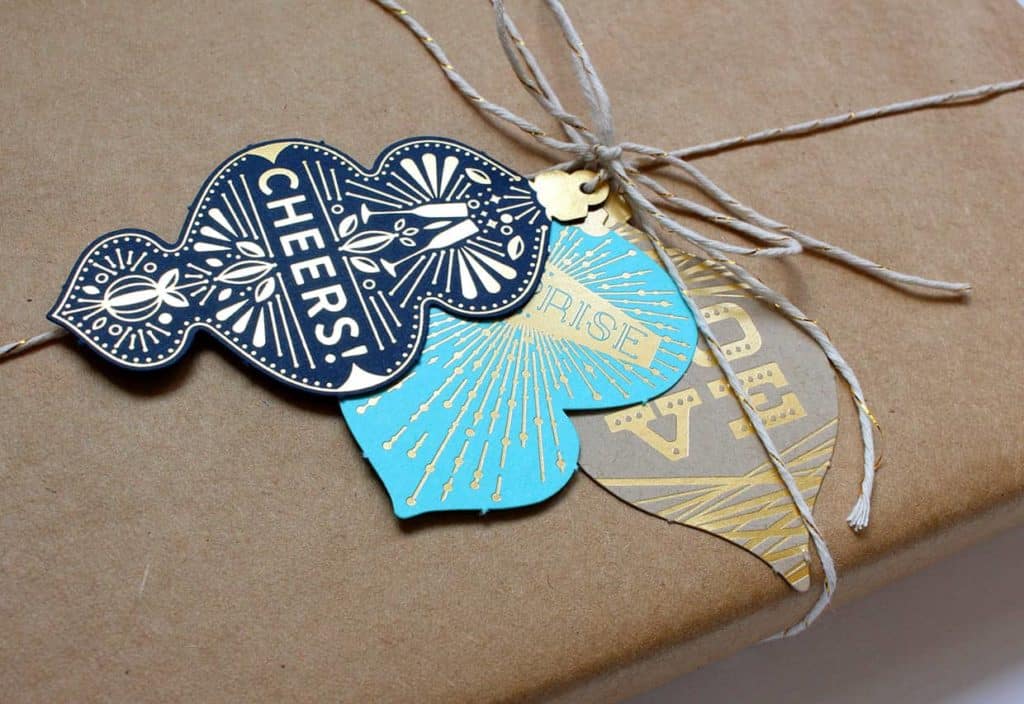 This admirable piece features exactly what designers enjoy the most – providing long-lasting impressions with imposing, powerful printed items with clever messages. Gold foil on luxurious cardstock, gold-laced twine and custom die cuts all come together to create that incredible feeling people get when they receive a gift from someone special.  
More importantly, something as thoughtful as these Holiday Punch Gift Cards shows that the designer thought about every detail in order to complement the perfect gift. Isn't this the best way to share your love with your favorite people during the holidays?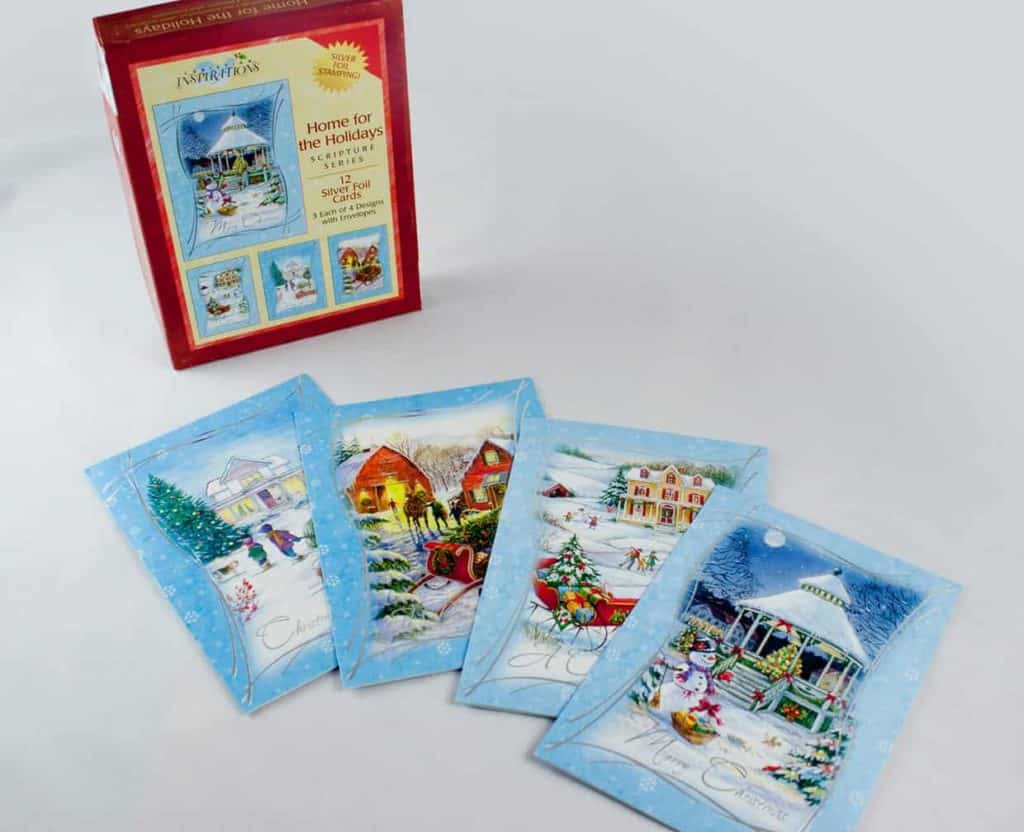 The ravishing Christian Inspirations Greeting Card Sets were designed to be included in an exclusive product.  The designers manipulated original paintings as before creating die-cuts and foil stamping. As you can see, the Home for the Holidays series showcases a snow-flake filled backdrop on sky blue cardstock highlighted with a silver foil-stamped caption and frame.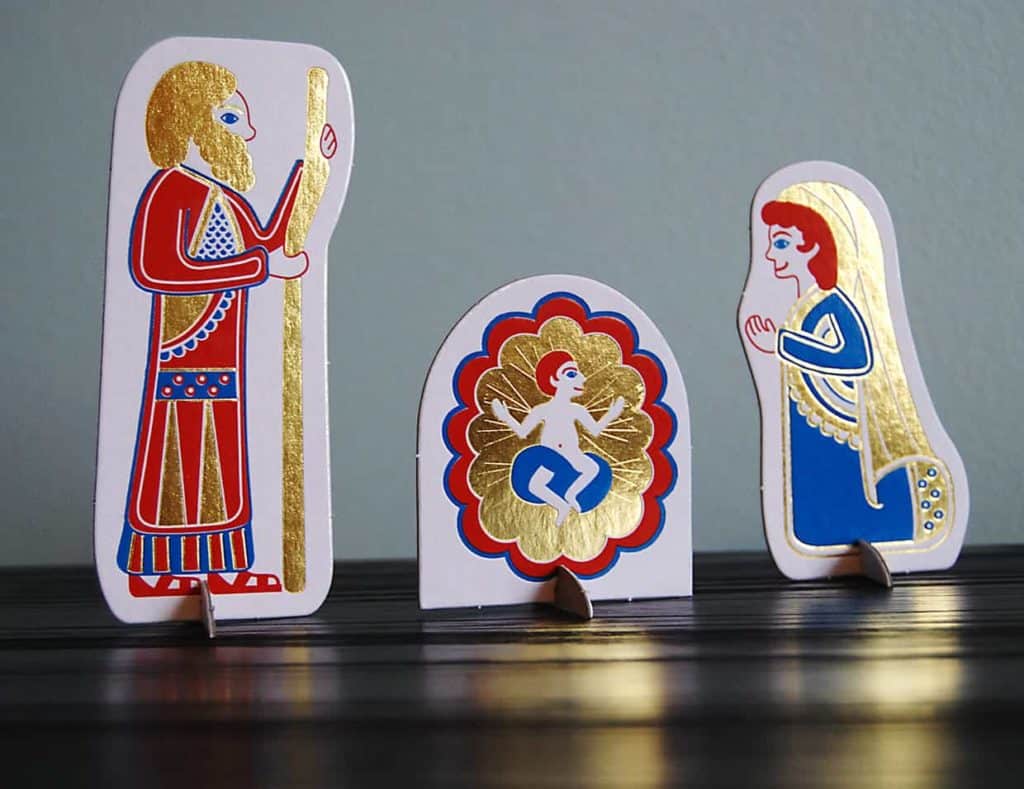 Don't you adore this gorgeous nativity scene? The brilliant designers who created these pieces wanted to impress recipients with something truly unique. As a result, they came up with this remarkable letterpress holiday card featuring a pop-out nativity scene, helping businesses owners thank their staff members for a great year.
As you can see, this sublime nativity scene features a striking gold foil stamping, one of the top trends for the holiday season.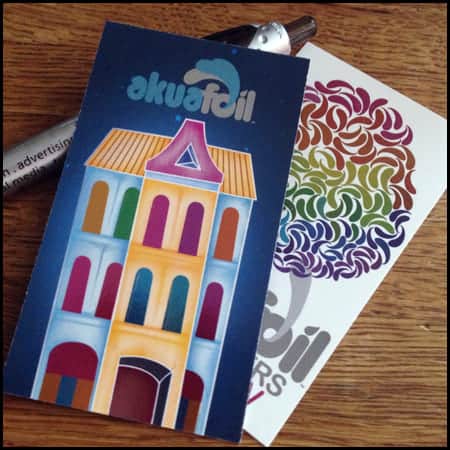 Want the image on your greeting card to pop with vivid colors like these ones? Do you want to be on top of the latest trends? Use these colored hot foil Holiday Greeting Cards as inspiration to create your own. These beautiful cards captivate people's attention with a rainbow of colors and a stylish metal finish.
As you can see on these two pieces, the Wonderfoil finish, also known as Aquafoil transformed sections of the design into radiant, sparkling foil finishes. How about using it on a Christmas tree with colorful, metallic ornaments? How about using it on a sleigh with presents? The possibilities are endless! Give it a try!

We absolutely love this uniquely personalized postcard. How about making these colorful letters stand out even more by using Wonderfoil, featuring a different striking color on each letter? As you can see, with Wonderfoil, the holiday design possibilities are only limited by your imagination. These postcards will be a hit!
We hope our five design ideas using foil stamping have got your creative juices flowing this holiday season! For holiday postcards or Christmas cards that are the talk of the town, make sure to check out our
Wonderfoil Categories
 with a wide array of luxurious foil colors and a chic Hi Gloss UV coating.