If one of your New Year's resolutions is to land your dream job this year, the first step is to update your resume.  An impressive CV, in keeping with 2017 resume trends can open doors to exciting job positions, or at least make a great first impression. You need to make sure to get the attention of headhunters right away – according to a
recent study
 by The Ladders shows 
recruiters spent about 6 seconds on their initial "fit/no fit" decision.
Not only should you present your resume in a concise, straightforward way, we recommend you
put yourself in the recruiter's shoes and think about what they need to know about you
. Last but not least, make your resume easy to read, both on the screen and on paper.
5 2017 Resume Trends to Stand Out From the Crowd
Showcase your best self by following the top 2017 resume trends to get your CV to the top of the pile. 
Keep Your Resume to One Page
Summarize your experience and skills without omitting any relevant information. Try using frames or geometrical shapes for emphasis. There's no need for long explanations – just the essentials. But be careful not to squeeze too many words onto one page. If you have been in an industry for more than 10 years, you can consider a two-page resume.
[caption id="attachment_7975" align="aligncenter" width="800"]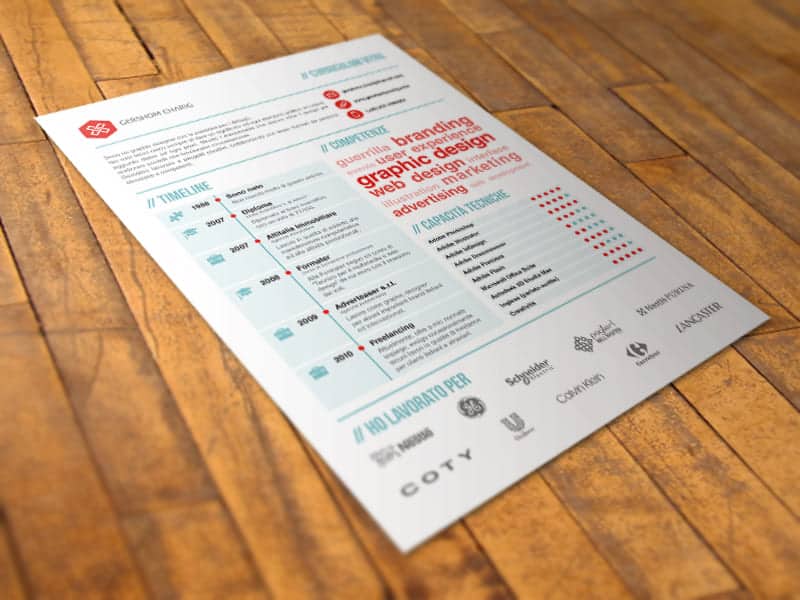 Project by Gershom Charig shared on dribble.com[/caption]
Show Your Creativity
There is no "one best way" to create a CV, so, think outside the traditional resume box. If you are a graphic designer, copywriter, artist, musician, wedding planner or any creative professional, you're more than allowed to break the mold. Being creative not only is key to stand out from the competition, it also gives you a plus if you're pursuing a job with an innovative company. Bonus tip: some creatives use their resume to showcase their talents.
[caption id="attachment_7976" align="aligncenter" width="600"]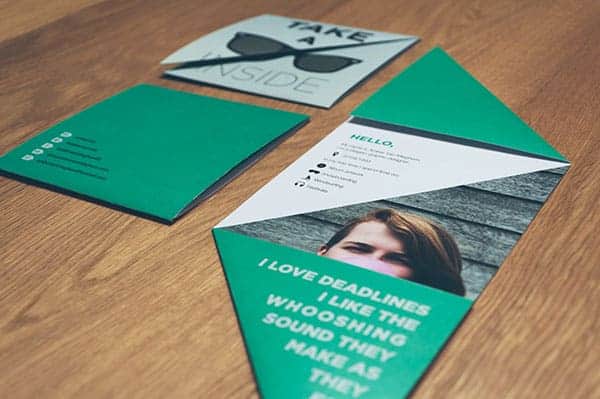 Project by Amber Van Mieghem shared on Behance.net[/caption]
Link to Your Social Media Profiles  
Apart
from showing your prospective employer your portfolio and blog, it has become increasingly important to add the links to your LinkedIn profile, Twitter account, Instagram (for photographers) and even a professional Facebook page. Social networks provide a complete picture of the candidate's personality.
Employers can take a look at your online presence, recommendations from current managers, personal branding management, the content you share, and more. Including social media links on your resume can increase the odds of being considered in the hiring process.
[caption id="attachment_7977" align="aligncenter" width="530"]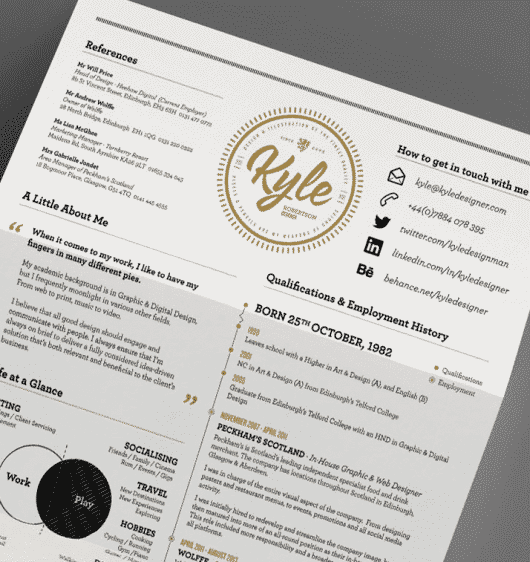 Project by Kyle Robertson shared on Behance.net[/caption]
Present Your CV in an Organized Manner
Resumes don't always have to be read from left to right, top to bottom. You can use a myriad of structures to organize your CV and make it easier to navigate. For example, you can give the standard CV a twist by creating a timeline, infographic, social media profile, hand-drawn layout, or a one-of-a-kind design -
just make good use of space and include bullets or numbers to break down a dense block of text.
[caption id="attachment_7978" align="aligncenter" width="600"]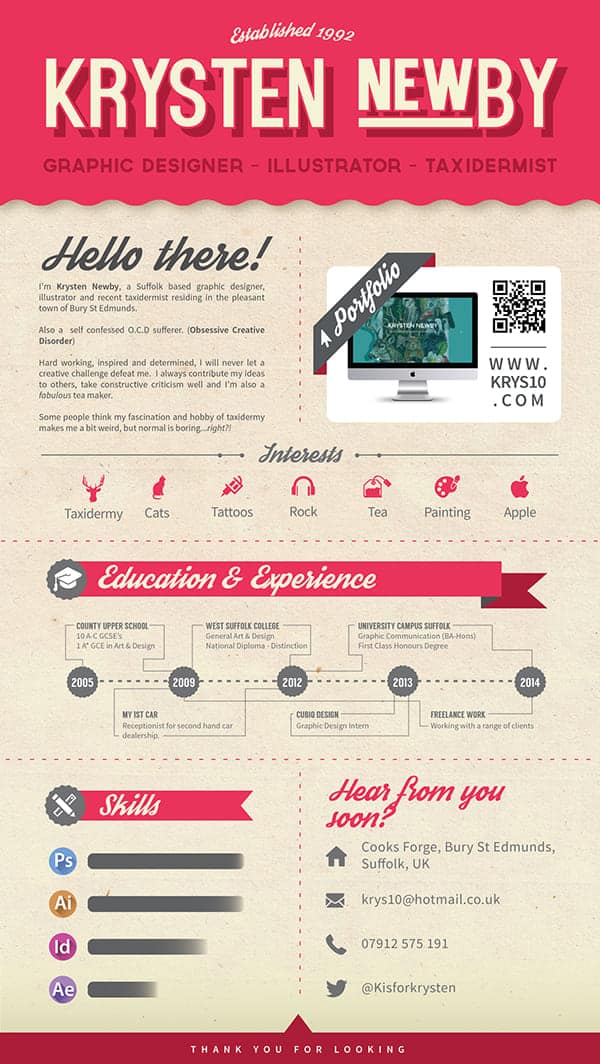 Project by Krysten Newby shared on Behance.net[/caption]
Select The Right Typeface
It seems like a no-brainer, but you won't believe how many professionals choose too fancy, too small, or too many fonts. To start, pick a font that works well in small sizes. Forget about colorful fonts, that trend is gone. Since black fonts are the easiest to read, choose a black font you identify with.
[caption id="attachment_7979" align="aligncenter" width="600"]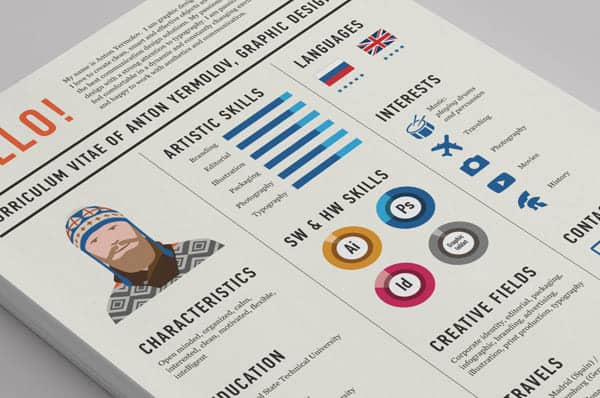 Project by Anton Yermolov shared on Behance.net[/caption]
Use Creativity as Your Secret Weapon
Get inspired from the resume tips and designs presented above. No matter what style or format you choose, here're a few last things to consider before sending your CV off to prospective employers:
   

Keep it Visually Appealing

   

Have a Logical Structure

   

Updated and Accurate Information

   

No Spelling/Grammar errors

   

Send Resume as a PDF

   

Be yourself
In fact, here's our own take on 2017 resume trends: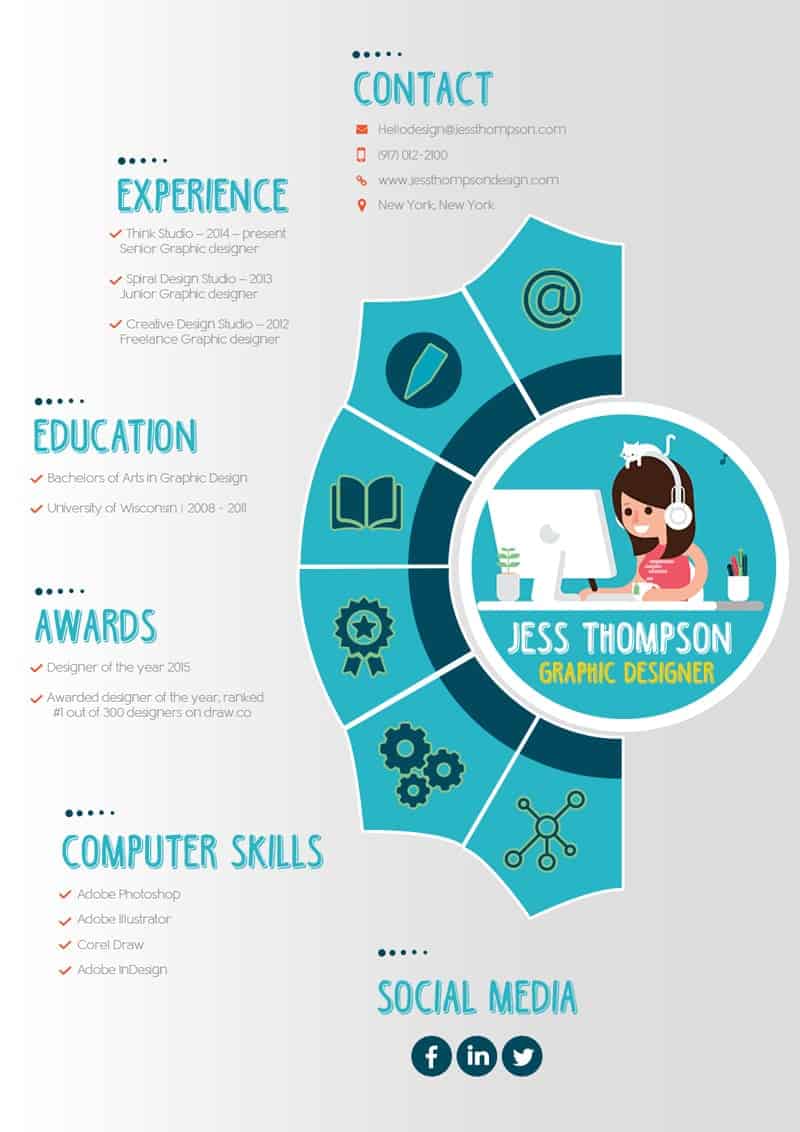 If you're feeling creative, why not make your own CV? Whenever you need a quality resume, elegant letterhead, eye-catching business cards, or any stationery items, choose 4OVER4. We've got a great deal for you today:
order any print product and get a 30% OFF discount by signing up with 4OVER4.COM.
Browse our wide selection of products, choose the print material that best suits your needs and save big bucks today!