How many times have you seen someone on the street wearing a cool T-Shirt promoting a business or an idea? Custom Printed T-Shirts are a great way to encourage people to buy from you, by having a great design, style or catch phrase that will stay on their minds; people will associate your business to anything you want them to. Personalized T-Shirts will make clients unintentionally promote you every time they wear your designs. But in order to do so, they must really stand out! If you haven't considered using personalized printed t-shirts to advertise your business for merchandise before (or if you want new fresh ideas) here are 10 Ways To Incorporate Custom Printed Tees To Your Marketing Strategy: [caption id="attachment_3925" align="alignleft" width="403"]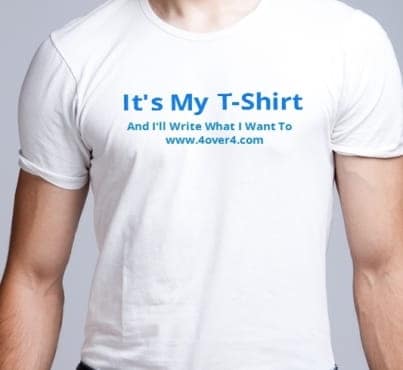 Humorous Taglines on T-Shirts Increase Interest[/caption]
1. Empower and Engage: Give them a Printed T-Shirt every time they purchase a determined amount of money or products from you business. Add levels: use a super-hero style copy, design and layout to make them fun and wearable, go from Super Savvy to Killer Knock-Out (or something like that) to describe their awesome purchasing power/loyalty and how much you love them for it.
Encourage people to share pictures of themselves wearing your print Tees in fun situations on your social networks. Pick a few periodically for discount coupons and just good ole' appreciation.
2. Design a Membership Program For Loyal Customers Only: creating membership systems that rewards loyal customers is a trend on the rise for small businesses.
Create a reward system that combines discounts with prizes. Use T-shirts to encourage customer advocacy. Humorous messages are always a sure-shot. Put the funny copy on the front and your URL on the back.
3. Create a Contest for the Best Design: another way to promote your business is to make customers part of the plan.
By creating a contest for the best design and featuring the winner on your website, store or running a limited edition of the winning style; customers will feel motivated to participate and to wear them. Plus they'll let their friends know about the contest and create more buzz.
If your audience is not really up for design, give them a fool-proof way to add their entry, like a free-download template or by assuring them that you'll polish the winning design for print.
4. Make collectable T-Shirts: do you have too many ideas for designs and can't pick just one? Make them all! Selling or offering collectible T-Shirts for the purchase of other products weekly or monthly, encourages customers to keep coming back so they can complete the set.
[caption id="attachment_3931" align="alignright" width="403"]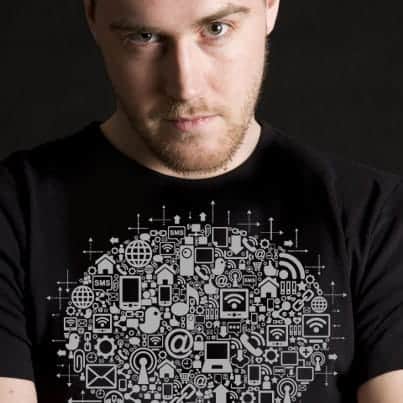 Create a collection that resonates with your audience![/caption]
Go all out with Memes! Collectibles have to be interesting, to make them desirables use popular memes with your corporate messages, people will love them! Don't know what's hot and what's not? Find out all about memes right here.
5. Use Catchphrases: punch lines and a simple logo will draw the attention of anyone reading your custom T-Shirts. You don't necessarily need to include all your business information in the tee, use only your logo and website or Twitter handle so potential clients can look you up and find out what you're all about.
Avoid offensive material, but not necessarily "foul" language. A lot of fun catchphrases have adult content in them, use symbols to replace the word and capitalize on the popularity without getting frowned upon.
6. Feature Designers: allowing new talent and emerging designers to create their own personalized T-Shirt for your business will give you twice as many customers; you will automatically drag the designer's followers to your site or store automatically adding potential clients to your business. Let the designers put their name on the Tees as if hand-written for extra value.
Don't know designers? How about a short trip to the local college, design studio or community college? Make it a contest for them and get even more people involved!
[caption id="attachment_3928" align="alignleft" width="220"]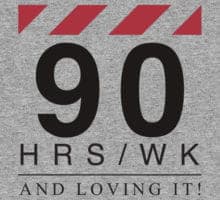 Steve Jobs promoted Apple culture with T-Shirts ![/caption]
7. Foster Corporate Culture: get in-house brand advocacy having your own employees or team wear personalized T-Shirts. The key is not to make them uniform-like; that's just boring. Steve Jobs famously made "90 hours a week and loving it!" printed Tees back in the day - do that! Find something to be proud of and blast it on a custom printed t-shirt.
Customers will identify them easily and it will help brand your services as well.
8. Sponsor a Local Club, Charity or Scouts Chapter: it's not all about selling! A great way to promote your business (and to show your BIG heart off) is to sponsor a local charity, event, senior home or girl/boy scout chapter. Provide them with custom tees printed with their message and/or logo and put your own in the back as sponsor.
It's great for PR and it helps engage your business with the local community. People like to buy from others who understand they are part of something bigger than themselves -use that!
9. Give Them to New Customers: when someone places their first order on your site or make their first purchase, give them a T-Shirt printed with a message that shows your appreciation. It will create a link between them and your company and the unexpected present will also give you instant memory points!
A fun twist on the old "I went to This Place and All I Got Was this Stupid T-Shirt" could be "I Went to [Your Store] and Got This Awesome T-Shirt. Because I'm Awesome." Make it wearable by using creative fonts, colors and adding a bit of grunge style to it.
10. Giving it Away: cause you don't need an excuse to promote your business, you can print a stock of different color very-well designed T-Shirts and give them to clients until you run out of them.
For high quality personalized T-Shirts that stand out and stand the test of time visit us at www.4over4.com