The joy of having a baby can be expressed in two words: unexplainable happiness. After nine long months of pregnancy, buying outfits for your baby, taking your little one home; you are more than ready to announce your baby's birth to your friends, family and acquaintances. As it is a big event in your life, you want to create a nice-looking birth announcement with your personal touch. Don't you? Go  for something a little off the beaten path! Keep in mind that your bundle of joy is unique, and so should be their little welcome party. We scoured the web looking for the most original birthday announcements we could find, picked 10 to inspire you and put them here. If you like any of these you can always go the DIY route, or get the pro feel for a fraction of the bank with custom printing. We've put under each birth announcement the affordable pro option, so browse around and don't forget to share and tell us if you tried them out-
#1. Great-Looking Custom Booklet
This colorful booklet, found on
Pinterest
, is a convenient and creative way not only to announce your baby's birth, but also to share your love story. Everyone's got a love story, what's yours? Telling your family and friends the story of how you fell in love with your soul mate is a great way to start. Include the nicest pictures you have and choose your favorite size and shape. Customizing a booklet is an affordable and eye-catching way to announce your baby's arrival. Booklets from 4over4 are available in custom sizes and you can order a minimum of only 8 pages. For more information about our booklets, 
click here
.

#2. The Funny Postcard
A dose of humor is always welcome, as in this funny postcard found on 
Pinterest
. Create a unique concept that identifies you and your couple to announce the arrival of your new baby. As shown in the example above, you can simply shoot a picture and have it printed from a professional printing company. 
Silk postcards
can add elegance. You can customize your message, choose the size that best suits your needs, select the paper type you prefer and die-cut your postcards in various shapes.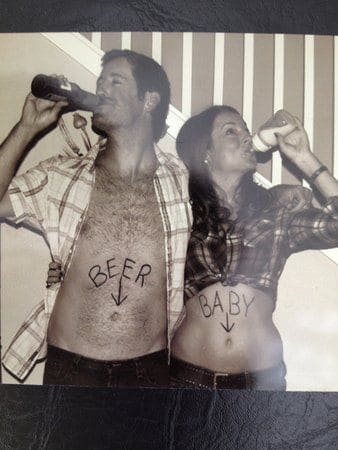 #3. Cute Birth Announcement
This Venn oversized postcard was also found on 
Pinterest
. The postcard design combines a wise choice of colors and typeface, professional photography, clean design and clear message- basic elements you need to create a great-looking birth announcement. 
Oversized postcards
are a great choice to make your announcement noticeable and add various images without cluttering your design.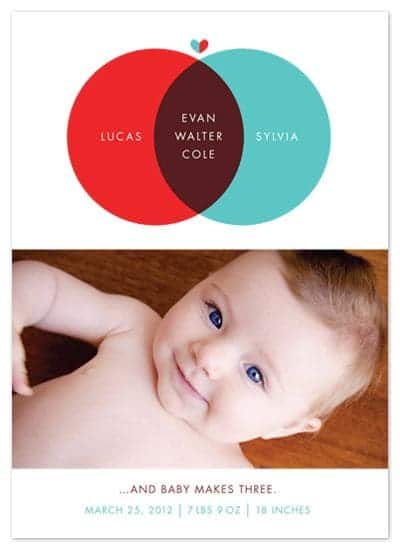 #4. Baby Boy Birth Announcement
This card designed by 
Ty Mattson
is the perfect example of a wisely chosen and smartly blended two-color palette.  The look and quality of this card is both professional and elegant. Apart from the great visual design, every detail carefully chosen makes this cards so very attractive. The embossing finish gives a touch of class. Another elegant finish is high gloss UV coating- it can enhance the brilliance of colors. High gloss UV coating can be applied to our 
flat invitation cards
. Personalize your invitations and get matching envelopes to surprise your relatives and friends.  (We offer embossing through custom orders if you're interested in that, btw.)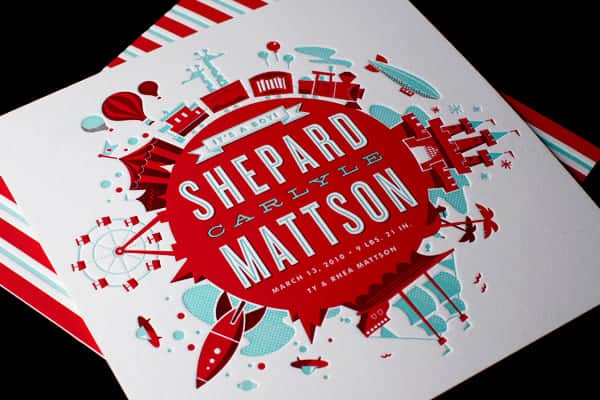 #5. Girly Touch
One of the greatest expectations of being pregnant is to know whether your baby is a boy or a girl. Once you know your baby's gender, you can choose the perfect colors to what gender the baby being announced happens to be. If it's a girl, as is the case here, pastel colors and decorative details are a great option. This folded postcard by 
Marjolein de Haan
delivers a clear and direct message right from the beginning, you will have no doubt the new member of the family is a girl. This card with a floral pattern gives a delicate feminine touch. Whether you want your cards to have a cute or whimsical touch, you can 
customize folded postcards
. They are available in a collection of paper types and several sizes.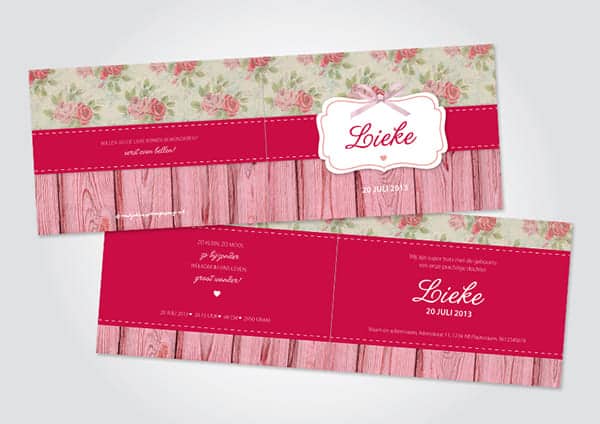 #6. Brochure
If you think a postcard will not have enough space to display the information and images you want to include, then choose a brochure. This birth announcement brochure by 
Katie Conforti
is an uncommon choice for announcing baby arrivals and it looks fantastic. Don't you think so? Visit our 
brochure's page
for more information. You can choose among half fold, trifold, z-fold and gate fold. (we're partial to the Gate Fold to be honest, just imagine those "doors" opening to introduce your little one to the world ~swoon~).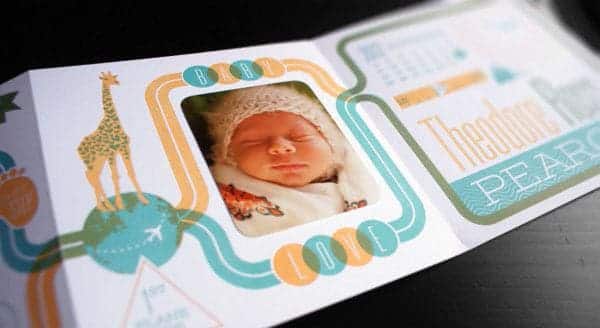 #7. Actual Baby's Footprints on Mugs
This is a gift for Mother's day found on
Pinterest
. We include it to this collection because it can serve as inspiration to announce your baby arrival in an innovative way. 
Personalized mugs
 can convey a message; for example, they can help you share the big news with your loved ones. By simply choosing a high-quality photo or artwork and customizing a nice message, you will create a lasting impression. Add bitesized, baby inspired candy on the inside for a home-run!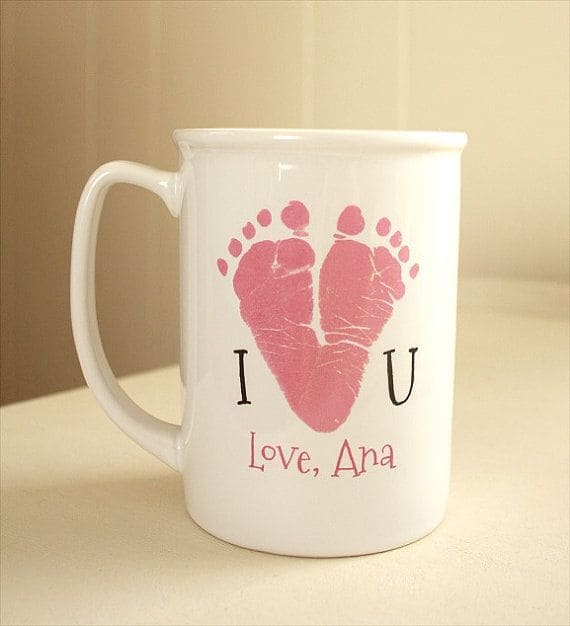 #8. Stella Beer Label
This project found via 
Behance
is a play on the Stella Artois beer label. While most people would not put babies and beer together, the sense of humor of these parents makes the baby's name unforgettable. This card will stick in many people's minds. If you like this idea, think of a way to emulate it. If you are a person with a good sense of humor, you will be able to create a one-of-a-kind birth announcement.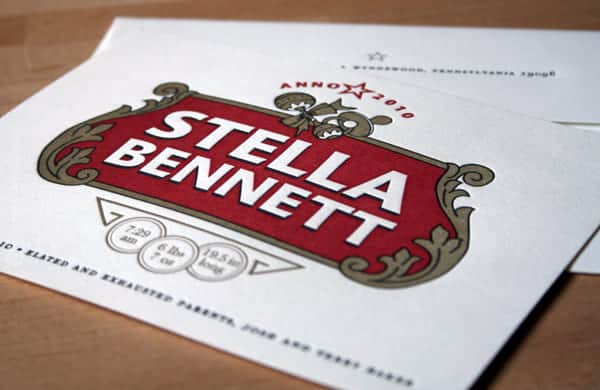 #9. Baby Announcement Cards
As well as you may have business cards in your wallet; you can design small-sized cards to announce your baby's birth and carry them with you everywhere you go. These birth announcement cards by 
Pascal Liénard
stand out because they have a clean and simple design. The edges give the cards a classy touch (edge painting also available for custom orders). Check out our 
business card section
to know the paper types you can choose, finishes, sizes and more. At 4over4 we have a variety of options for you.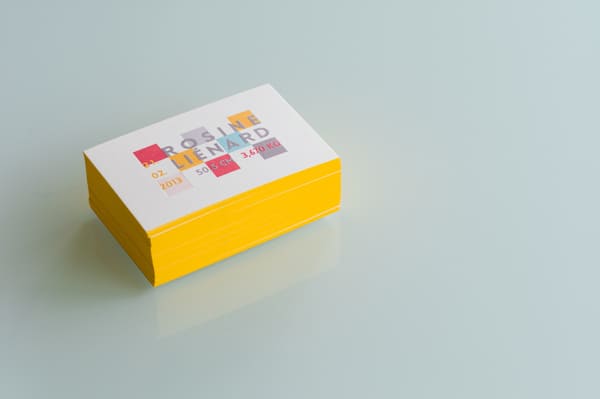 #10. Unique Butterfly Shape
This project by 
Mara Vissers
is an original die cut that's really hard to miss -or forget. The butterfly shape is attractive and gives the overall design an exclusive touch. This baby girl birth announcement does not have the common pink; instead, green was chosen. Take a look at our 
die cuts printing
to have a card shape other than rectangular or square.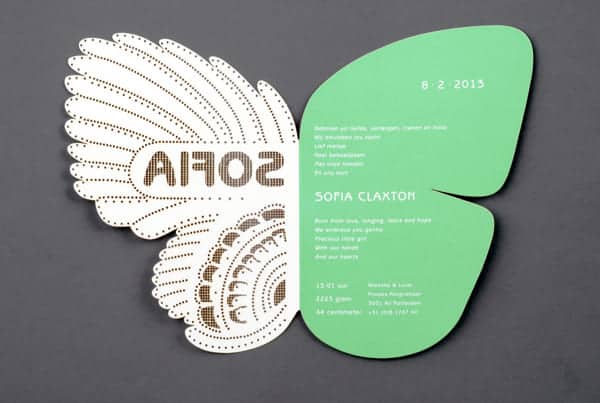 Hopefully, you found the above birth announcements inspiring, tell us if you did. The core element to create memorable birth announcements is a pinch of creativity. Share the new chapter in your life with your friends and family in a creative way. Visit us at 
4over4.com
and find a wide array of options available to meet your project's specific needs!