The hunt for creative new ideas and inspiration is a never-ending one when you work in the arts, graphic design, advertising or fashion industries. Luckily there are people who dedicate their waking hours scouring the web to find just enough to enlighten us and entertain us, sparking our imaginations. Since sometimes we need a little inspiration, we've compiled 10 Interesting Things -and people- you MUST know about! Even if you're not a designer the wealth of information, creativity and downright "interestingness" is sure to capture you. Take a break from your saturated life and enjoy these well curated, and chock-full of useful information, blog posts & more. Follow the Numbers in the image and fall in love with The New, The Interesting and The Strikingly Cool below!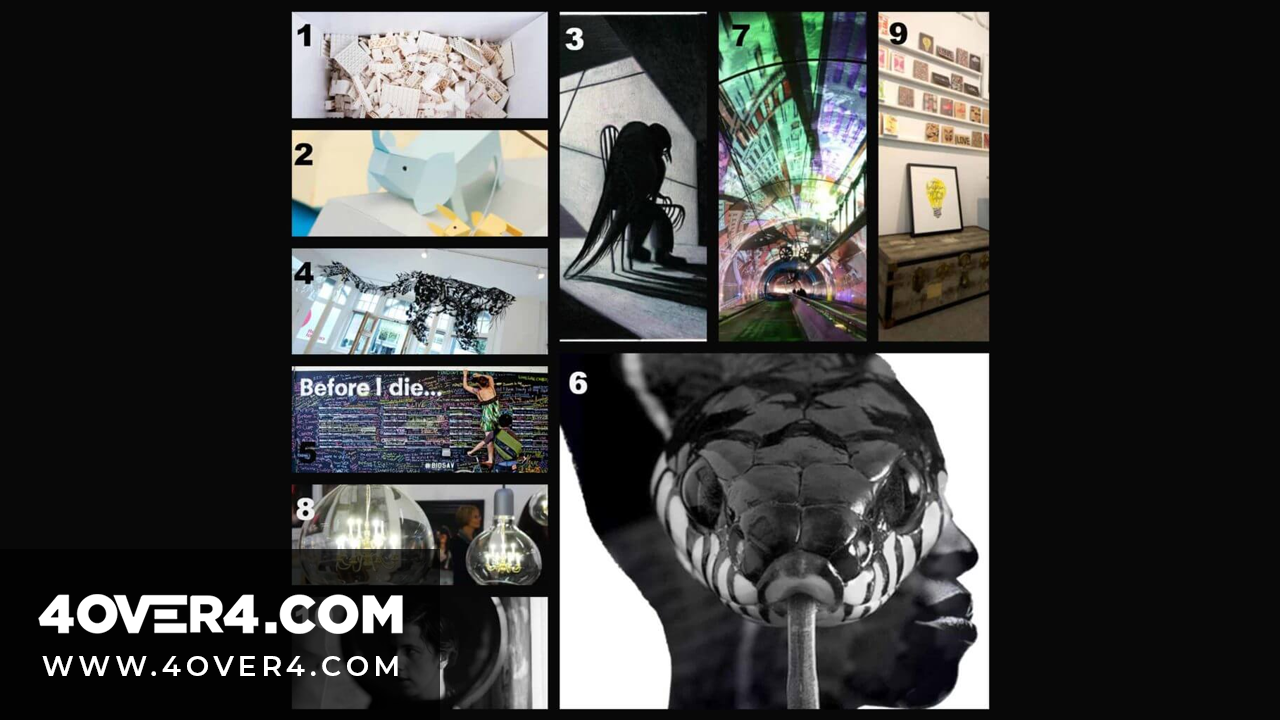 1. There is such a thing as Legos for Architects
And it's not to re-build your favorite buildings. The Lego Architecture Studio has over 1,200 monochromatic white and translucent pieces and NO instruction manual. Have you ever dreamed of building your projects with Lego? Make it happen! Check out the full post (above) to find out how.
It's Origami on Steroids. Or better, because it's way easier and dare we say cooler? Maybe origami for dummies? Anyway, we all probably had that class in kindergarten or elementary school when we had to do paper figures (and it was fun! Wasn't it?), this Swedish artist turned it into the core of her designs and now she wants everyone to learn how to craft paper sculptures with her book. And so do we.
The classic masterpiece of Allan Poe is revisited by the late musician Lou Reed, including illustrations by Italian cartoonist and artist Lorenzo Mattotti, whose representation of this new take on The Raven give it an even more mysterious element to the whole project. A MUST-SEE!
An artist to watch for! The innovative technique and the breathtaking final result will surely make headlines in the future. Get to know how this amazing sculpture was created and take a look at the video capturing the essence of both the project as its creator.
If you're in need of inspiration, want to stray away from daily stress or simply feel like daydreaming a bit this photographer's use of landscapes and animals juxtaposed with portraits and faces will do the trick. Take a look at his unique creations.
This is a great guide curated by Maria Popova with graphic design resources for professionals and amateurs looking to expand their knowledge. If you don't know who Ms. Popova is, she is a self-proclaimed "interestingness hunter-gatherer obsessed with combinatorial creativity" and her blog is a true testimony to that. Don't miss out!
Do you know what's going on in France? We didn't know either, learn how they transformed the tunnel of La Croix Rousse into a gallery for the Festival of Lights in Lyon. Beautiful!
8. London Design Festival 2013: Creative Illuminations
The best innovations in all kinds of interior and exterior lights, in this year's edition of the design festival.
A blog post filled with tons of images from the Top Drawer at London Olympia Exhibition, with many inspirational pieces for graphic designers. What is "Top Drawer" you ask? Why it is a trade show that carefully selects the must-have-items for stores and retailers in Stationary and Greeting, Gift and Fashion among others. Keep an eye out, you might make it to next year's expo.
If you're tired of looking at duck-face selfies, this interesting post about how the self-portraits of a mysterious woman got in the hands of a historian and collector – and thus became internationally acclaimed – will put these kinds of shots in a different perspective. What did you think of our collection of interesting graphic design resources? Let us know how you feel in our comment section below or on our social media networks!