Do you have a hard time finding novel gifts for every bookworm, avid reader, bibliophile, literary lover and writer on your list? If your significant other's or friend's home is completely filled with books of all kinds from fiction to nonfiction to DIY to cookbooks, it's time to get creative when it comes to gift giving.  Giving them their favorite book is easy, getting them something truly unique that celebrates their neverending love for reading is extra fun and way more meaningful.
Luckily for you, we scoured the Web and handpicked ten awesome gift ideas  for book lovers that are certain to please your book-worms this holiday season. Take a look:
Spend everyday wrapped up with Elizabeth and Darcy in this stylish Storiarts Book Scarf. The owner of this uniquely-hand printed, 100% cotton infinity scarf (with your favorite Jane Austen quote, of course) will look absolutely fabulous no matter what the occasion. This easy-to-style scarf is perfect for those nights reading by the fireside!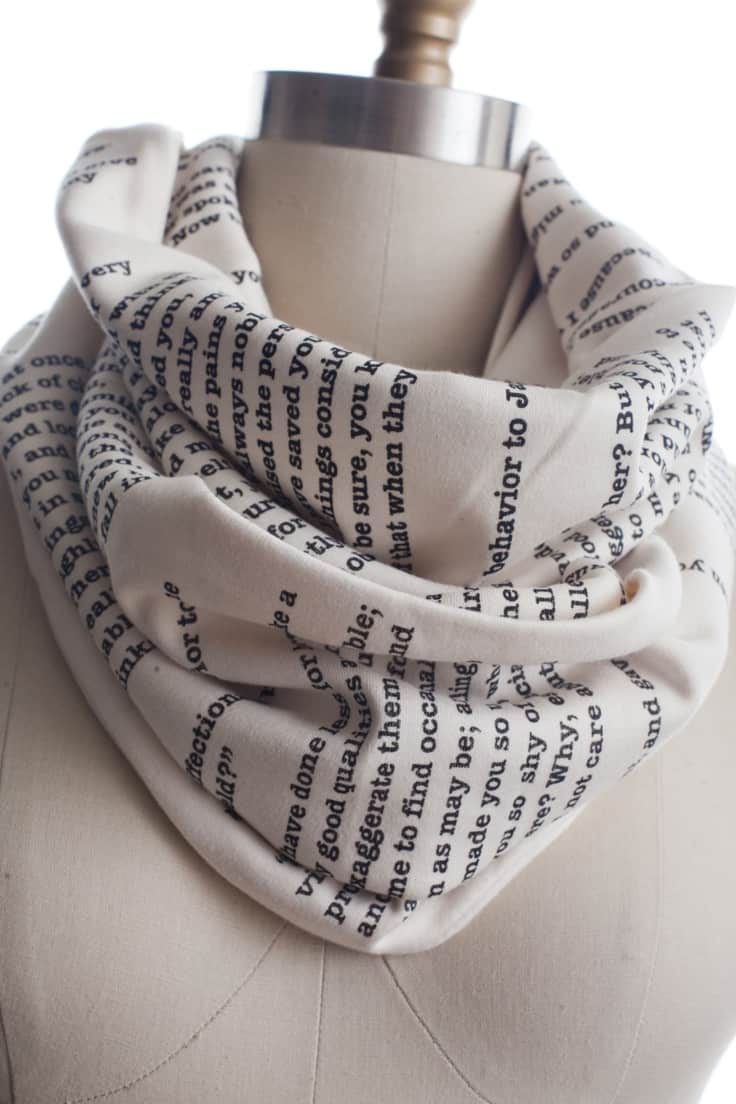 Go the extra mile and get one of our custom printed tote bags in off white, with their favorite quote.
Put the scarf inside and watch them squee with excitement when they open their gift!
Get it here
.
Oscar Wilde Pocket Mirror ($8)
Do you want your special friend to be reminded of Oscar Wilde's wise words every time they look in the mirror? Without breaking the bank, this amazing pocket mirror set in metal frame is meaningful and unique! Your friends will get
Wilde
-get it-
with this elegantly printed literature piece that makes primping even more pleasurable! Ok, no more puns - promised.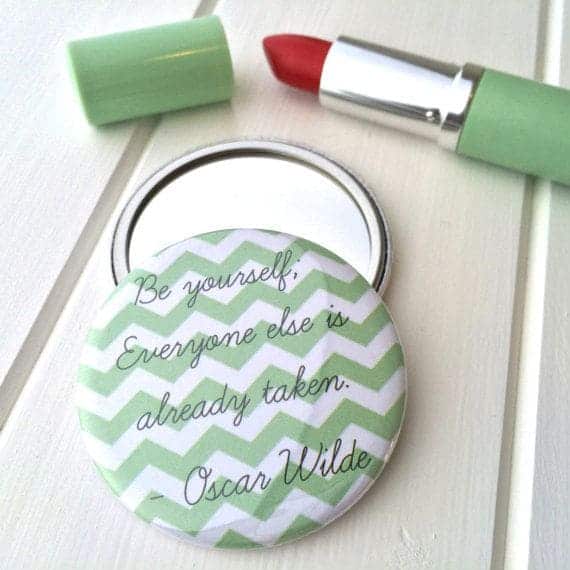 If you wanted to take that to the next level and make it, say, a party favor this holiday… look no further:  Our 2.25" mirror buttons can be ordered in small groups of 50,  perfect for intimate affairs with flare.
25% Off at this link
!
I Love to Sail Moby Dick Necklace ($24)
Have a
Moby Dick
lover on your holiday gift list? Give them the gift of adventure (without the stubborn captain) this holiday with this sophisticated 14k gold-plated necklace inspired by the novel. Who wouldn't want to wear a passage from her favorite story around her neck with this one-of-a-kind literary necklace?  Seriously, tho -
who wouldn't?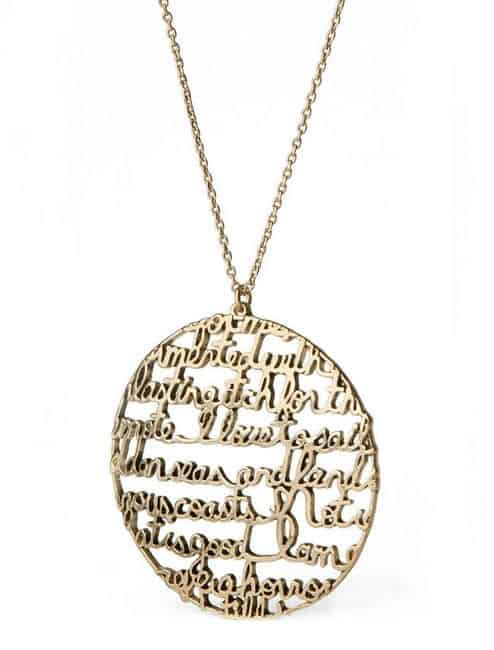 We all know that every book lover needs a good book bag, and this chic tote bag might just become a new favorite. As you can see, this ultra-cute tote bag with an eye-catching design is sure to get noticed! If you're feeling really generous this holiday season, pack the tote with two best selling books from the book lover's must read list.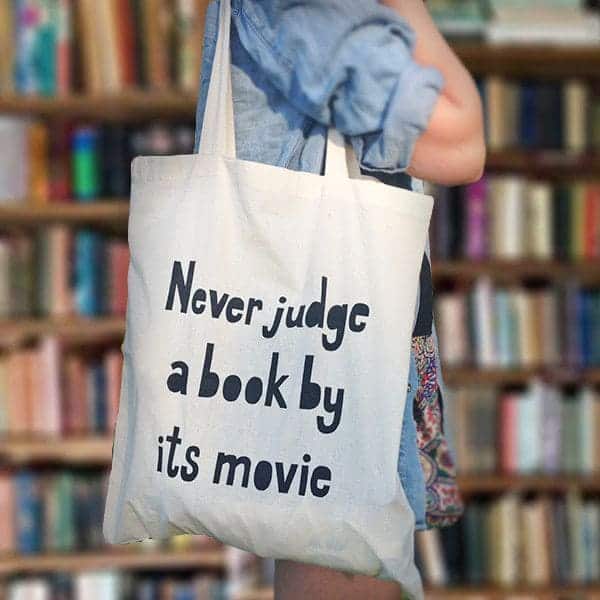 Quotation Earrings ($10)
This stunner is for that friend, family member or coworker who loves escaping the stress of everyday life by sinking into an interesting story. Available in black and gold, these laser-cut earrings attached to a quotation card are made from shiny acrylic with silver-plated studs. Now everyone can make a bold statement with these -grammatically correct- quotation earrings! Tiny but cute: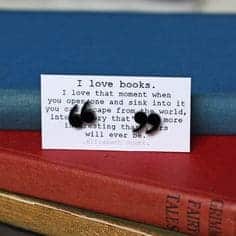 Inspired by Ernest Hemingway's clever advice of writing drunk and editing sober, this is a must have gift for every writer or editor on your list. This very practical keyring/bottle opener can be carried everywhere! Last but not least, the item comes delivered in a glassine envelope so it can be sent as a gift with no hassles whatsoever! Not saying it's our favorite… but it might be ;)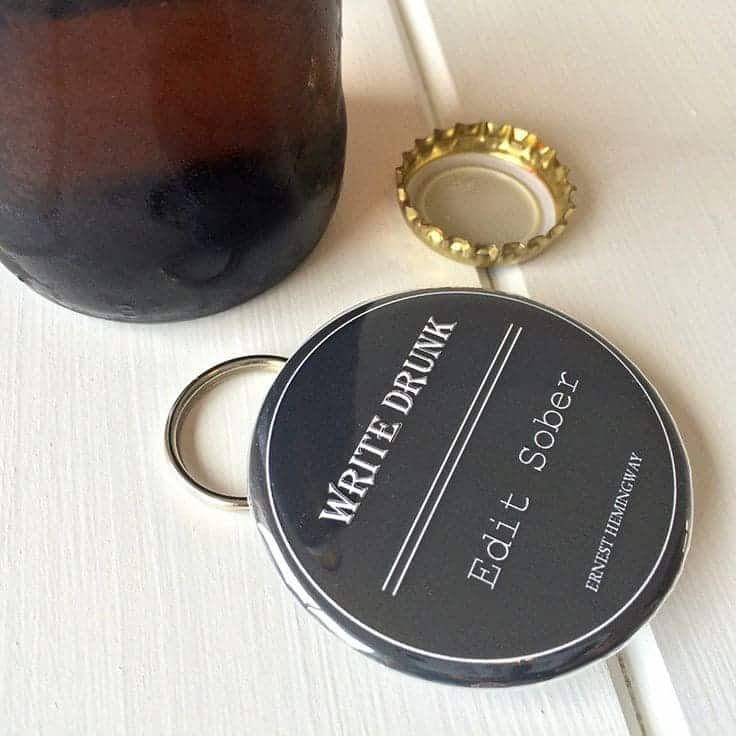 Who wouldn't want to toast the classics with this inspirational coaster set showcasing some of the world's most renowned literature? Featuring vivid images and designs inspired by a wide array of books, this novel set of coasters is perfect for the hardcore classic book fans who cover their coffee tables with literary magazines and award winning literature.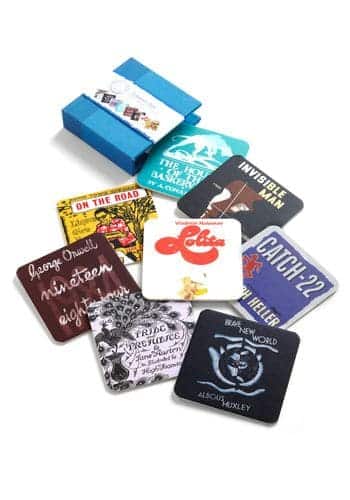 Want to give bookworms an awesome piece that is fun and functional? This indestructible mug made from biodegradable corn plastic reveals a well known secret - Reading is sexy. More importantly, the bookworms on your list can stop using a paper cup every morning and use this environmentally friendly alternative instead.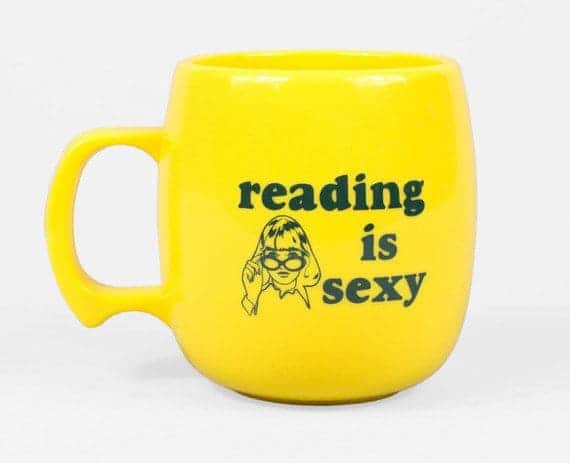 If you're not feeling the yellow, you can custom make yours right
here
.  Personalize the message! (15% Off, just saying)
This stunning vintage wall art is sure to get the conversation started at any holiday party. Get it for the teacher, librarian and avid reader in your life. As you can see, this hand printed wall art, featuring matte paper and top-quality ink, looks great both framed and unframed.
If that's a bit steep for your budget and you can get a nice design in that vein or vibe,
check these out
- for half the price.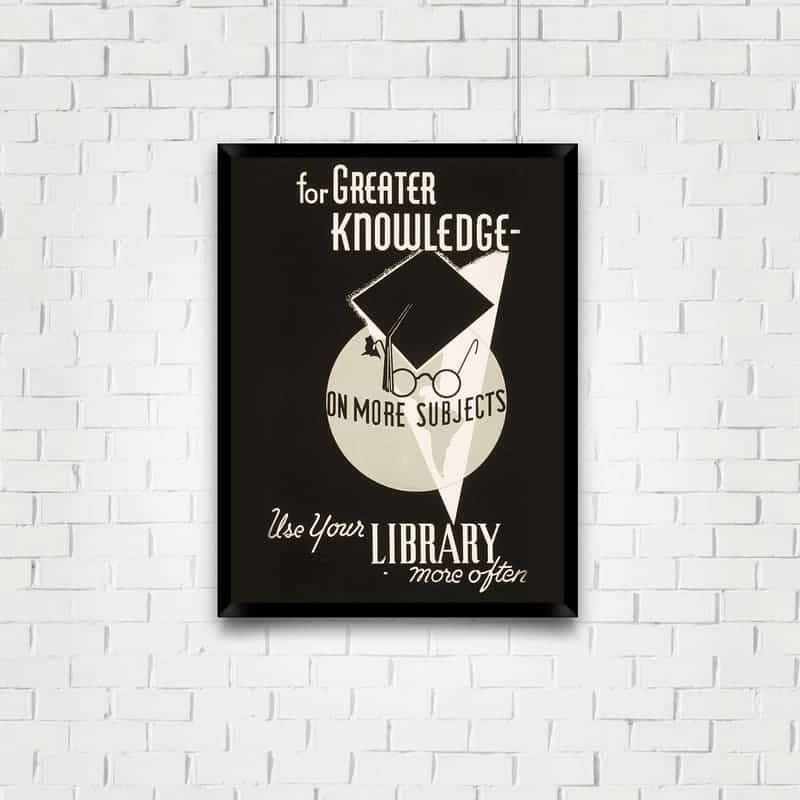 A Reader Lives a Thousand Lives Cushion ($49)
Let the book lovers on your list get comfy with this beautiful cushion which was inspired by George R.R. Martin's smart quote: "as a reader you live 1000 lives". Made in Wales, this stylish hand printed pillow is sure to add style to any home this holiday season!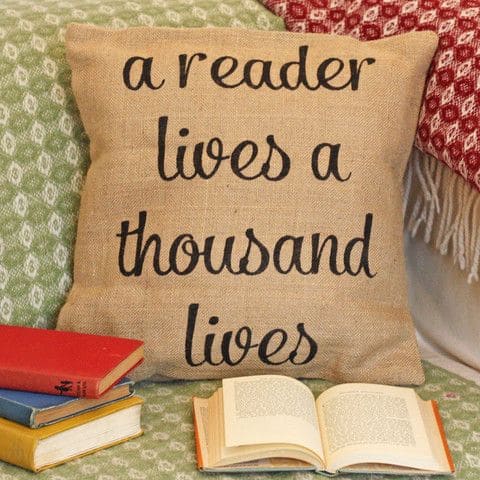 Which book lover gift are you planning to add to your wish list? We want to know what your favorites are. Leave a comment in the section below!