Mother's day is one of the most important celebrations of the year because it focuses on one of the most important persons in our lives: our mothers. Every year we try to come up with the perfect present that represents our mother's personality and taste, but most of them prefer a homemade gift that shows them we took the time to make something special for them, instead of just buying something in a rush, at the mall. Don't believe it? Go check how many of your school projects and paintings your mother still keeps - they have powerful sentimental value! We've put together a list with amazing and beautiful DIY projects for mother's day, so you can give your mom a special gift that was made with love: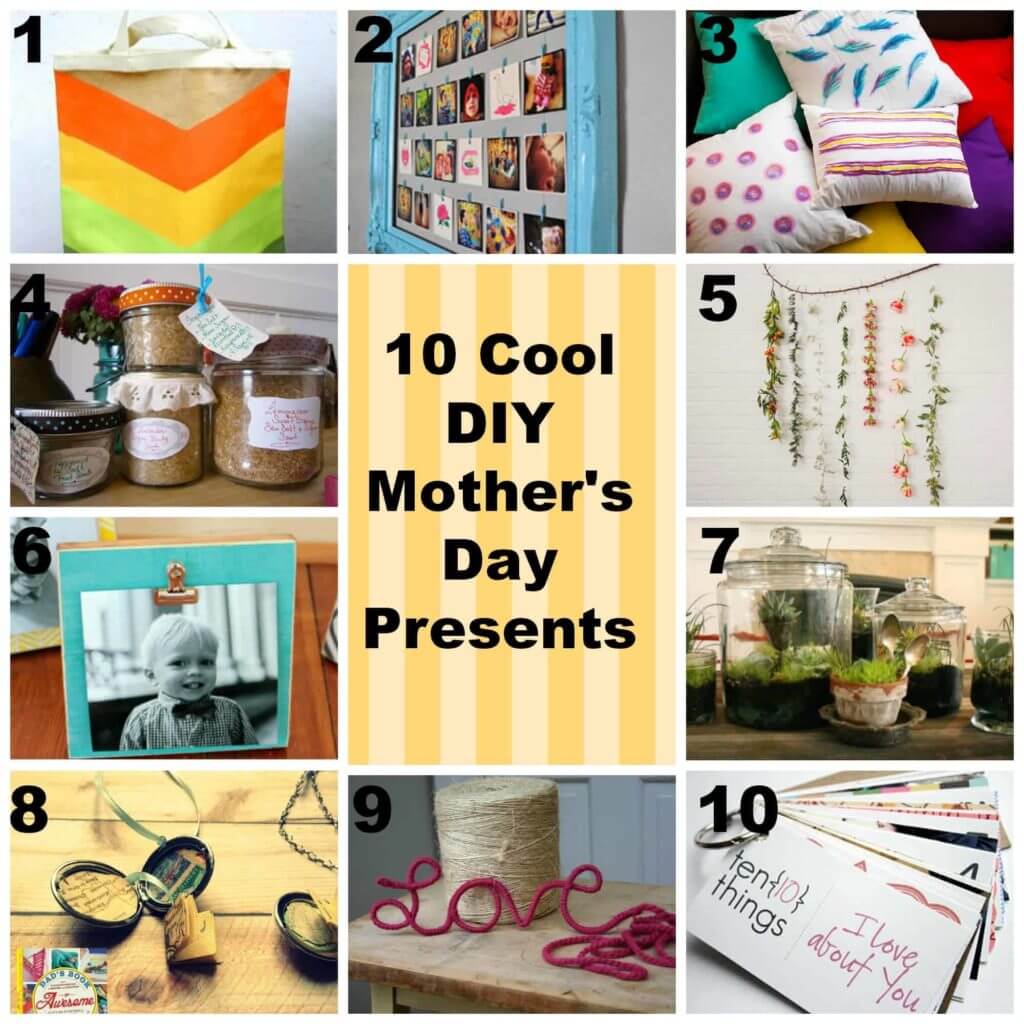 Like them? Jump to the list and get the step by step breakdown to get it done in  time for Mother's Day!
1. DIY Chevron Tote Bag
Make a personalized tote with  one of the most "In" patterns today: Chevron. Perfect to carry on farmer's market, grocery shopping or a day at the beach.
2. Collage Photo Frame
Gather the best family moment's in one place with this beautiful collage photo frame.
3. Watercolor Throw Pillows
Amazing DIY pillows to match  any room decors.
4. Homemade Salt and Sugar Scrub
What's better after a long day of work than a good scrub in the tub? Pamper your mom with  simple salt and sugar recipe.
5. Flower Garland Wall Hanging
Flowers are the go-to present for
most special
occasions, but you don't need to spend a lot of money for a beautiful presentation.
6.  Scrap Wood Photo Blocks
Reuse old furniture and turn it into a beautiful frame for old pictures or even stretched 
canvas prints
.  (You can also get
headshot quality photo prints here
)
7. Terrariums
Your mom doesn't need to be a professional in the garden to love this terrarium and give a good use.
8. Mother's Day Locket
Give a present that can stay close to her heart with this creative locket for mother's day.
9. Yarn Love
Your "Love" is all your mom wants to celebrate, let her know what she means to you with this cool project.
10.  10 Things I love About You 
Say the things you always think with a series of cards that says the 10 things you love about your mom. Don't forget to include a creative card with a message to your mom, let her know how much you care. We  offer a great selection of invitation envelopes to complement any personalized card.