May 8, 2020 5770 ViewCopy Link
The marketing staple, hang tag is a tool to share information and increase business sales. Although marketing has become digitalized with every move, shopping has not yet entered the digital era completely. Whether you create cheap hang tags or high-end hang tags, they are still the tangible items that customers look for while shopping in a store. Apart from sharing product, price, and company info, hang tag printing also helps to promote your brand. Like the overall brand message, your marketing plan must also blend well with product merchandising. It is essential that your tags stand out on your products and also inform and attract potential customers. Understand the purpose of the tag before deciding what information to include on your custom hang tags with string to stand out among your competitors.
Things to Consider Before Deciding What to Include on Hang tags
Why do you need the custom hang tags for clothing? This optional hole drilled tag is the immediate attention-seeking tool when the people are on a shopping spree. The hang tag printing with string draws the attention of the customers when they come in contact with several brands at the same time. People are often confused between similar products, and the hang tags create the pull towards a specific brand. If you can differentiate your product with die-cut hang tags, your brand will surely draw attention. Hang tags help you to share information. Marketers understand that the customers usually buy products emotionally, decisively, or rationally. The high-end hang tags allow you to consider the products in every way. From choice of color to material, tagline, and logo, every single element can evoke feelings in the customers. The text printed on your product tag highlights your product benefits and features which validates the customers purchase. Whether you choose luxury hang tags or small hang tags, it would be interesting to consider the questions from customers by printing the answers on the hang tags. When people get answers to questions they have in mind printed on hangtag, it leads to trust in the brand. There is a wide range of hang tags that add apparent value and much-needed oomph to your clothing. 4OVER4.COM is one of the leading printing companies based in New York City that offers you all kinds of print facilities and marketing materials needed to add perceived value to your products. So, what are the things that you should include on your product tag?
Things to Include on Hang tags

1.Brand name and/or logo
Logo or brand name is a mandatory thing to include on your product tags. The logo is the identity of your company, so when customers see the logo printed, they instantly identify the company they are buying from. If you want to make first-time customers, your repeat consumers, printing logos are the only way to go. Your brand name of logo, fonts, and colors should be constant without any inconsistencies.
2.Tagline Printed on Hang tag
The tagline is another crucial thing to include on product tags as it attractively summarizes your company value. You may use foil printing to make your tagline appear to stand out from the rest of the text. To protect the hang tags from wear and tear, you may choose the silk laminated finish printed on 16PT or more card stock with a 1.5 mil silk lamination added to it. For luxury feel and protection of silk, you may choose the spot UV finish.
3.A brief "About us"
If you think a tagline cannot justify your company and you have a back story to tell, include a brief that best describes your company and product value. Let the people know what your company is passionate about and how the customers matter to you. If you have something unique to highlight, customers would definitely love to check out. It is especially important if a part of your earnings goes toward charity purposes. People would like to be a part of a significant and reasonable cause.
4.Point of contact
You must have seen the standard business cards, yard signs, or pop-up displays that have the contact detail mentioned with a website link, social handles, etc. The hang tags must also include an avenue of contact where customers can learn more. When you add your website link on hang tags, people can visit your site and get to know more about your products, your company, and also spread the word among their friends and family. This can hopefully help people to stay in touch and remember your brand name when they are next out shopping. Add a little sparkle to your tags with stamped foil printing.
5.Product information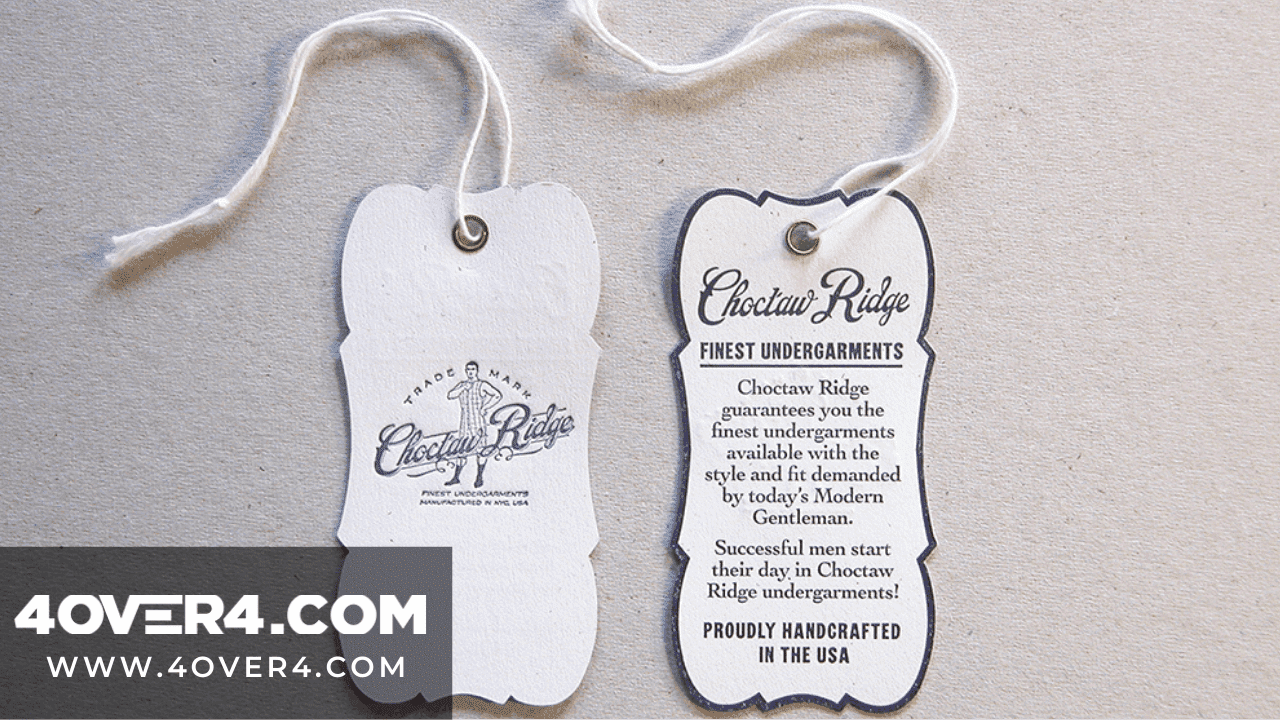 You may use folded hang tags to highlight the qualities and benefits of your products or any additional product details that can convince people to buy your stuff. There are very few people who can tell just by touching if the garment is sweat-wicking or wrinkle-free. So, it is always better to print this detail on the tag to let people know that you care about their comfort.
6.Call to action
By adding a call to action on the product tag, you can ask your customer to act on the printed CTA. Whether you want them to follow you, tag you, visit your site, or check out the promotional offer, consider printing it on hang tag in bold fonts. The CTA has the power to motivate people, and they might follow the printed instruction. An offer for the next order can encourage people to shop more of your brand. So, consider offering a discount. It is the best CTA, and the customers never fail to act upon it.
7.Hang tag Fabric Compositions and Care instructions
If you are selling completely custom-made clothing, it is essential to emphasize the quality of your garment like 100% cotton. You may also include washing instructions to keep the garment safe for a long time.
8.UPC and Price on Hang tag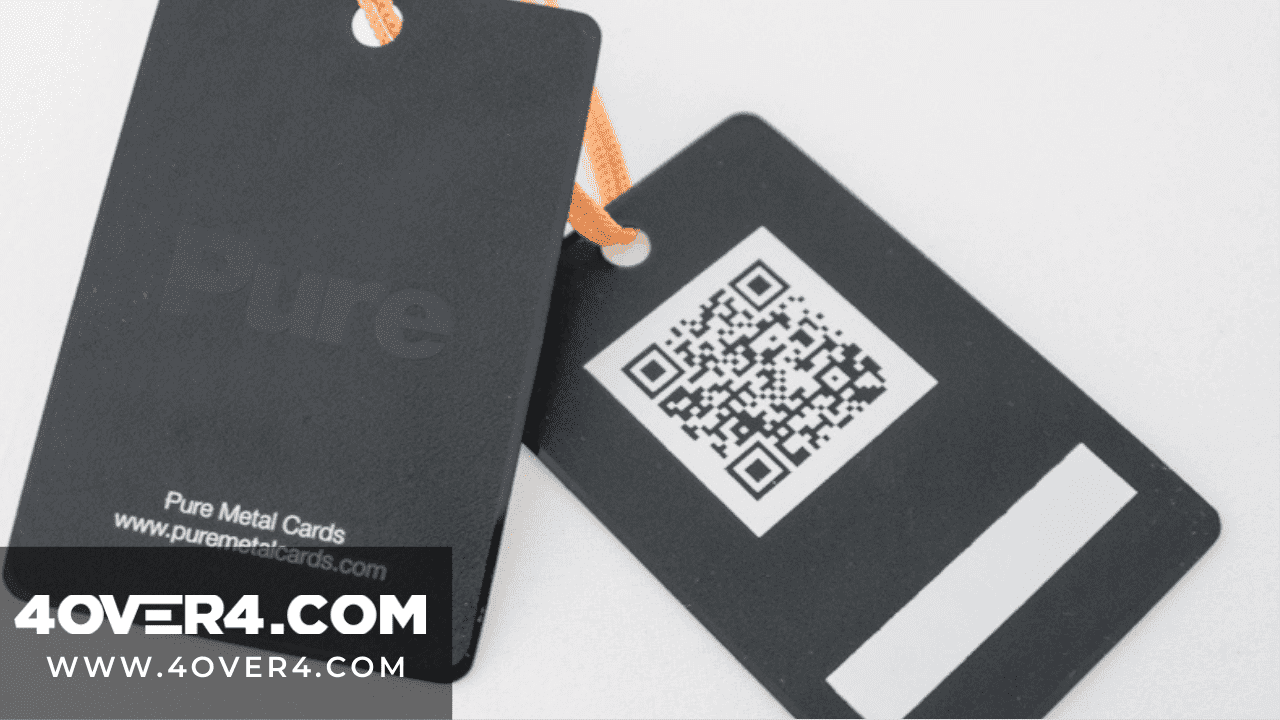 You may add the Universal Product Code that is a 12-digit code allotted to the merchandise displayed in retail shops, although it is not a compulsory thing to include. When you print it on your hang tag, it becomes easier to manage all the garments for sale in the retail set-up. It also helps to run the billing smoothly.
9.Photo or illustration
A hang tag turns into a branded package when you include on your clothing. Therefore, you must have an effective tag design that is visually engaging and informative. People usually ignore large text printed product tags and are attracted to the illustration or images printed on the tags. You may also use die-cut shaped hang tags to seek customer's attention. The team at 4OVER4.COM makes your product visually appealing by offering a range of finishes like Spot UV, metallic foil, layer cake, etc.
Conclusion
When you print high-quality marketing collaterals, you can easily impress the customers browsing the racks. Ensure you send a brand ambassador into their homes once they purchase your product. Your hang tag must be so attractive and high-quality that your customers feel bad about throwing it away. 4OVER4 team can help you to create such product tags with a wide-ranging premium collection of card stock and finishes. With short turnaround times of 4-5 working days, the efficient team at 4OVER4 delivers high-quality print materials on time without fail.