Apr 28, 2020 2755 ViewCopy Link
Cheap hang tags symbolize low-quality product. Are you a seller, marketing your product at a retail or online level? Then, you must be aware of the importance of a well-designed and unique hangtag. Some businesses may term the hang tag printing with string as colorful placeholders for price tags and universal product codes (UPCs). But, the knowledgeable business person understands that even the small hang tags are capable of much more. Hang tags with strings are perfectly hole drilled and printed with product information, product packaging detail, and a wide range of custom printed info. They help to effectively convey the brand message to the potential customers and attract people who might otherwise just walk away with a glance. Do you think just by adding an old design cheap-looking product tag, you can witness a sea change in your sales? It is essential to think out of the box, choose designs, colors, and graphics in line with your brand, and a printing company like 4OVER4 can help you with the best possible ways to come up with high end hang tags. Here are the top 8 hang tag design tips that can help in enhancing your product marketability.
1.Blow up the Logo on Hang tags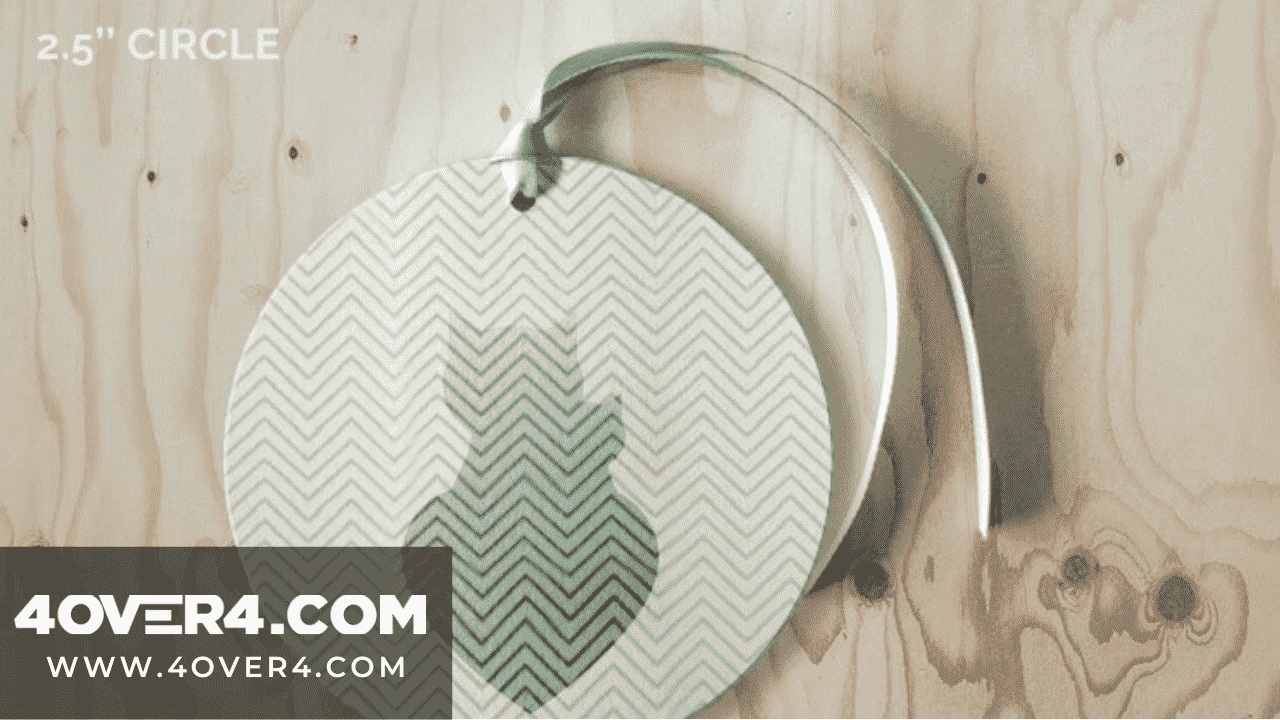 Create a logo that can be the star element of your custom hang tags for clothing. If you want to fill one side of the label with your logo completely, go ahead. There is no stopping you because it helps to deepen and establish your brand. It is like the header cards or business cards that need to create the best first impression. Whether folded hang tags or luxury hang tags, it must be like one look from your customer, and your product is taken. The hang tag design must have that power to make an instant connection with the people checking them out. Not just that, it must also make people recognize your logo instantly wherever they see it. Embossing is one of the best printing methods for enhancing logo design.
2.Consistent Color Usage
Which demographic do you cater to? If your business caters to the younger crowd, try to choose brighter colors. To keep it in line with your brand, you must choose the shades that match your brand colors. Try to find a variation of the shades that reflects your company values and blend in well with youth. 4OVER4 team is skilled and highly knowledgeable in such areas. From suggesting the best finishes like die-cut and spot UV to sharing color ideas with the customer, you can have it all. The consistency of the hang tag design with your business should be evident and must reveal that it was chosen thoughtfully for the customer.
3.Theme-Based Hang tags
Do you have any theme for your business or product marketing strategy? The tag design must capture the theme or the message of your company to deliver the best results. For instance, your business theme can be traditional, sporty, trendy, classy, social, or anything that you think best suits your brand. Suppose there is a year-end sale. If your hang tags focus on the discounts, then you may die-cut hang tags with number shape cut-outs to highlight the essence of the theme 'SALE' and tag string it with the item that's set for sale. It will help to distinguish the items on sale, quickly and easily.
4.Create Magic with Unique Shapes and Materials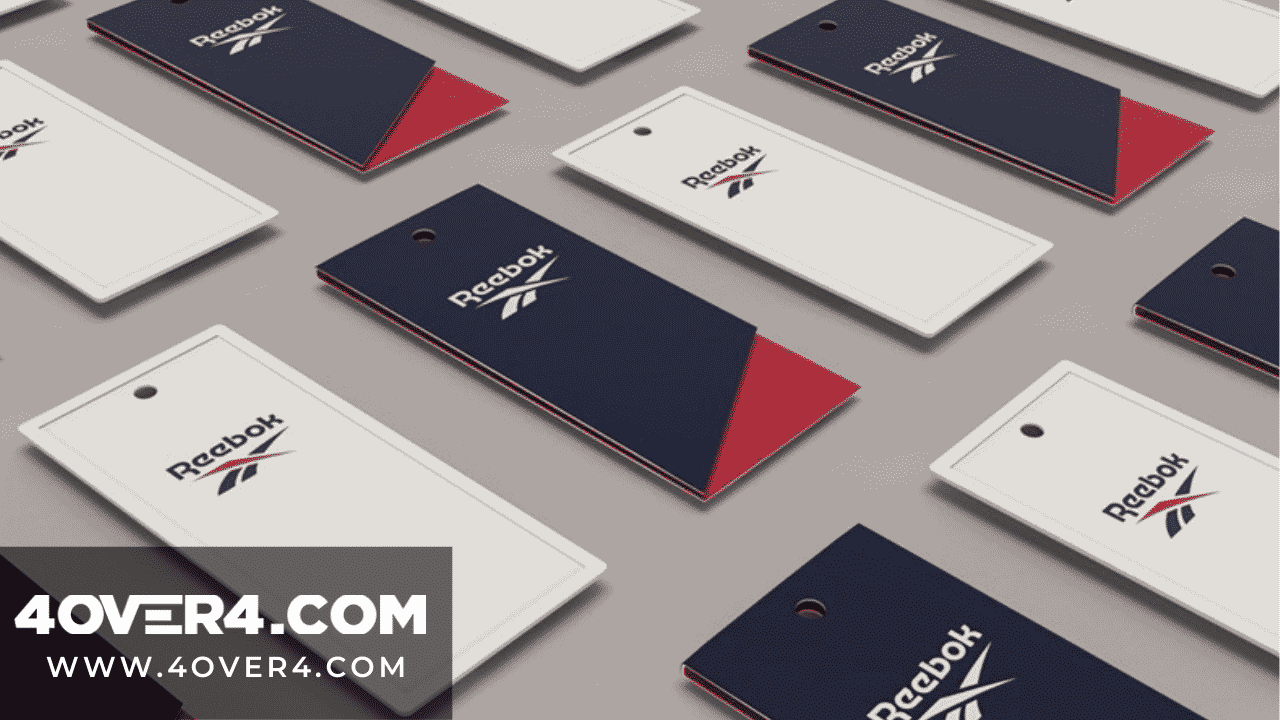 Source Now that we have discussed themes, it is important to know what makes the themes work. It is the unusual shapes and material that can make a theme sale successful. Your luxury hang tags do not have to be rectangular always. You can create any shape that best describes your brand and also choose leather or Kraft card stock over 14 pt simple paper stock. Experiment with the different shapes for your hang tags and printers like 4OVER4 are here to execute your design flawlessly with the custom printed die-cut finish tools. Whether sharp or rounded edges, images or texts, 4OVER4 is one of the leading online printers with the shortest turnaround times. For example, if you deal with surfing accessories and apparel, a unique surfer shaped hang tag can easily relate to the brand and highlight the purpose, making it easily eye-grabbing. You may also get into minute detailing by considering hemp twine or opaque ribbon for tag string. Explore your creativity to the fullest to create exclusive, high-quality, and memorable die-cut shape hang tags.
5.Come up with Advanced High-End Hang tags
With the changing times, you must be able to incorporate the latest trends to your marketing collaterals to live up to the expectation of the customers. For example, if a customer wants to know something about your product, they would look for it on the product hang tag. But, if you fail to print it due to less space, it will be your loss. In such cases, adding your website URL or a QR code leading to the product page description can impress your client to a great extent. It can create an opportunity for you to drive more traffic to your site and also interact with your customers.
6.Educational Hang tag Design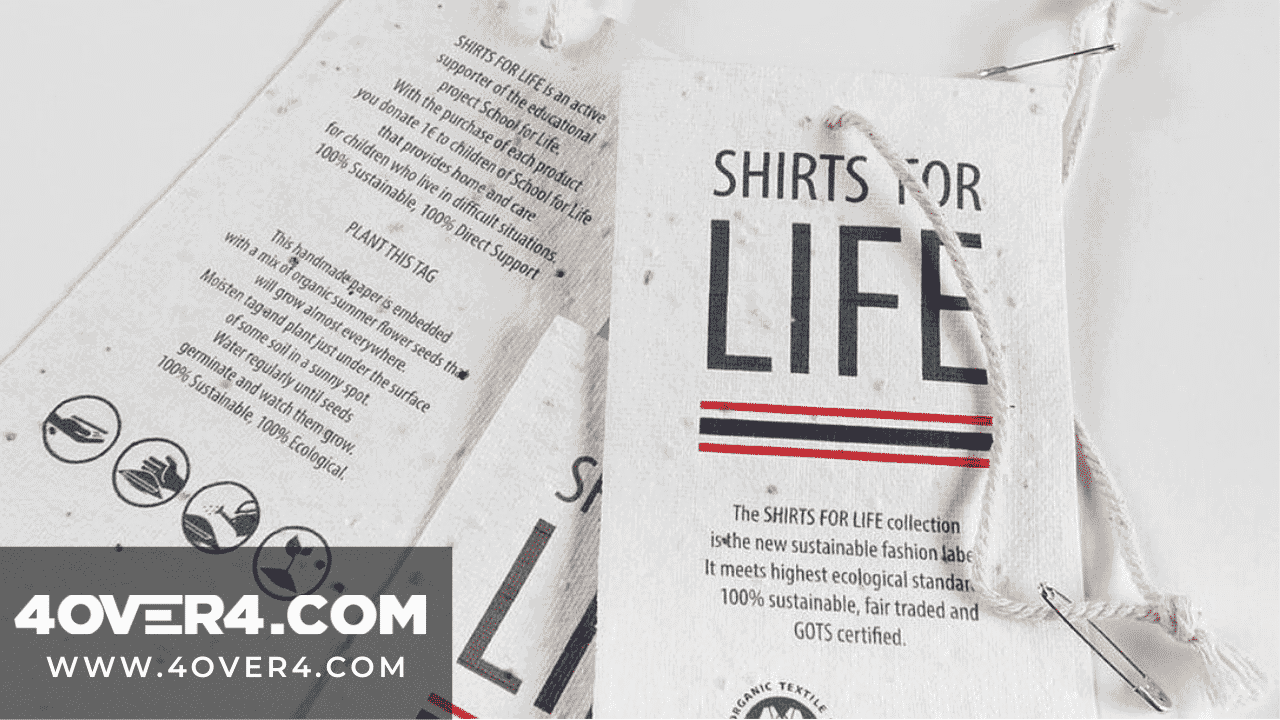 Source A hang tag is a lot more than just a promotional tool. You can make your product tags useful by making them educational. By sharing small information about the product, adding a website link for people looking for detail, customer care toll-free number, care instruction, etc. you can give a transparent view to your customers, which they are likely to appreciate and trust. This makes your hang tag useful as well as highly informative for your customers. You must choose your print fonts correctly to make the content an easy read. Too small text can be hard on your customer's eye. At 4OVER4, our team helps you to choose the right font if you want or send you the printed sample design for approval. Your main goal should be to convince customers in the best possible way.
7.Think Like Your Customer While Designing
It is important to be on your customer's shoe while designing your hang tag. Ask yourself questions that come to mind while purchasing a product. What are the usual questions that people seek? Answer yourself and accordingly add text and images on your hang tag designs? Some of the major questions that consumers come up with while buying apparels are what is the cost, where is the care-instruction, what material is used, what is the size, etc. So, always note that the more info you can share, the better clarity people have about your brand. Educate people by being one of them while designing.
8.Make Your Tags Luxurious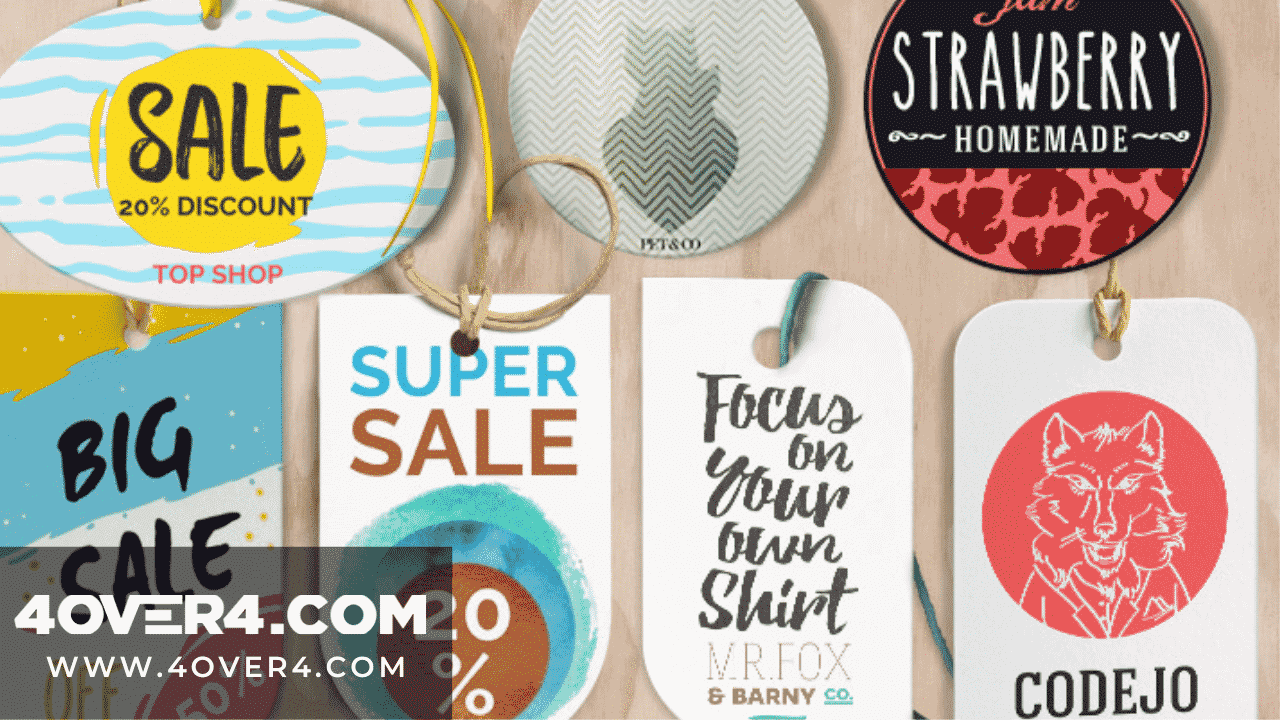 When you choose quality over price, your printed material turns out to be luxurious. It also impresses your customers browsing the store shelves. Apart from creating a great impression, a luxury hang tag also gives a feeling of acceptance to your products. It must be so good that people feel guilty about throwing it away. The luxury tags create a fan of your product out of every person purchasing your brand. At 4OVER4, we believe in the power of printed marketing collaterals, and we are prepared to assist you through the process of making your product tags your own.
Conclusion
With these handy tips, you must surely pave the right way to perfect designing of hang tags. Get started with 4OVER4's free hang tag design templates or work with a designer to make a unique design that describes your brand in the best possible way. Connect with us if you have any query and our customer care team will be more than happy to assist you!