The business card plays a significant role in building customer relationships. Apart from a steady shake hand, business card printing is the best way to create an impression that lasts forever. But do you think it can really foster a relationship, or will it end up in the bin or maybe recycled? You need to decide how you want your business card stock to treat you or vice versa. It is your identity maker and not just representing your company. So, a business card should be more than only a bland rectangular card containing your contact information.
Your card must enhance your portfolio and showcase your talent. The business card printing can bring you brand recognition, advertise, and help you share contact information. It is a pocket-sized billboard to turn a stranger into a treasured client. Today, the plain business cards with just the necessary typography have become outdated. There is a drastic change in business cards now and the cards ten years ago. The custom print finishes add a difference and a special touch to your business cards, making it match the level of your brand. The special business card finishes help in developing more impressionable customer interaction and adding an extra pop to your card design. 4OVER4 is one of the leading business cards printing online that offers a wide-ranging finishes option for the customers. Let's learn more about the finishes.
What are Print Finishes?
In this competitive market, it is essential to stand out in whatever you do, and business card printing is no different. Make your business card stand out by choosing the right finishing technique. What is a print finish? It is a process used after printing to enhance the beauty and value of the printed product. The finish is applied to the printed product, which makes a striking difference to the print material, and it looks much more convincing. According to your preference and budget, there are several print finishes available in the market.
1.Die-Cut Business Card Printing Finish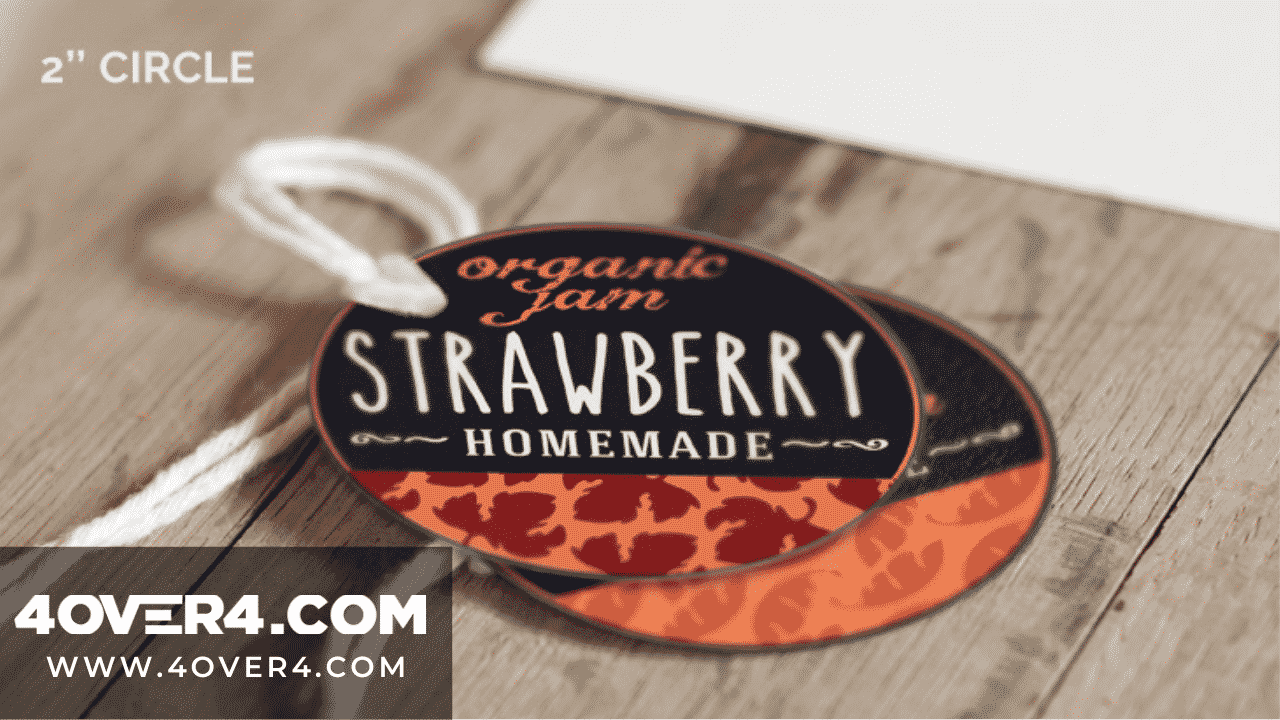 What is die-cut? There are times when your design needs cutting and creasing after printing the material in order to fold easily or make a shape appear clear and crisp. Die-cutter is one such die-cut business card printing machine used to cut the printed card exactly as per shape. The die supports the printed cutting material and knocks down a hole with a punch made up of cutting blades to fit appropriately. Similarly, creasing needs blunt blades to be applied in the same way. Producing a dimensional effect on your printed business cards is easy and simple with the die-cut print finish. If you want a particular shape, opt the steel cutting die blades that are pressed on to the business card printed papers firmly to cut out the pressed part. If you want your business card to have the right design and texture, then choose 4OVER4 die-cut business card printing. We are the pioneers in business card printing NYC services. Our latest equipment and state of the art Green Printing technology makes us stand out from the rest.
2.Lamination Business Card Print Finish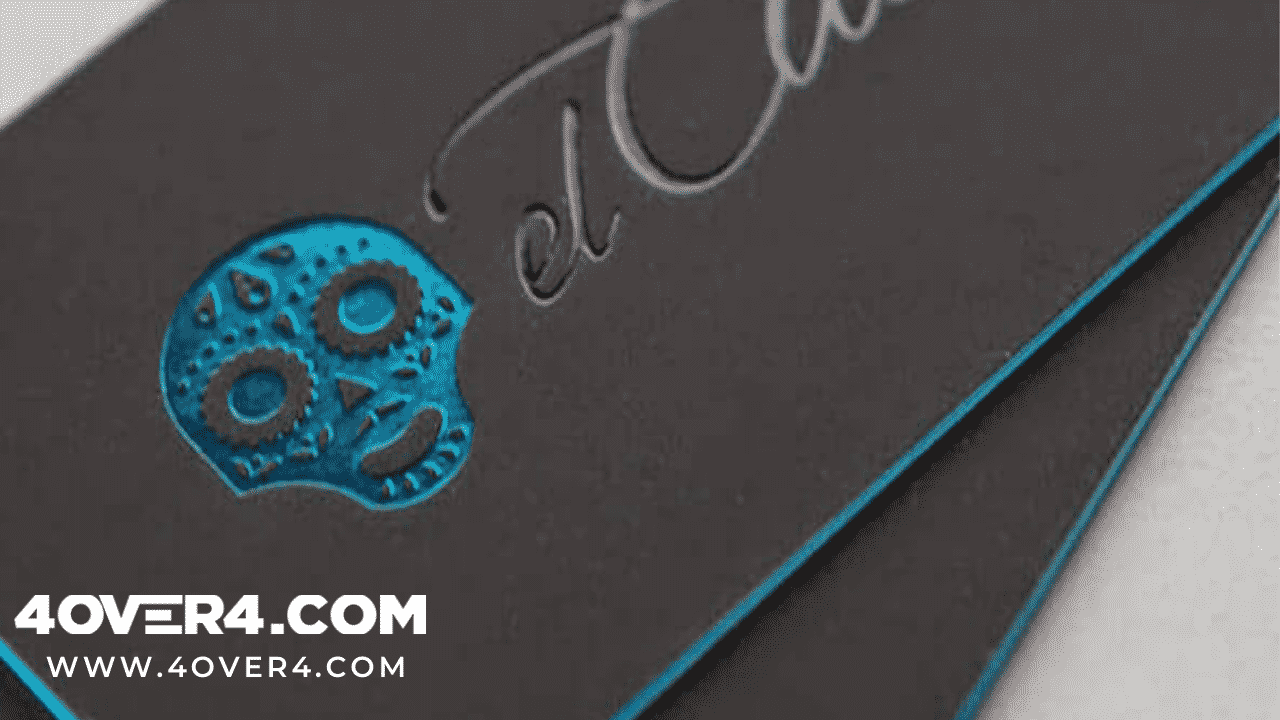 Source If you want to give a sophisticated professional look, choose the most popular lamination print finish. Lamination adds a protective layer on your printed products and also enhances the water-resilience and robustness of the product. You can laminate the business cards either with a glossy finish or with a matte finish. Whatever it is, glossy, or matte, the tangible surface offers a unique touch and feel that you won't get in any other cards. The appearance and sharpness of the card are enhanced with high gloss lamination and the colors remain subdued in the matte laminated business card finish. It appears luxurious and elegant. If you are looking for a velvety texture, you may also choose 4OVER4's soft-touch laminate. It is fingerprint resistant and offers a soft look on the paper. It gives a high-quality, sophisticated laminated finish. As the cards are carried in pockets and move from one hand to the other, lamination is the ideal finish for the business cards that adds a shielding cover on the card's surface.
3.Varnishing Business Card Printing Finish
For a consistent and smooth texture from first to last, varnish print application is the best thing to do. You must have always associated the varnish with the wood surface. But, do you know it can also be used in paper applications? Varnishing can be matte or glossy. Here are the different types of varnishing for printed business cards.
Gloss Varnishing Business Card Printing Finish
If you have a photo business card printed for your staff in the office, the gloss varnish can be used to enhance the appearance of printed photographs or images. The color is prominent, intense, and bright with gloss varnish due to a coated layer on the printed surface. For any promotional material that needs you to include images and photographs, the gloss varnish plays a domineering role.
Matte Varnishing Print Finish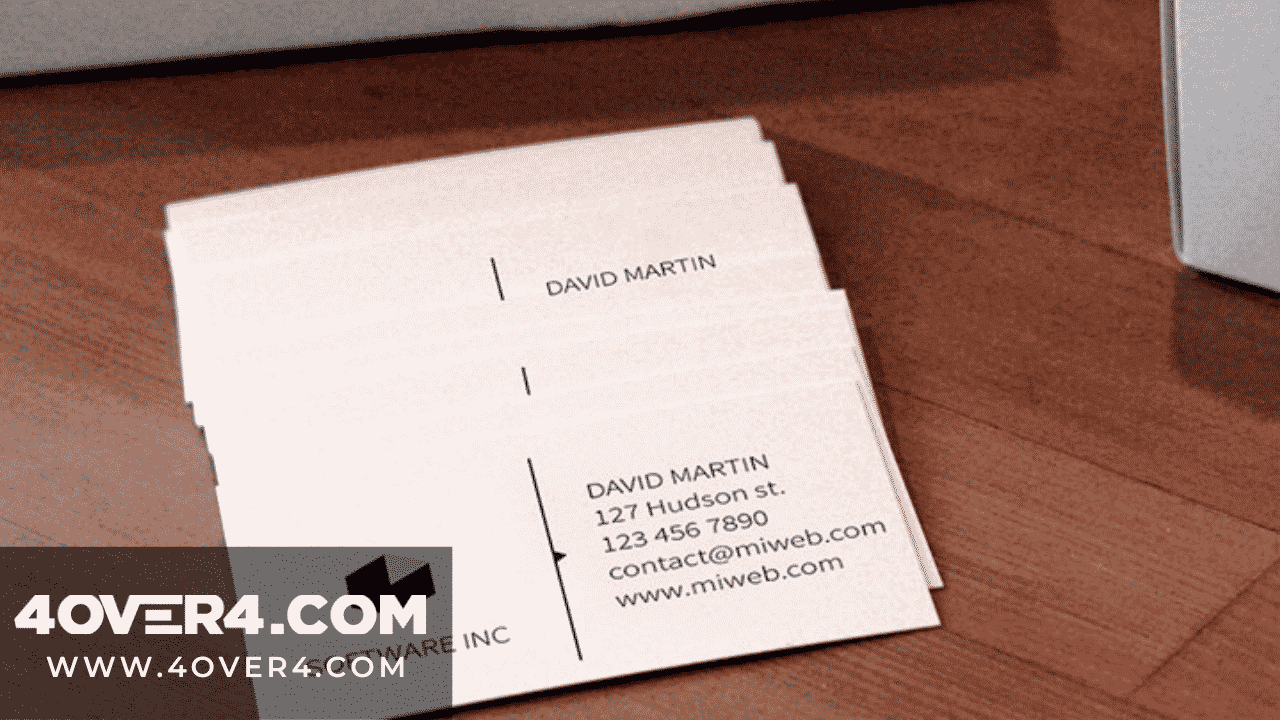 For the ones who don't like glossy surfaces, use the matte varnish print finish. It gives a non-glossy and smooth look to the card surface. Matte varnish softens the appearance of the printed image and helps you to read the small texts printed on the card very easily.
Silk Varnish Print Finish
Silk varnishing is something in between the matte and glossy print finish. The printed product coated with silk varnish is neither too subtle as in matte nor too glossy.
Machine Sealing Finish
An invisible coating of machine sealing finish is applied with the printer to any printed product. Although machine sealing doesn't change the printed material much, it helps to coat the ink with a protective layer. For the first turnaround materials, machine sealing is a good option.
UV Varnishing Business Card Printing Finish
UV Varnishing offers a transparent finish when you use the ultraviolet method on the printed material. The UV rays dry the coating, which makes the colors more alluring. Such varnishes make your business cards glossy and smooth.
All-Over UV Varnish Finish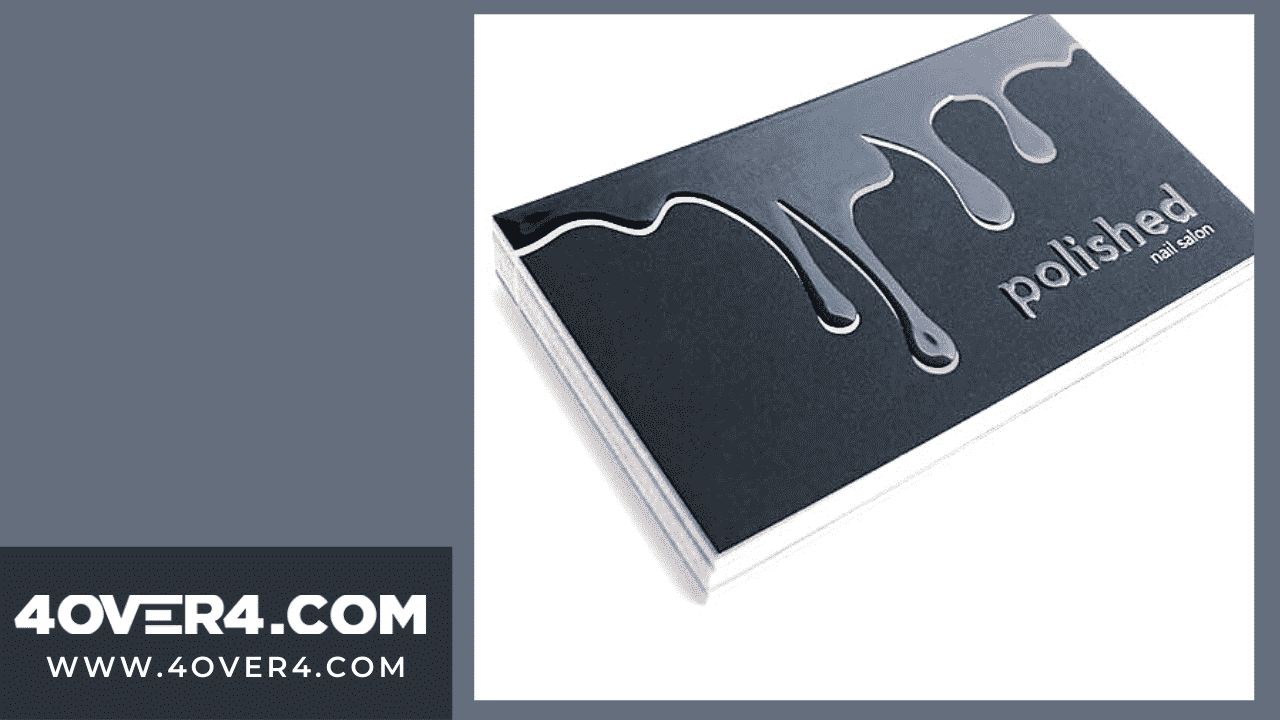 Source In all-over UV varnish, there is a UV seal coating on the entire printed business card surface. The commonest UV varnish that is used all over the printed material is the gloss UV varnish. 4OVER4 also offers matte and silk varnishes with all over UV varnish.
Spot UV Varnish on Business Cards
The name itself says that this varnish applies to particular spots or parts of the printed surface. The spot UV varnish highlights specific areas of a card to draw the attention of the users towards that particular spot of the entire design. The user's curiosity is stimulated with such a varnishing type. To convey a vital message or brand message to the customers through the business cards, you can use spot UV varnish and create a strong impression.
Textured Spot UV Varnishing
What is texture spot UV varnishing? The mix of textures on the printed business card surface, along with the strong tangible properties of the product, is the textured spot UV varnish. For instance, using textured spot UV varnish to give a 3D reflective effect of glassware by a decorative glassware manufacturer.
4.Metallic Foil Business Card Printing Finish
In metallic foil finish, there's a use of pressure and heat to apply the flexible and soft metallic material on the business card printing surface. The range is vast when it comes to foil finish and not only restricted to silver and gold. You may also choose security, holographic, or pigmented foils. The metallic foils add a certain sophistication and grandness to your printed product and make it more embellished and luxurious. The standard metallic inks look somewhat dull in comparison to the glossy and shiny foils when used on the printed material with heat and press method in combination with embossing. The metallic foil finish is a bit expensive. You need special tools for the process, but 4OVER4 offers impressive discounts, seasonal or festivity deals to make your purchase affordable and happy. If you wish to highlight your logo or company name, try the foil stamping finish.
5.Embossing Finish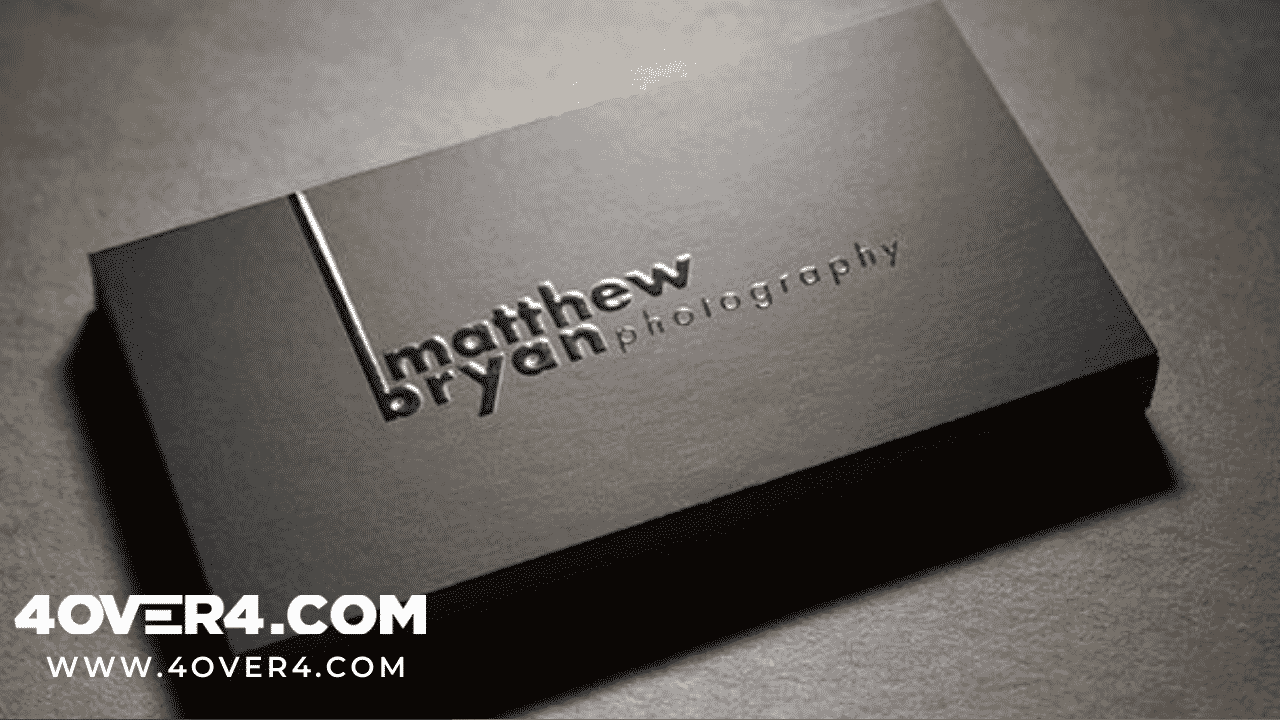 Source When you raise certain parts of your printed material for texture and weight, it is the embossing process. Embossing helps you to give a 3D effect to the printed business card and use it in combination with spot UV lamination or metallic foil finishes. When you touch the embossed cards, it lets you feel the dimension on the printed card. With embossing finish, your customers can touch and feel texts and images embossed on the card properly. Embossing produces a raised effect on the business card online printing material.
6.Letterpress or Debossing Finish
Debossing or Letterpress finish is an old-style technique. You can use it to indent or depress specific parts or texts, logos, and other design elements on the page. It is the opposite of embossing technique and quite popular in the market. 4OVER4.COM is one of the best business card printing services near you that has all the business card printing staples for perfect and high-quality card printing. We also offer business card printing templates to help you design your card easily and choose the right finishes with us. Letterpress is one of the best finishes to make your business card stand out and also one of the most used ones.
7.Thermography
If you want to take your business card or other marketing material to the next level, use Thermography to produce a raised finish to the selected areas (logo, texts, etc.). It is less expensive and easily highlights some of the areas on your printed product. You may use it in your report cover, packaging, corporate stationery, folder cover, invitations, business cards, etc. There are various thermographic powders like metallic powder offering metallic shine, fluorescent powder providing a vivid and brighter colored finish, glitter powder offering dazzling and sparkling effect to your printed products.
Conclusion
Take your products from the level good to the level great with a range of business card printing finishes. It is not just for business cards; you can enhance any printed marketing material by adding any of the above finishes. 4OVER4 is one of the best standard business card printing services that offer comprehensive marketing collateral printing solutions under one roof. Make your paper stock printing more valuable with us.