People often overlook the importance of pocket folders in businesses. This is the world of digital media where LinkedIn and Google give you information about all your competitors. You may think about why you should consider custom pocket folders. In spite of all the evolution taking place, we cannot entirely dismiss the value of printed materials.
Have you ever thought that in a meeting or conference, digital access is often limited? Even in the office when there's a visitor, it looks odd to keep looking at your mobile or laptop. In such situations, the traditional custom printed pocket folders can be of great help. Many businesses rely on it for sharing vital company info.
What is a Custom Pocket Folder?
What is a pocket folder? What are pocket folders with brads? These are some common questions that come to mind while thinking about how to store company information when the digital mode doesn't work. The presentation folders are usually called pocket folders.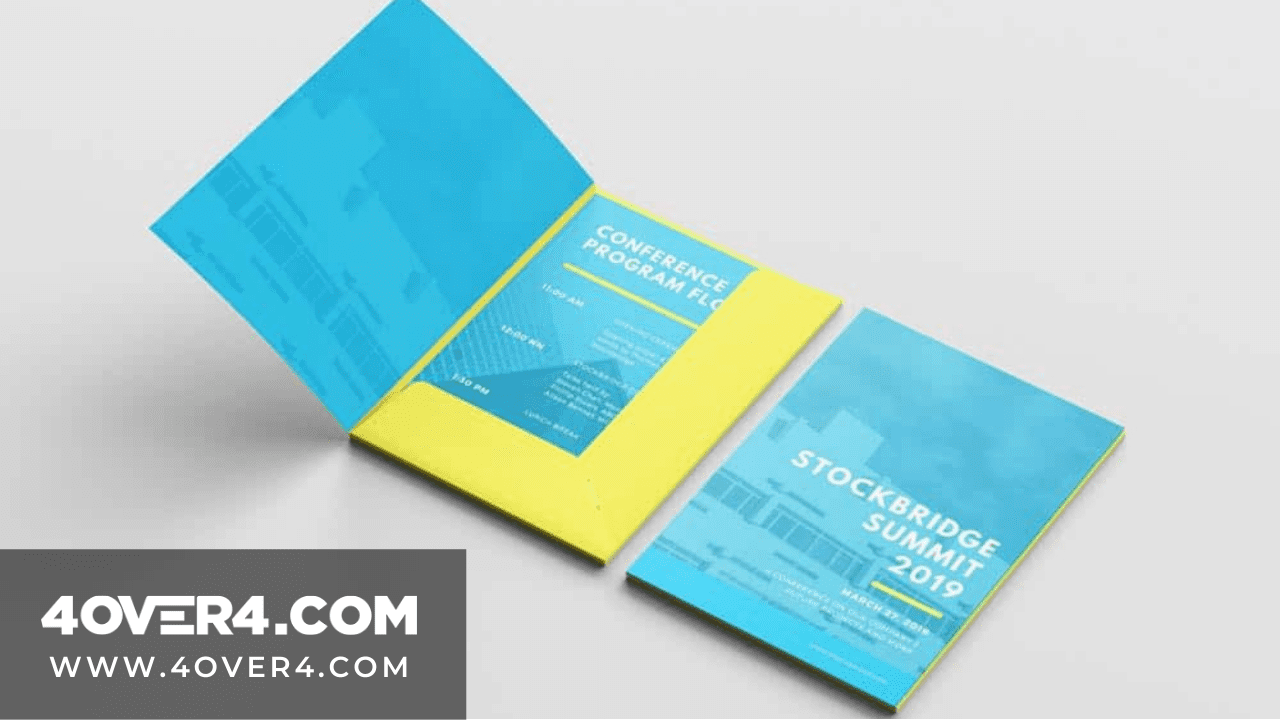 The custom pocket folder is when you customize the presentation folder with text, logos, or die-cut shapes instead of just using a simple wrapper. There are many printing companies like 4Over4 that can help you to get folder printing, the way you want.
Purpose of Custom Pocket Folder
The purpose of custom presentation folders with pockets is to hold relevant documents and papers. It does not just have functional usage but also helps with the branding of your company. The pocket folders with brads are the two pocket folders with three brads to hold the papers securely.
We offer high-quality print such as spot UV folders, foil stamping, etc. along with free templates to design and customize your folder. These exclusive custom printed pocket folders reflect your company in a big light and also acquire great responses.
Features of Presentation Folders
The custom folders are engaging, attention-grabbing as well as highly attractive. You must ensure the marketing materials inside the custom presentation folders are beautiful too.
Can you imagine how wonderful it will be to handover such a presentation folder to your clients? The recipient will surely value your investments made on your company and brand and get highly impressed. Learn the benefits of custom presentation folders with pockets in business.
Enhance Your Presentation with Custom Pocket Folder
The pocket folders are tangible which makes it interactive for the audiences. You can make a presentation more enticing by including the display and other complementary materials in the presentation folder. The color printed custom pocket folders help in organizing your data and keep the audiences glued to your presentation.
When you hold the customized folder in hands while giving a presentation, it helps the clients get brief info ahead of your display. It also helps your audiences to refer to your products and services and reach you whenever they want.
Apart from the verbal display, a custom printed pocket folder adds a different level of professionalism to your company. It also helps your audiences to trust your services and products and convince them about your deliverables.
4Over4 is one of the most trusted online platforms to design your full-color custom presentation folder. You can print it using artistic styles, business logos, and texts. Custom folders help to attract the attention of the audiences instantly.
Endorse Your Brand and Company with the Custom Pocket Folders
Do you want to endorse your product digitally? You may send the custom pocket folders along with the emails to your clients. It helps to build and succeed in the mail campaigns. You may also include a CD with the promotional video of your company inside the pocket folder. When you choose the custom folders for endorsing your brand, do not include the brochures and flyers.
Save Cost of Promotion with the Customized Presentation Folders
Large format printing involves significant expense. Carrying a custom presentation folder during the events give you an opportunity to create a lifelong impression on the potential customers of your business.
A well-branded folder can help in marketing your business. So, train your employees well for networking conferences. This method of promotion doesn't involve a high cost. It helps in making your company appear organized and professional.
Boost Sales with Custom Folders
The primary goal of any business is revenue generation and boost sales. The custom pocket folders help in branding your business and market your company efficiently. You must use it correctly with precise information about your company to increase the traffic flow of your business. You may use the pocket folders as catalogs. The right promotion and branding can result in higher sales that will eventually lead to higher profits.
Office Organization with Custom Pocket Folders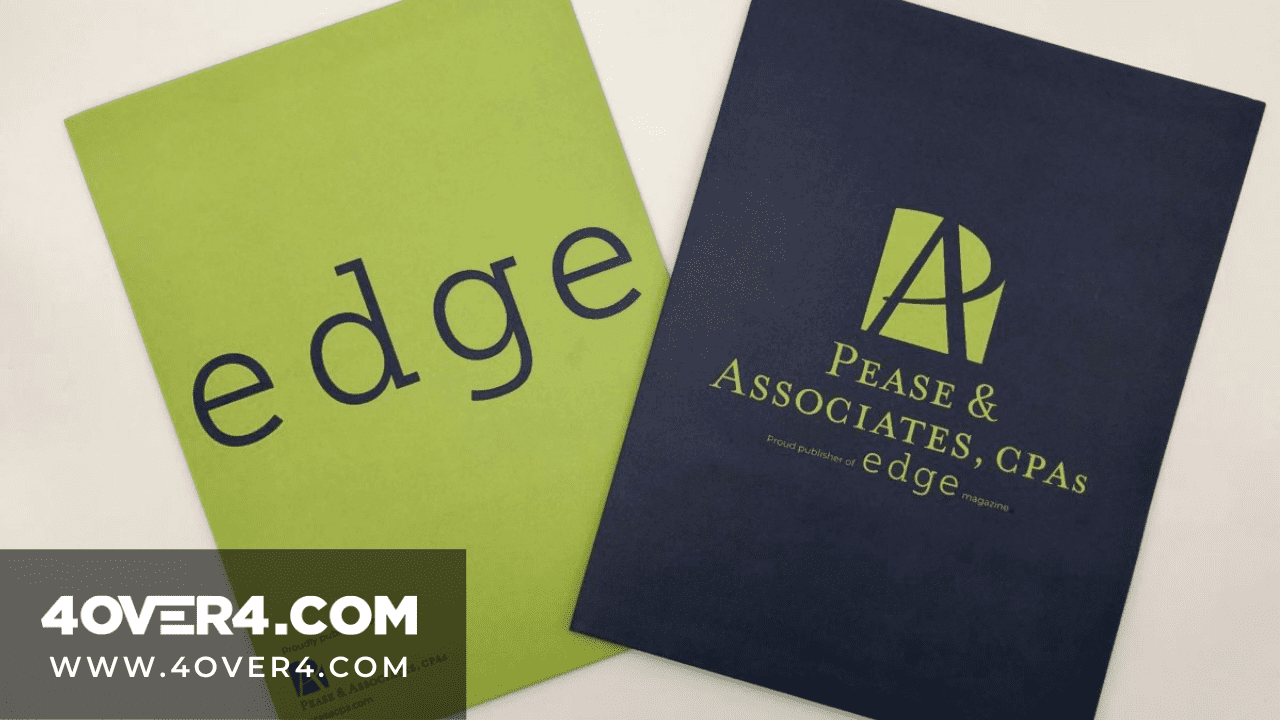 The custom presentation folders are indeed helpful for external events. But, it is also a great way to keep your office organized. The internal meetings call for several important documents.
It may get misplaced if not stored properly. The pocket folders are a great way to hold all the documents in one place.
These printed materials give a professional appearance to your office. It helps your employees to keep their desks organized. While serving any client, your staff can also build a great impression with the customized folders.
Share Extra Info in the Custom Folders
The digital mediums have space constraints when it comes to advertising your brand and company. With the custom pocket folders, you get the freedom to add additional information regarding your company or products. For instance, the launch of a new product or a branded gift.
You get more room to explore your creativity with the customized pocket folders. You may also insert business cards into the business card slits pocket. Distribute the folders in the event to tap as many people as possible. It helps your audience to receive information about your company instantly.
Efficient Working with Custom Pocket Folders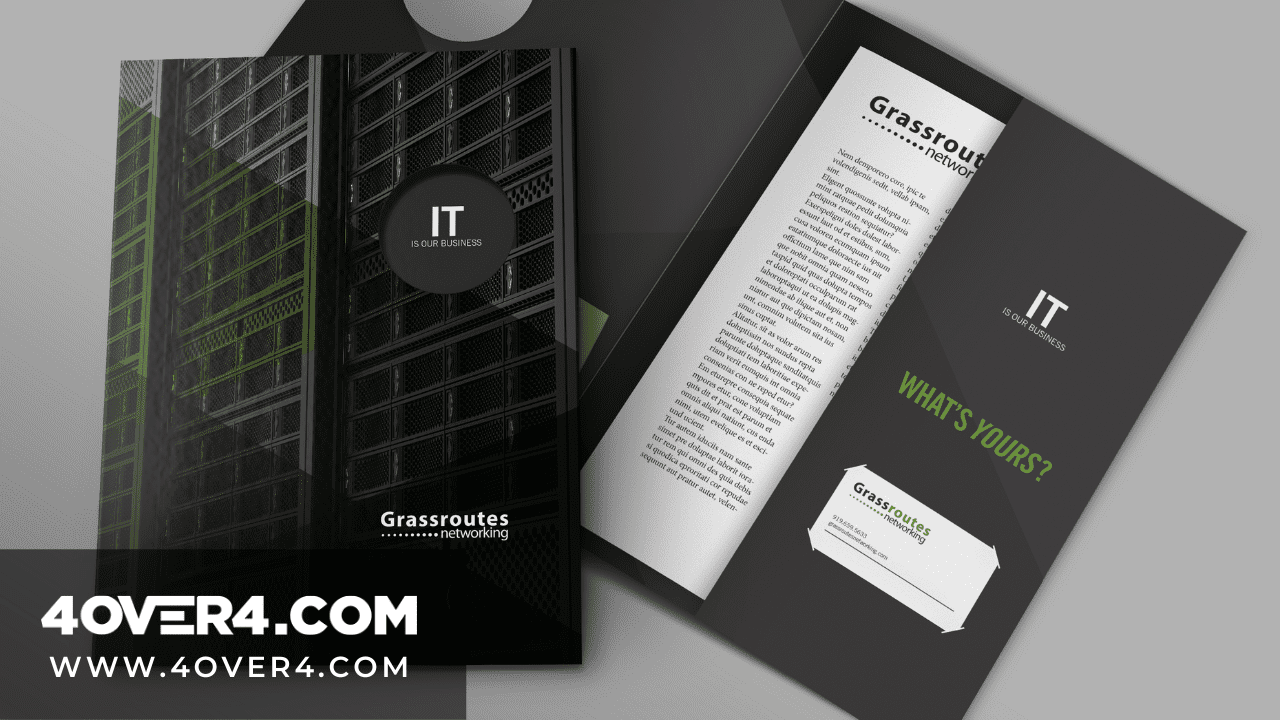 If you wish to run your business smoothly, the customized presentation folders can be of great help. When you choose the full color or silk laminated folders for customizing, each of your departments like finance, marketing, accounts, or human resource look great and work efficiently.
For the inter-company communications, the presentation folder design helps the staff to read on the same lines. It helps them to remain aware of the mission and goals of the company. The custom folders can also be used to refer to the recently added policies and practices in the company. When all your work remains organized, there's less scope of any confusion and conflicts and more of a friendly atmosphere in the office.
The Best Online Destination for Printing Presentation Folders
If you are looking for some great designs and unique printing options, 4Over4 is one of the best destinations for online printing of the customized file folders. From a range of papers and finishes to die-cutting, we offer it all.
Our range also includes silk laminating, soft touch, and spot UV coating, custom office supplies printing services. Place the bulk order for your office and our extremely hard-working customer service team will help you to meet every requirement. Trust us as we deliver quality at your doorstep.