Business Cards
Cool & Interesting
Creative Business Cards
Creativity
Custom Printing
Fonts
Online Printing
Our Customers
Printing Paper Choices
Printing Tips
Professional Printing
Self-Promotion
Small Business
Soft Touch Coating
Uncategorized
The Right Cardstock for Your Business Card Printing Project
A paper's thickness and weight have a significant impact on the end-product. You can create a solid impression by using the right card stock for your business card printing. The tangible marketing tool like business cards are usually passed from one person to another. It means that the feeling of each person receiving the card counts. Therefore, it is essential to choose the perfect cardstock that can create a huge difference when it is about leaving a lasting impression forever. Why are the different types of card stock valuable in varied contexts?
Why Cardstocks Play a Major Role in Business Card Printing?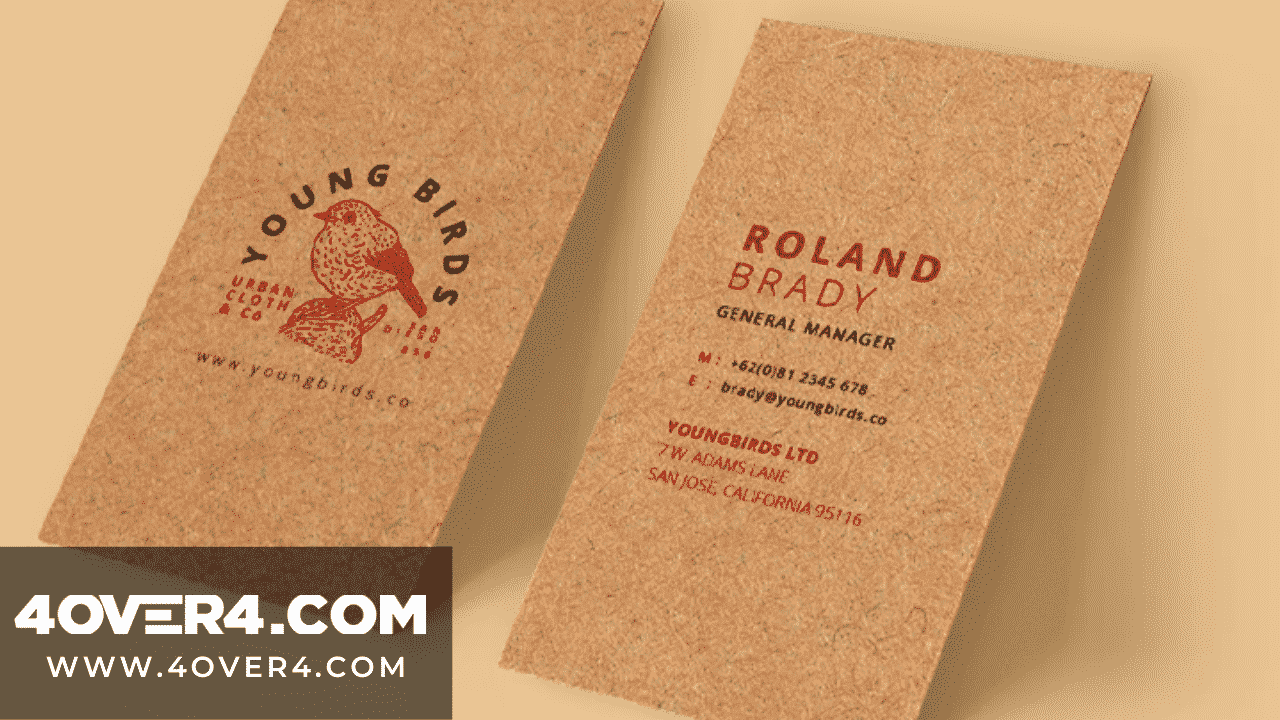 There is a range of paper or card stocks that you may find tempting during the design and printing phases. But, making the perfect memorable and professional business card that won't end up in the trash, needs your expertise. Choosing the right cardstock can help you produce better results for embossing, foil stamping, and die-cutting business cards.
The thicker cardstocks are more robust and can easily endure the wear and tear better than any thin paper stock. Whereas, the thinner papers are more affordable and need less material. 4OVER4 is one of the best destinations if you wish to know more about the cardstocks and select unique papers for business card printing. Recyclable Kraft paper is one of the most excellent examples of the right cardstock for business card printing projects. Let us learn more about the color, texture, and thickness of the cardstock.
Business Card Printing Paper Types
There are usually three types of cardstock-
Regular Cardstock- It is the standard card option available with all the printers NYC. Regular cardstocks are cost-effective and used by printers to print in bulk.
Premium Cardstock- Premium stocks are thicker than standard cardstock. It can be uncoated or coated for a significant look and feel.
Plastic Cardstock- To be unique and stand out completely among the competitors, thick plastic cardstock for business cards is the best bet. Such cardstock makes a statement with a certain level of customization.
Business Card Thickness and Weight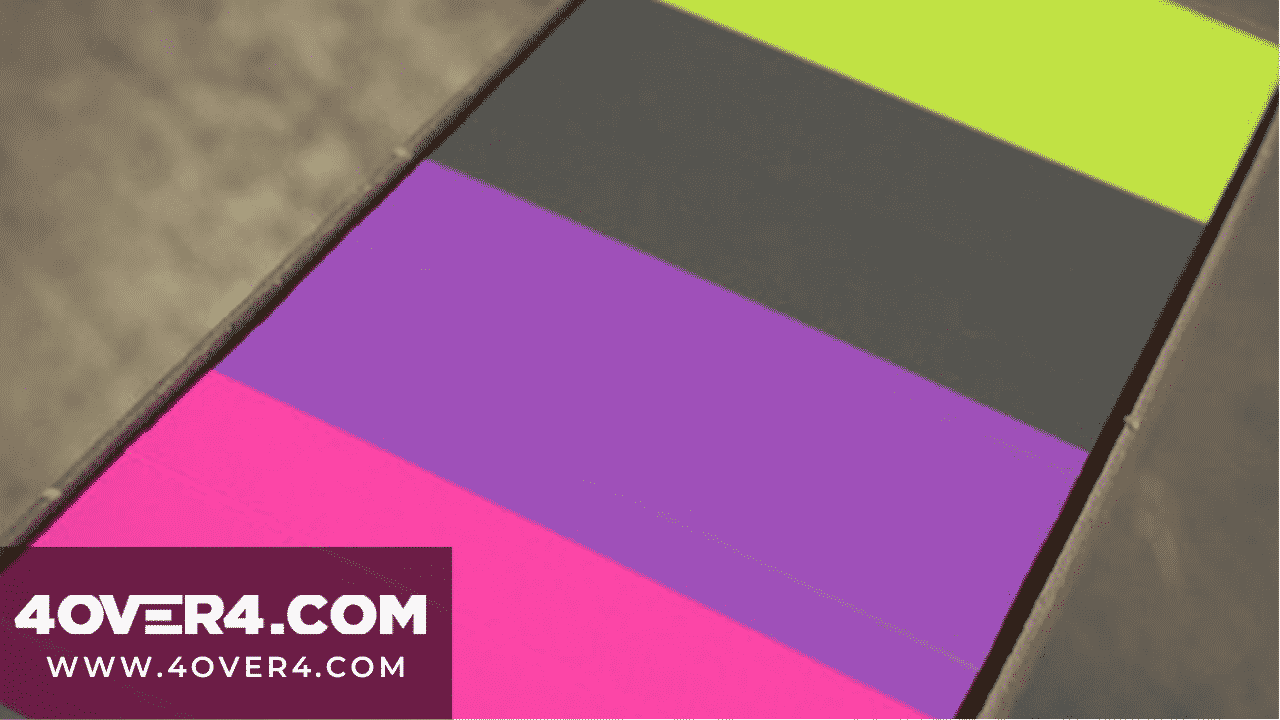 The weight of a business card refers to the stiffness or thickness that is used for designing. How many hundredths of an inch thick is the paper sheet? The measurement is calculated in points. One point is equal to 0.001inches or one-thousandth. The 10pt paper stock is 0.01 inches thick, whereas, the 0.02 inches thick cardstock comes with 20pt thickness and so on. The more and higher the value of the point is, the stiffer and thicker the paper will be.
The usual thickness of the business cards is 14pt or 16pt. But, if you really want to make a difference, the extra-thick 18pt, 32pt, or higher thickness cardstocks are even better.
Why is the Thick Cardstock, a Better Choice?
You may think why you should spend more on higher thickness cardstock?
Tell me something, do you like to wear a wrinkled and creased suit to your office or for an interview? If you don't like so, then how would you even think of handing out a rumpled and folded card?
This is the reason why the thickness and weight of the business card matter when it comes to printing. A thick and sturdy card is resilient to accidental crinkling or bending. When you present a perfectly neat and unique business card to your clients, you give away a trusted, polished, and clean image.
If you are using below 14pt cardstock, it is usually for display. Below 14pt cardstocks are light in weight and cheap. Creating and impression is the last thing that should come to your mind with below 14pt cardstocks. It can quickly get creased when you carry it in your pocket. On the contrary, the 30pt cards can easily withstand the wearing away of the cards and are quite rigid. Such cards create a great impression as they last long, look good, and feel the best.
4OVER4.COM, the business card printing NYC service offers high-quality cardstock and great finishes to match the cardstock. It is one of the most reliable places to find supreme quality printing service.
Finishes to Match Your Business Card Printing Stock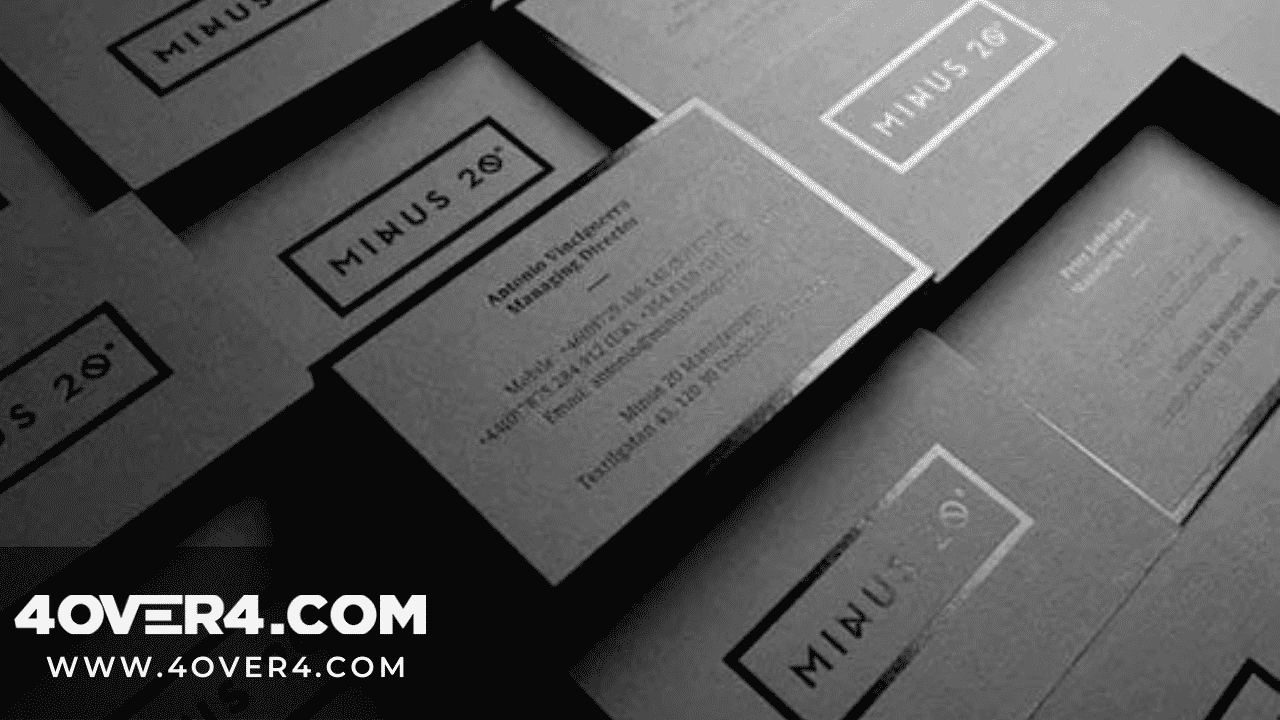 No sooner you choose the thickness of your card, check the right finish. The print finish quality is another way to enhance the business card and make it more attractive, giving it a better look and feel. So, what are the finishes that are needed to make your cardstock perfect?
The most used finishes for business card printing are glossy, matte, and dull. Your choice of finish will depend on your cardstock preference and business card printing design plans.
Uncoated Paper Stock
It is like a non-reflective printer paper. If you want to work on the texture of your business card, the uncoated finishes are the best ones to choose from. The matte or glossy finishes cannot add the texture that the uncoated cardstock can offer. In contrast, the uncoated finish doesn't have the protective coating like the coated matte and glossy finishes, which makes it damage-prone.
The uncoated cardstocks offer subdued yet clear shades along with an overall visual appeal that gives out a natural and classic vibe than any other finishes. If you want to reduce costs or write on the cardstock, then the uncoated finish is the best choice.
Coated Paper Stock
A surface sealant is used to add a finish to the coated papers. Usually, clay adds qualities like weight, shine, and ink absorbency to the paper stock. There are several options in coated card stock, and the most popular ones are glossy, matte, and satin. With the coated finish, you get clearer and sharper printing. If you have planned a photo card, then opt for coated card stock.
Glossy – The gloss finishes offer a protective layer against potential moisture. Your business card designs get a subtle shine and vibrancy if you choose bright colourful graphics for your business cards.
Matte – Dull stocks are elegant and smooth and do not offer any shine like the gloss papers.
Satin – Satin finish have slight shine which is lesser than glossy paper stock print quality and more than the matte finishes.
Specialty Card Stock and Finishes
4OVER4 also offers specialty papers with added laminations that you may choose for business card printing apart from selecting any finish or cardstock. But, the choice of specialty paper will again depend on your card design and how you wish to impress your clients.
The most common specialty cardstock finishes are-
Plastic – These are flexible and robust with PVC coating and makes a high-quality business card in all sizes. Plastic cards are also known as the "indestructible" cards as they can endure water, wear, and tear. Such cards come in a semi-gloss finish and look best when bright colors are used.
Soft-touch: The tangibility of the soft-touch card stock finish is out of the world. It exudes a velvety lamination, offers extra protection, and also give a luxurious feel to the paper. If you want to leave an everlasting impression on your client, choose the Soft-touch business cards that soften the colors in your card, giving the printed images a silky appearance with a soft-touch finish.
Your Role, Budget, and How You Wish to Impress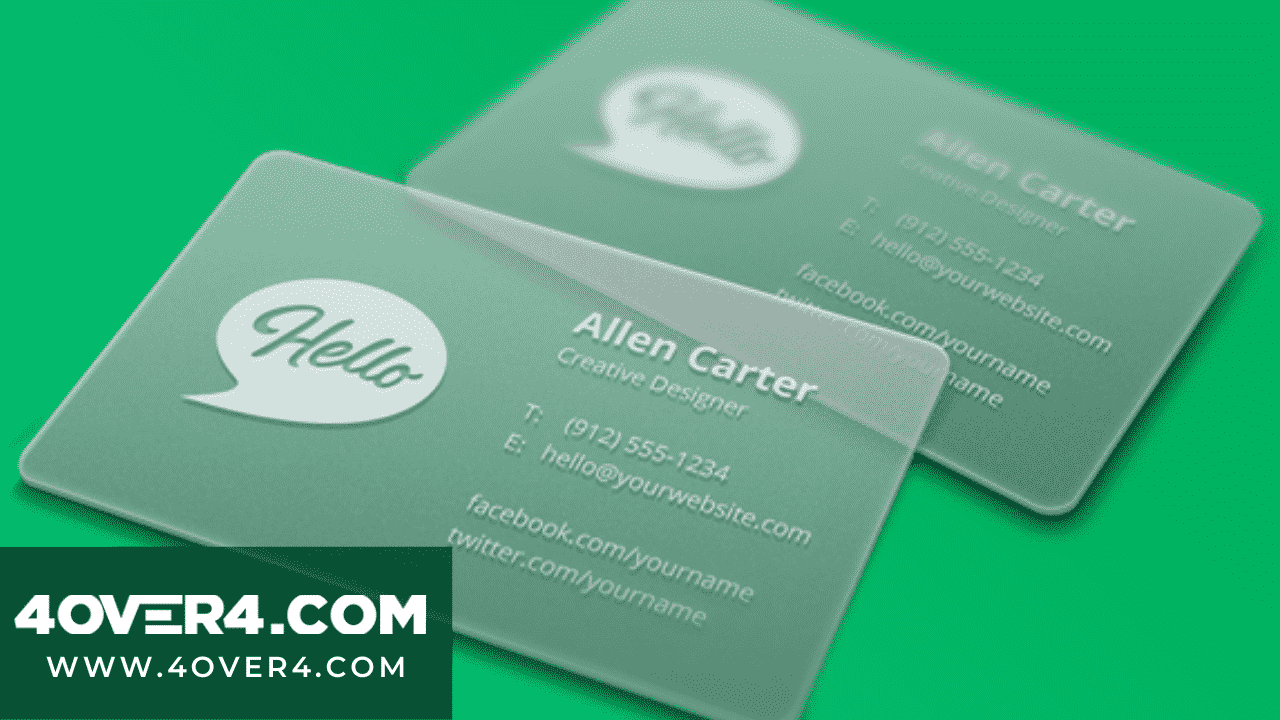 It is essential to note your role and how you wish to impress your client while designing the business cards. There are many businesses and brands that do not search for elegance and fancy. It might be that the budget does not permit the company to choose expensive business card printing paper stock. Many businesses choose to be known as an affordable solution and design a simple card using plain thin card paper purposefully.
Some businesses think cleverly and choose specialized cardstock and finishes. You must remember that although you may save a few bucks by choosing thin paper stock at the beginning, eventually, you will be spending more as the thin cards are sure to end up in the trash instantly. If people don't like your appearance, you are sure to lose business and clients to your competitors.
Showcase a premium look and feel by choosing ultra-thick or specialty cardstock from 4OVER4, the business card printing online. We have all the marketing collateral and business card printing staples that are needed to help a business grow. Our business card printing template help you to design your cards easily. 4OVER4 infrastructure includes advanced business cards printing machines, Green Printing technology, and other design tools required to successfully deliver printed collateral on time without fail. We are one of the leading business card printing services online to offer a wide range of print ready quality marketing products at affordable prices.