Custom Printing
Business Cards
Creative Business Cards
Creativity
Fonts
Green Printing
Online Printing
Our Customers
Printing Paper Choices
Printing Tips
Professional Printing
Uncategorized
How to Save The Planet and Print Business Cards?
Are you trying to advertise your product or brand to the world? Business cards of any size and color are the indispensable item to promote your business across the globe. Hundreds of professionals and companies exchange this networking collateral every single day. Thus, the cards must not be harmful to the environment. The eco-friendly cards are the best way to save the planet while you print business cards. 4OVER4 is one of the leading business card printing services near you that offers a range of Kraft paper and recyclable ink to support the environment. Let us learn more about the environment-friendly business cards and Green printing ways.
Paper recycling and Green Printing techniques are the best ways to save the planet and both are parts of 4OVER4 business card printing staples. So, what is paper recycling, and what is green printing? What are its benefits? What is its process?
Print Business Cards Using Recycled Paper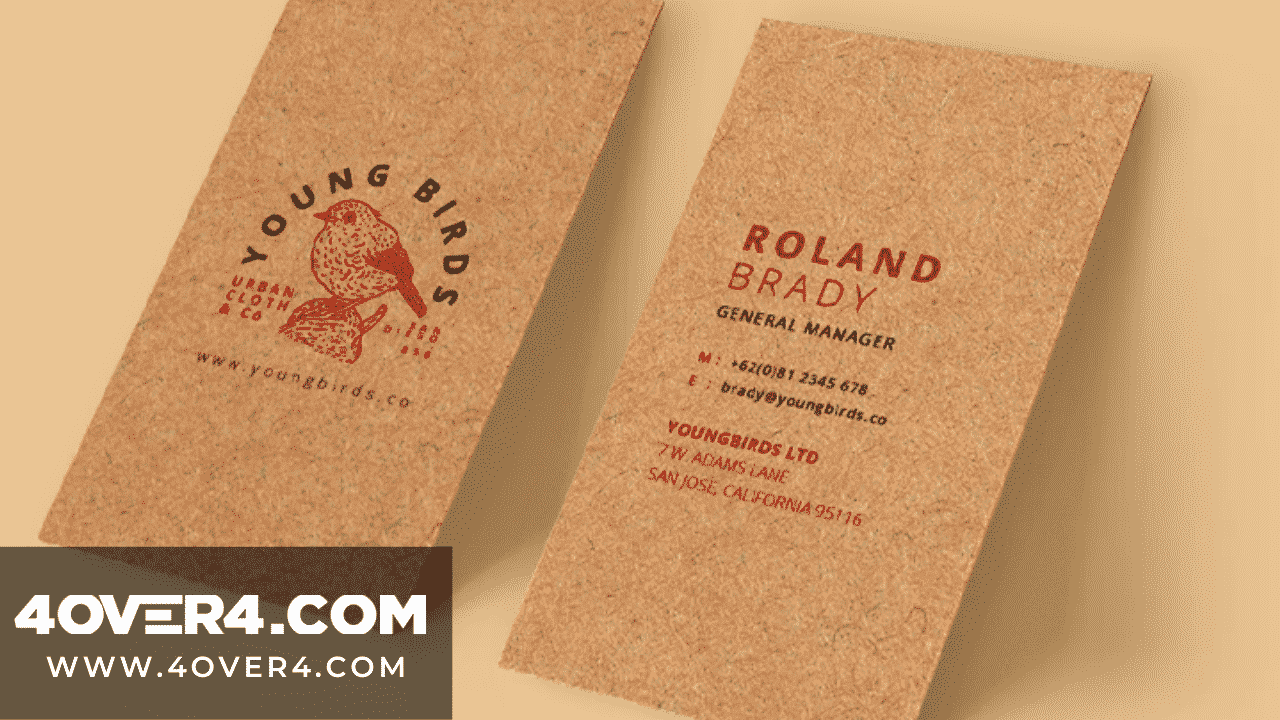 What is the recycled paper? The process of reprocessing the paper waste for reusing is the recycled paper. Where can you obtain the waste paper?
Papermill paper scraps
Discarded paper material
The consumer used discarded waste paper material
Magazines and newspapers are the most commonly known recycled papers. The used or recovered paper products are saved for recycling. To make the recycling process successful, 4OVER4.COM has come up with Kraft papers that are simple, sturdy, tactile, and eco-friendly. We also offer Green Printing techniques along with chlorine-free papers that are FSC certified.
Categories of Paper Grade
There are five paper grades. They are-
Old Corrugated Containers – product boxes packaging
Old Newspapers – tissue, newsprint, etc.
Mixed Paper – magazines, phonebook, catalogs, mails, etc.
High-Grade Deinked Paper – letterhead, envelopes, copy paper, business card, and letterhead that has gone through the printing process
Pulp Substitutes – discarded scraps from mills usually
4OVER4 offers both standard paper and recycled chlorine-free paper options for the customers. You can choose our recycled paper options to save the planet from being contaminated. There are several benefits to choosing eco-friendly recycled business cards.
Benefits of Eco-Friendly Business Cards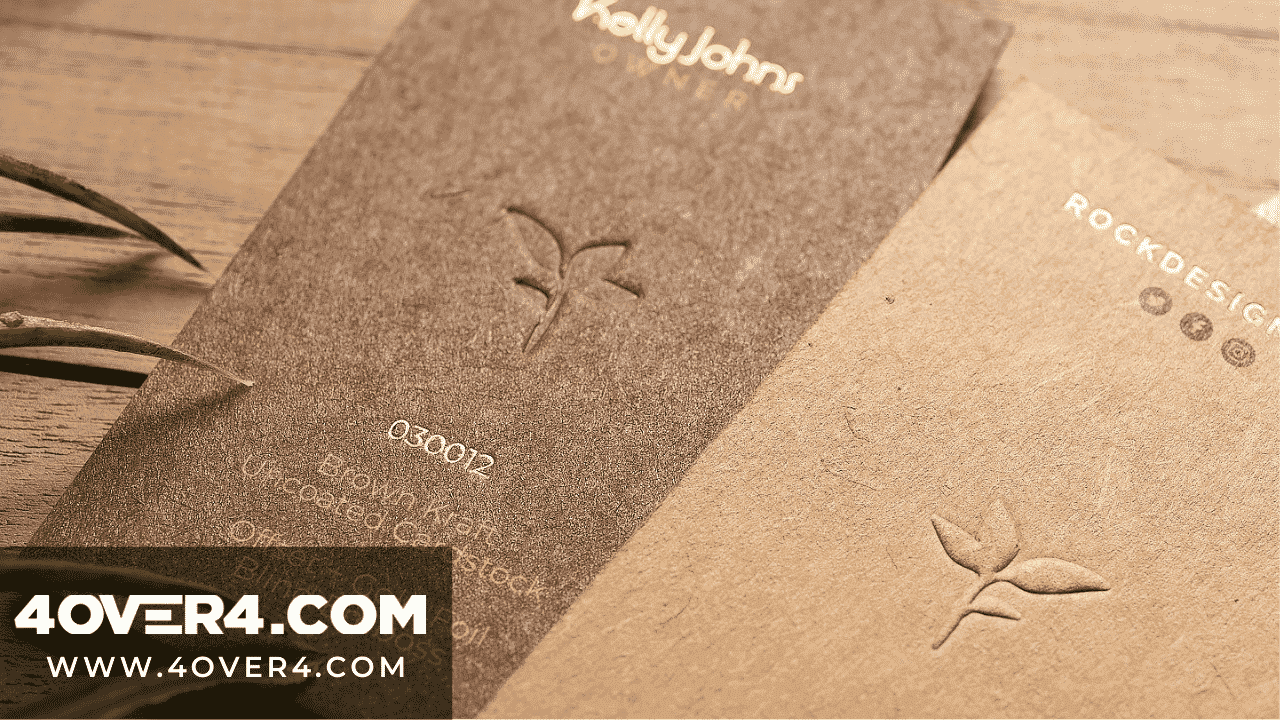 The environment-friendly print business cards are free from any kind of health hazards
Creates a great impression on your customers, clients, and prospects as they get an idea that you care about the environment
Being the first point of contact, unique, innovative, and impressive eco-friendly print business cards create a better positive impact on people's mind
Reduce the carbon footprint and save quite a few trees by choosing recycled business cards
Share your green practice story at the back of the business cards to create awareness and encourage people to implement the same
If you use the eco-friendly seed paper, you may germinate it at any weather
4OVER4 offers you a range of silky, uncoated, and glossy recyclable card stock at affordable prices
Eco-friendly cards are more creative with long-lasting impacts which draw in more clients
With 4OVER4 print business cards online, you choose to print business cards using chemical-free ink and paper stock
The vegetable-based soy-ink printing protects the environment from being polluted
Green printing can be more cost-effective than traditional printing
What is Green Printing?
You may reduce the energy and greenhouse emission usage by using more and more recycled material and increasing the practice of renewable energy resources. It is Green Printing. When you use recycled paper to print your products, the green printing service makes it completely safe and environment-friendly. There are no harmful chemicals or harsh printing ink used in the entire process. Both paper and printing are safe for use and also helpful in saving the earth.
Benefits of Sustainable Print Business Cards Practices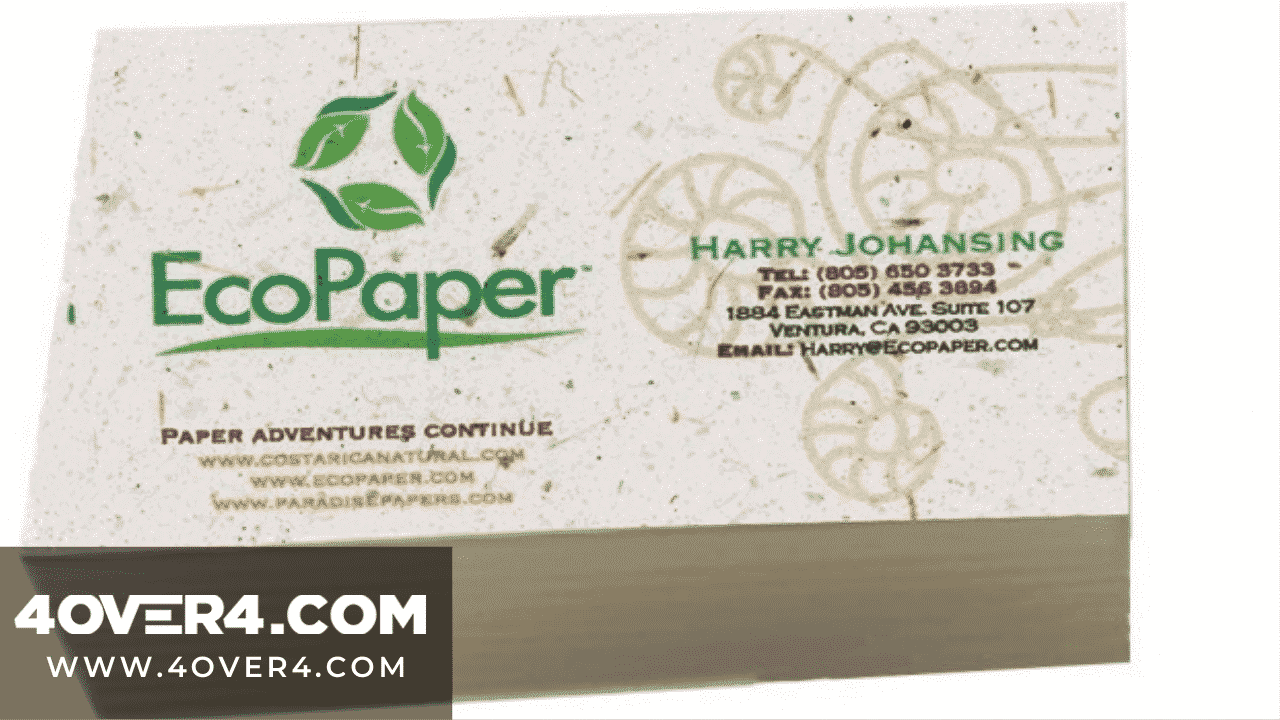 Sustainable practices help in attracting and retaining customers
When the efforts are streamlined, and the resources are conserved for business operations, automatically the cost is reduced, and the productivity is increased
Green printing help in building your business reputation and name and there is less paperwork involved, low finance rates, and more business opportunities
Focussing on environmental impacts and choosing recycled paper can help in retaining employees as you are considered respectful towards the environment
4 Ways to Go Green Using Print Business Cards
Print Business Cards with Vegetable or Soy-based Ink
There are some products that claim to be completely environment-friendly. But such claims turn to be false when you delve deeper into it. In such cases, the petroleum-based ink is used. It is harmful to the atmosphere as it releases volatile organic compounds (VOCs) during the drying process.
4OVER4 uses soy-based inks that are safe and emits negligible VOCs. It is entirely an eco-friendly choice to print business cards. The benefits of soy-based ink include the capacity to produce different colors and attract attention instantly, unlike petroleum inks. It also spreads farther.
Printing Cards on Recycled Paper
To significantly reduce the carbon footprints and save the planet and trees, choose 13pt or more recycled matte cover stock and print business cards. Recycling your older cards can also be a good idea as who knows, it may turn to be a brand-new eco-friendly business card in the future.  Several communities offer free recycling pickup. Save money and contribute your bit towards nature by giving away your older print business cards during the recycling drive.
Narrate Your Eco-Friendly Story Behind the Card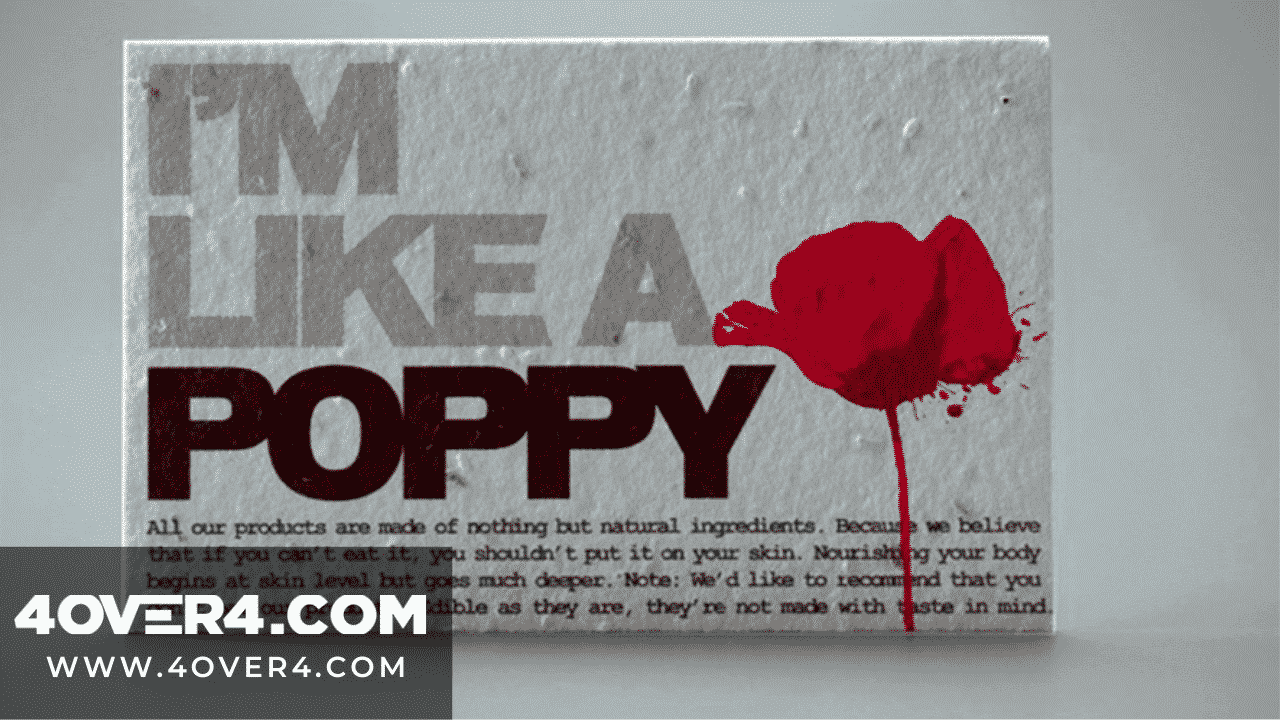 How does your business fit into the green practice program? What is your company's green philosophy? What are your green initiatives? The answer to these specific questions has the power to attract your clients and prospects attention. Use your green campaign to design your business card. The recycled paper and die-cut printing can give shape to your card design and tell your eco-friendly story quickly.
For instance, use die-cut print business cards for a leaf-shaped card and run an environment-friendly campaign for promotions. Print your message for recycling products and the use of green practices at the back of the card to spread awareness. You may also make a list of environment-friendly practices for home use to encourage people to do their part. Add professionalism and trustworthiness to your business card by including a logo that must reflect environment -friendly design.
Get an Electronic Proof of Printed Business Cards
When you print a business card online for the first time, you always get a hardcopy. Next, while ordering or for making the changes to the small errors, you may choose to ask for electronic proof for the card. Get the e-proof to save the shipping and printing charges. It also creates a long-term impact on the environment in a positive way. When you choose to go green with the standard business cards design, it is highly rewarding and boosts return on investment, increases brand recognition, and enhance your image in public.
Conclusion
4OVER4.COM is one of the most trusted business cards printing NYC that is committed to the wellness of the environment. Our range of business card printing templates makes it easy for our customers to design their cards quickly. We use vegetable ink that has little or no mineral oil content and genuinely environment-friendly. You can create the soy-based ink with the soy-bean crop. We print efficiently to reduce the usage of ink. It results in less waste, and thus, saves energy.
Apart from printing on high-quality glossy paper and cardstock, 4OVER4.COM also offers a wide range of uncoated versions of the standard 14 pt. business card printing paper stock and 100# text paper options. Choose our 100% recycled paper, design templates, and state of the art business card printing machine for eye catching printing quality and help in saving the planet.